October 3, 2017
Posted by Holly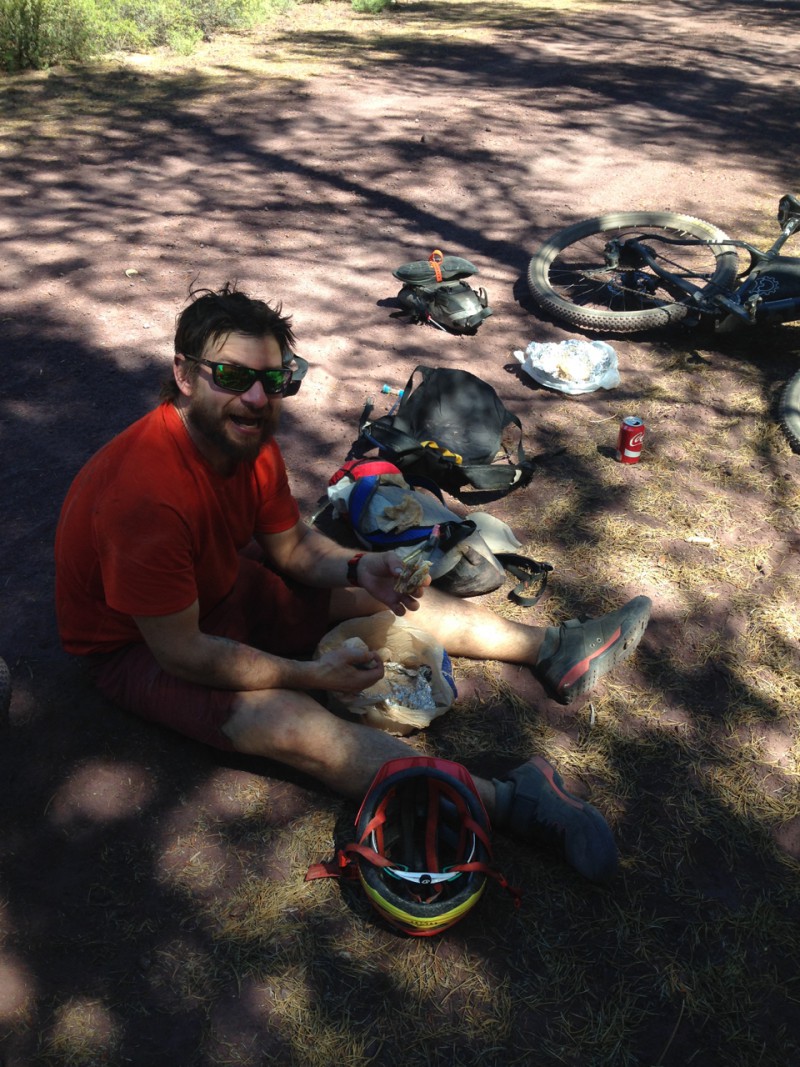 "Double bacon cheese burgers are hands down the best trail food."
This is my thought as I sit in the middle of an old forest service road in the 80 something degree heat and let the burger juice drip off my hands. Aaron (aka Thrasher, the other half of team DirtyThrasher) has the best ideas…sometimes. Why just eat a burger at a restaurant when we can also get one (or two) to go. Brilliant!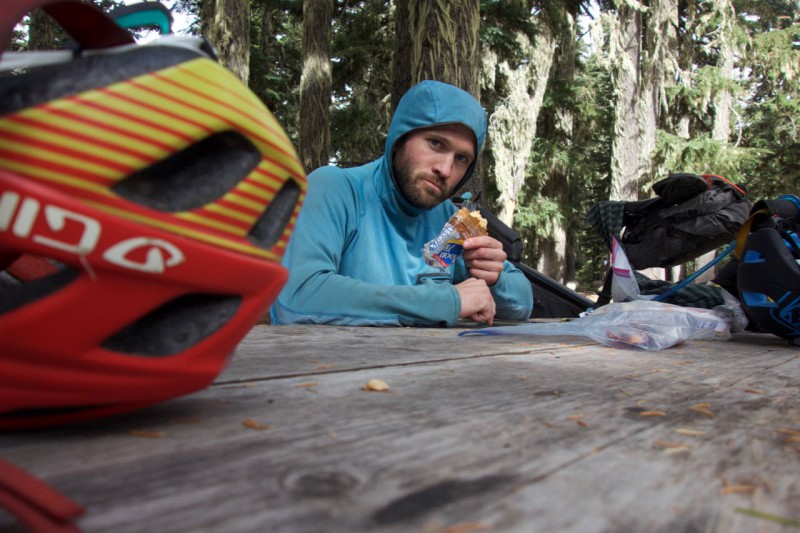 This was a few days into an unexpected trip to Oregon on the newly established Oregon Timber Trail. I say unexpected because the plan came together on a Tuesday, booked tickets on a Wednesday, and we boarded a plane Sunday.  I had no intent to leave Alaska, nor did I think that I was going to be cranking out 70 to 90 miles a day of some of the most diverse and burly single track I have ever ridden. Minimal to no planning became the theme of the trip.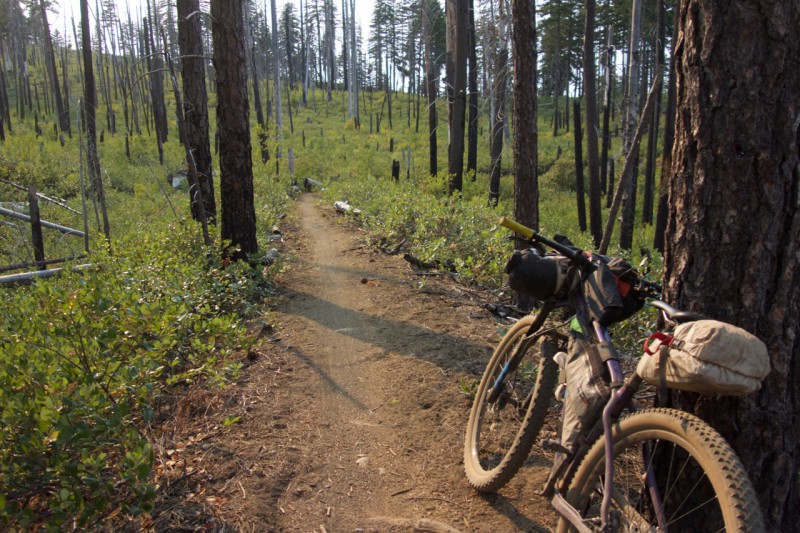 A few weeks before the cheese burger and burrito binge began I was sitting in the rain looking at Google Earth trying to plan a backcountry bike/packrafting trip.  Normally this would make me all giddy with excitement, but for some reason I couldn't bring my excitement to level up with a tween at a N'SYNC concert.  I wanted to go somewhere warm, or at least somewhere without bears. A vacation from Alaska. Reluctantly, I told Eric (commander in chief at Revelate) that I couldn't bring myself to do the bike rafting trip we had been planning. The psyche was just not there. I pitched the idea of doing a portion of the Timber Trail to Eric. More single track than roads, my type of ride. Unfortunately this it was a no go for him.   
The trip plans where no more than scraps on the cutting room for at this point. Having written off any chance of it happening, I received a text message from Thrasher.
"How long would the Oregon Timber Trail take?"…The trip was back on!
Since there were only a few days from text to departure, we obviously did minimal planning. Riding into the unknown, we continued to live by the motto "Shit'll buff", and for most things it did.  From the start of the trip to the final hours of trying to get bikes to the airport, things just seemed to buff out for us, in one way or another.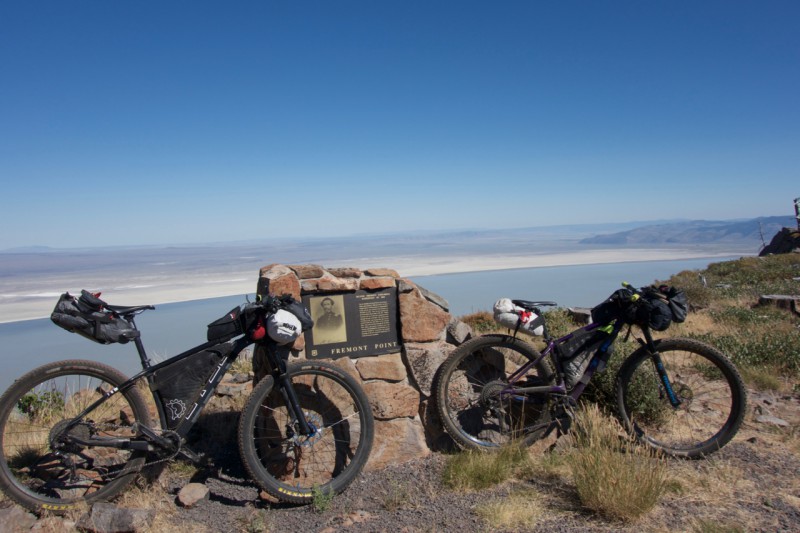 With a slight time crunch — I only had 7 days to get to my flight in Bend from the start on the border of California — we set off on the hellacious pace of anywhere from 45 to 90+ miles a day. Sun up to sundown we were riding. This ride was exactly what I needed and what I was looking for– Over 75K in elevation gain in 730 miles and over 50% burly single track– this is my idea of bikepacking!  Traveling through landscapes of dry arid plains and plateaus to the old growth forests of the Pacific Northwest.  Oh, did I mention the single track?!  This consisted of a mix of overgrown trail with baby heads for 30 miles on the Fremont Winter Rim trail to the full enduro style descents of Blade Runner in Post Canyon near Hood River.  We weaved our way up mountain cirque trails and around the towering volcanoes of Mt. Backer, The Sisters, Jefferson, and of course Hood.  Forty mile stretches with no water and smoke filled forests from the extensive forest fires.  There was an impressive the amount of diversity in landscape and terrain.

Back to that 7 day time frame I mentioned earlier… We made it to Sisters in 7 days and that was my ducking out point to catch my flight out of Bend. This was about a third of the way through. Not ready to go home yet, I did a little bit of pleading to the boss man and was able to extend my time off to finish the route. Since we were not sure exactly how long the rest of the ride was going to take, and had no Idea how we were going to get from hood River to Portland when we did finish, I decided not to rebook my ticket until I knew for sure I could make the flight.

The last section of this route was an unexpected slap in the face. We were now in the Hood River Tier of the trail.  Due to the difficulty of the terrain, we couldn't cover the distance we intended to.  If the terrain was to continue as it had the previous day, there was no way we could continue with the amount of food we were carrying. We were forced to stop for the night in a small town called Idanha, we waited for the store to open in the morning to restock our supplies.
Stumbling upon a small campground RV park, we were taken in by a group of retired RV'ers.  They told us stories of driving to Idanha every year from varying regions of the country to meet here. We were able to enjoy the local color and shared stories during their much welcomed taco night. The  RV park residents of Idanha where overly welcoming and even began bringing us snacks and goodies to take with us on or next portion of the trip.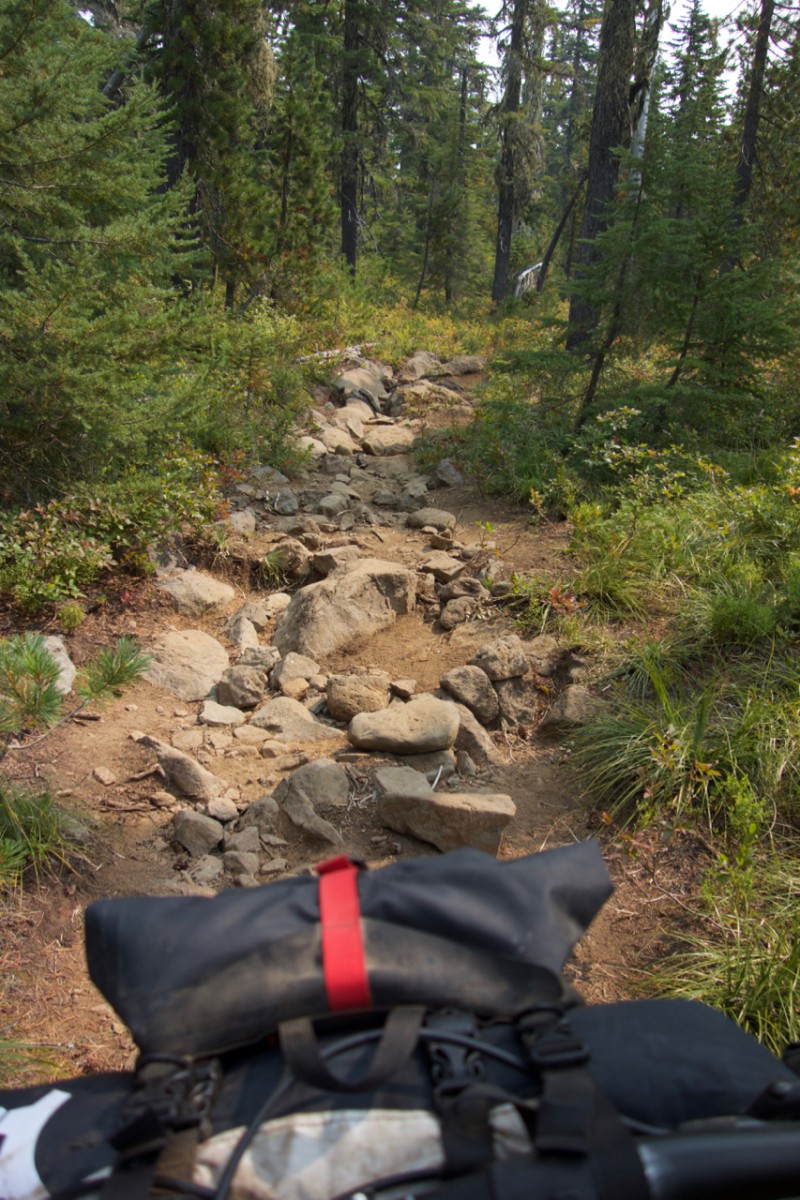 Fueled up and ready to continue, we were forced to make a detour due to fire closure. We reconnected with the route only a few miles out of the way. The route seemed to ease up on difficulty on the remaining sections.  Bringing us up and down exceptional single track, we made our way around Mt. Hood with clear skies and exceptional views. At this point we could physically see our finishing point from a few of the alpine vistas. It was a bittersweet feeling, as ready as we were to be done riding, we wanted to hold on to the incredible feeling of being out on these trails.
As the evening drew near on our tenth full day of riding, we descended into Hood River via the Post Canyon trails. With massive jumps and banked turns, we found our way into the Columbia River valley. Navigating through the bustling town of Hood River, we reached our destination and dipped our tires into the Columbia River 10 days and 8 hours after starting the ride. For the food enthusiast, that's 9 Cheeseburgers and 7 burritos from start to finish!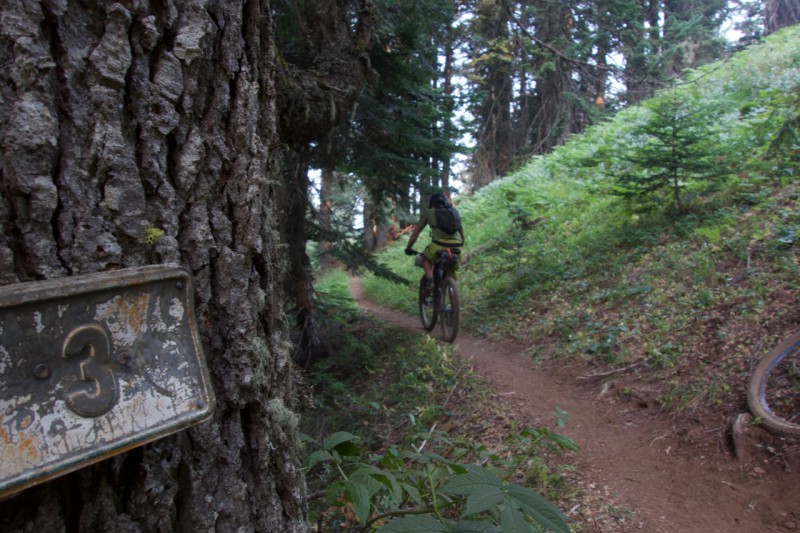 Though the route was complete, we still had to make it to our plane. We could have rode our bikes down the highway, but I wasn't too stoked on this. With limited time, this option was a tight fit.  Luckily as I stated before "Shit'll buff," and It just so happened I had been in touch with some folks via email who lived in Hood River. They had mentioned extending a warm shower to compleaters of the Oregon Timber Trail since they lived at the finish. This incredibly nice couple, Becky and Jonathan, not only offered a place to stay at the completion of this ride, but were able to get us a ride to Portland to catch our flight. It seemed like it was only a day since we had started this ride, but in actuality it had been almost two weeks.  What a whirlwind of riding from start to finish.
Every so often when you don't plan and just go for it, things just seem to "buff out."

Words and photos by Dusty — dusty@revelatedesigns.com