Blog
stories • happenings • adventures
---
May 5, 2017
Posted by Holly
I wake up holding my cramping stomach, I could just lie here but after four days in the backcountry we all want to get to Mulege for food and comfort. As we start riding I feel sorry for myself then I feel better and a great idea knocks me over, that I won't stop again. If I don't stop I'll be in Mulege in a few hours drinking Coca-Colas, Tecates and other civilized medicines and sleeping for as long as I want.
Three days ago we rode for a few hours with Lael during her Baja Divide FKT attempt. I watched her skillfully eat an assortment of intricately packaged snacks on her bike. Maybe I could try that, start with the easy ones that I can tear with my teeth like Snickers and gradually move up to taped up, tri-colour Mexican flag coconut fudge. I give it a go, it works well.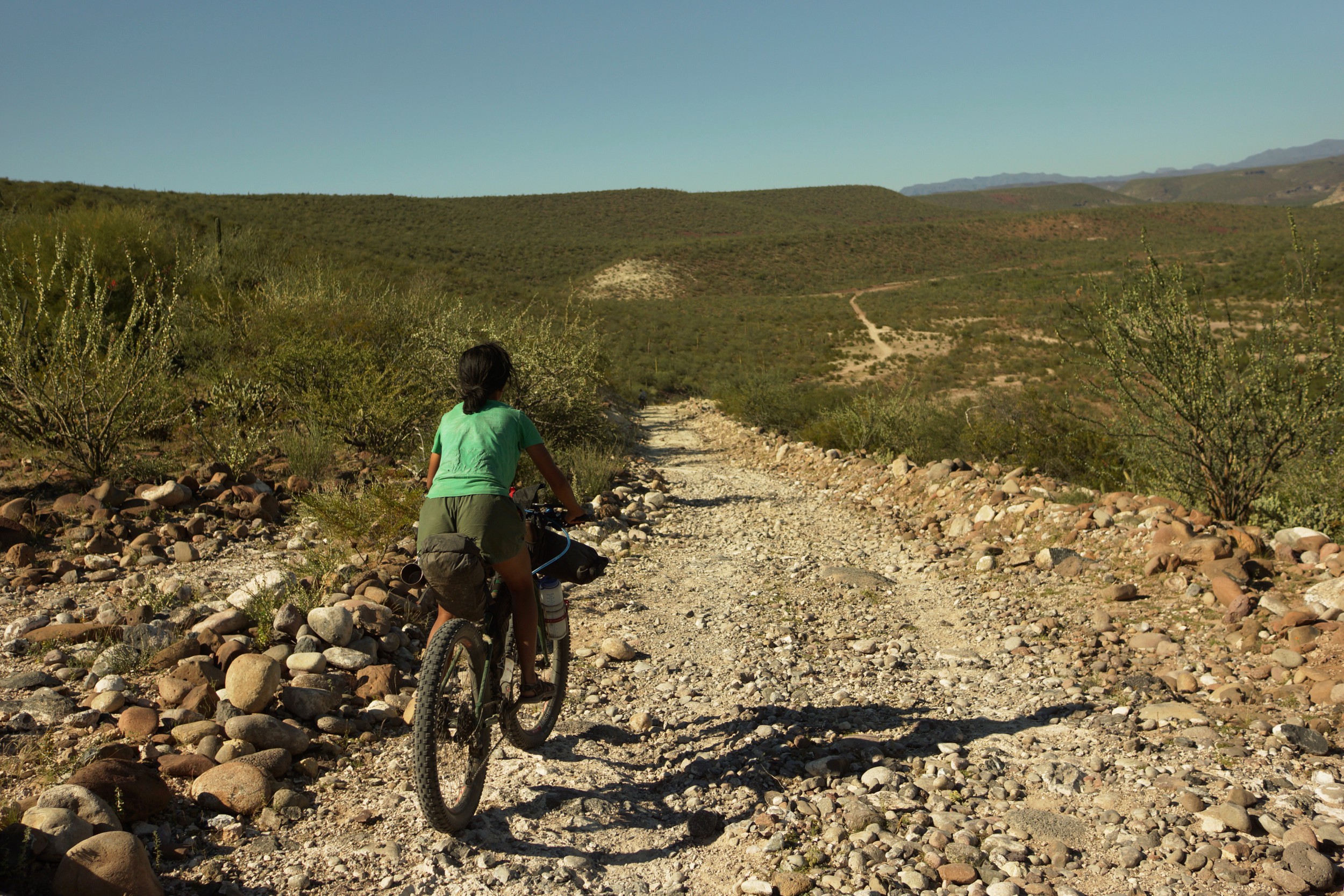 With no stops I get ahead of Al and Derryn, Al catches up to me. This happens on several climbs before he says we should wait for Derryn who is having minor bike issues. I tell him no because I must get to Mulege quick. Why? I want to and they will no doubt catch up to me.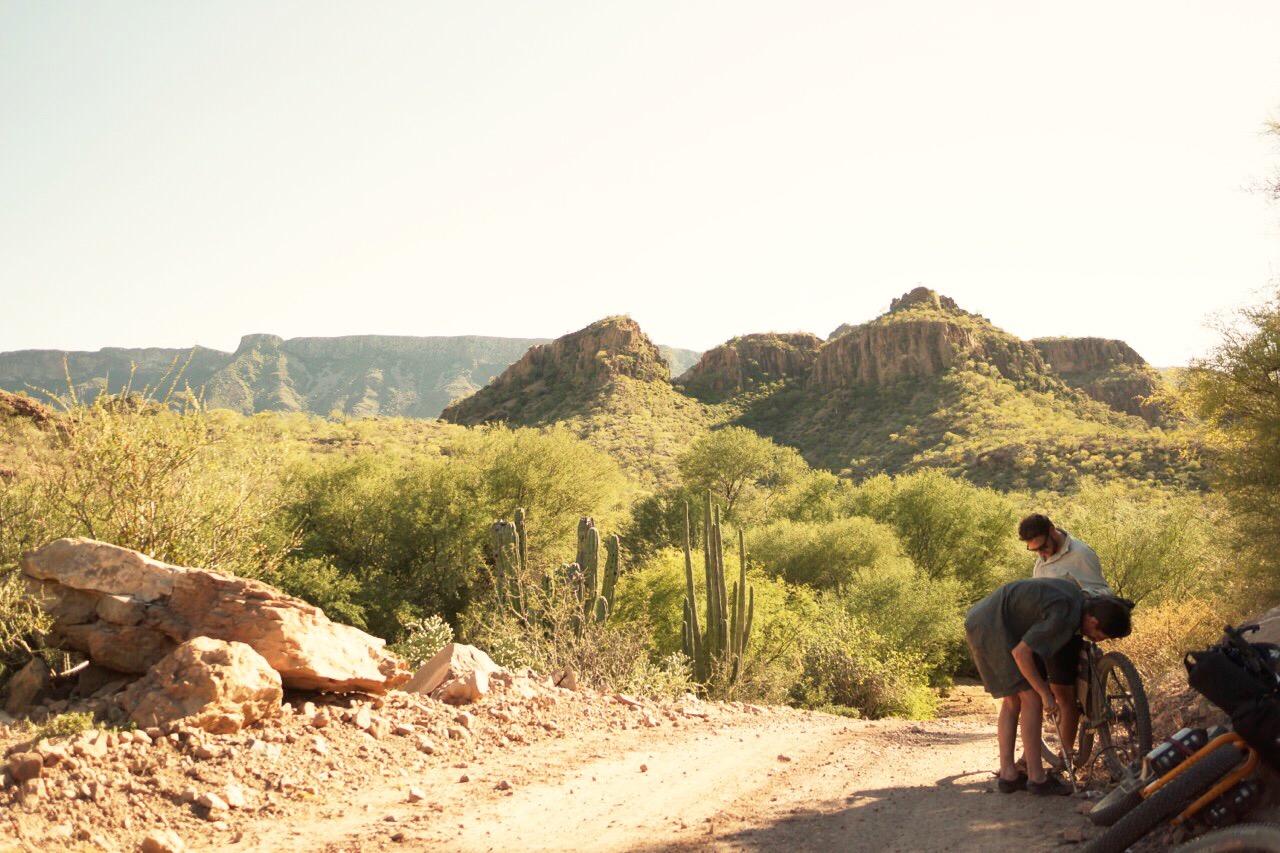 So I keep pedaling till I hit a fork in the road. I am not the navigator on this team. I turn my phone on to look at the map and the route sends me to the left. A ranchero approaches in his truck with a bull tied to the back.
"Estas sola?" he looks momentarily puzzled
"No my friends are coming"
"Que le vaya bien" we smile and he speeds off leaving me in a small cloud of dust.
I hook into a goat's milk caramel lollipop. This is apparently dangerous in the unlikely event of a crash but the only people that can and would stop me are not here. I keep rolling.
There must be at least 20 river crossings – wet and dry. After each, the route travels along the river on sandy tree-lined roads. Shade is precious and even the smallest trees are generous in contrast with the Cardon cactus and Ocotillos of the last few weeks. Then I'm riding into the mouth of a big canyon, which I now know is the Sierra de La Gigantica. In the early morning, sunshine is bouncing off the water and the rich desert greenery, which is abundant from recent drought breaking rains. This is so great!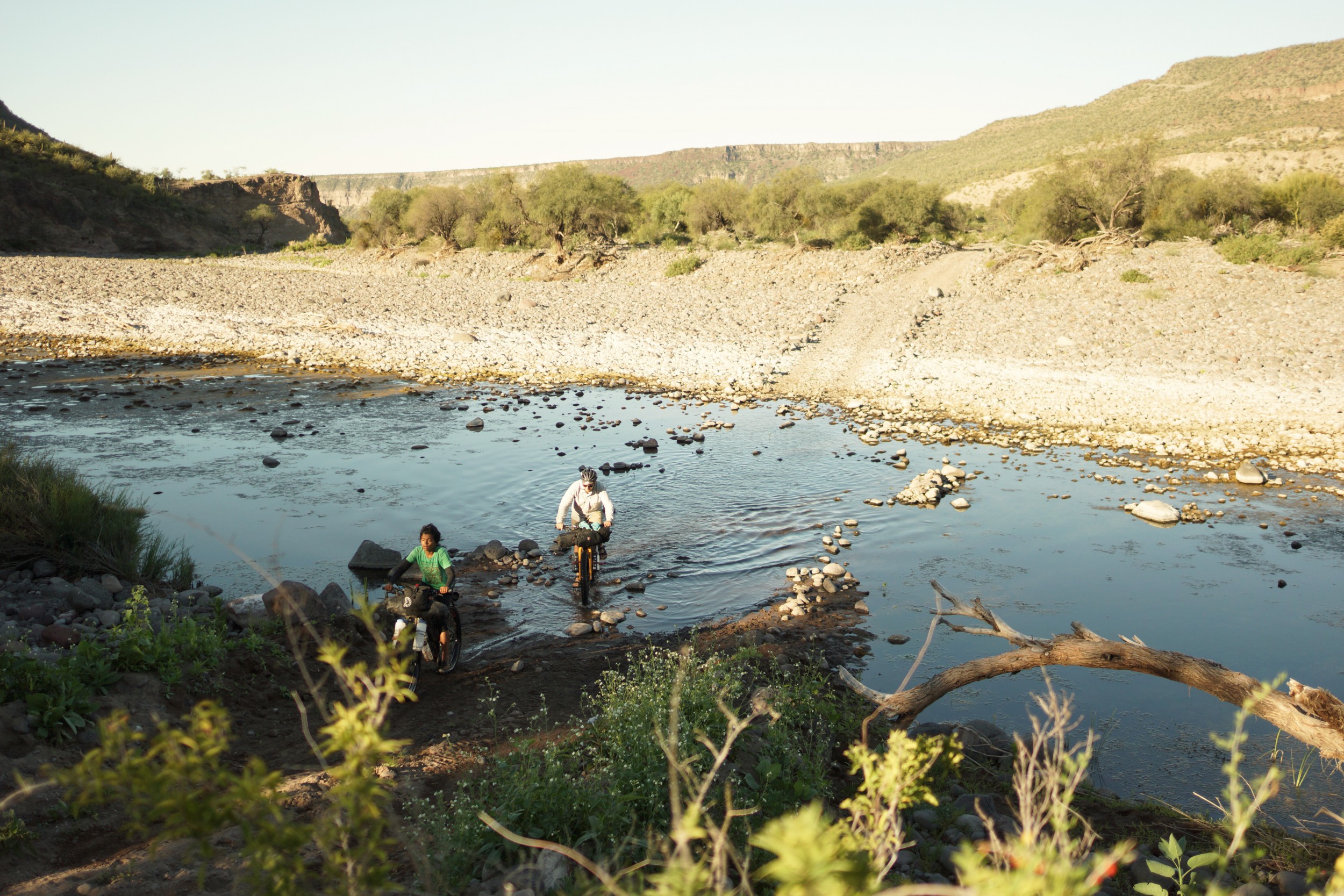 I pass several quiet family ranches and their goats, cows and donkeys. The donkeys, usually tied to a tree, jump in and out of my path testing the safety of both options in relation to my approaching bike. I think of those Year 7 math problems that go like – If you are travelling at x speed and a donkey is erratically jumping towards and away from you in how many seconds will you collide with donkey? I'm not sure, but I manage to avoid a collision so I guess I can confirm math isn't so important.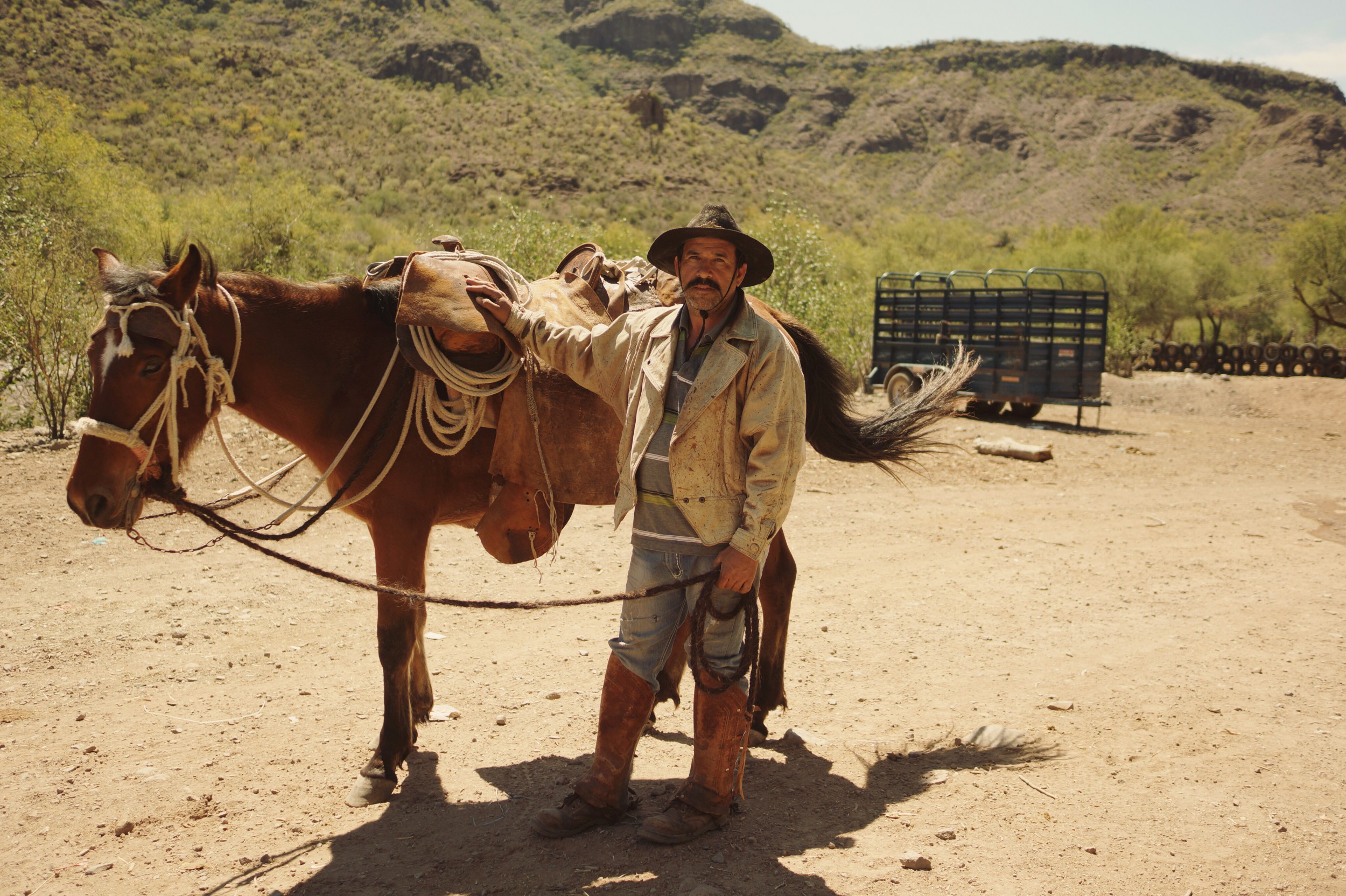 Some rancheros wave, I see a sign for goat's cheese. Two days earlier a woman in El Datil told us we could go to any ranch along the way and ask to buy queso fresco. I think about it. Oh wait! Al has all the money and I haven't seen them for a few hours. The first holes begin to appear in my cool plan to descend into Mulege and sip on miscellaneous beverages while waiting for my amigos to roll into town.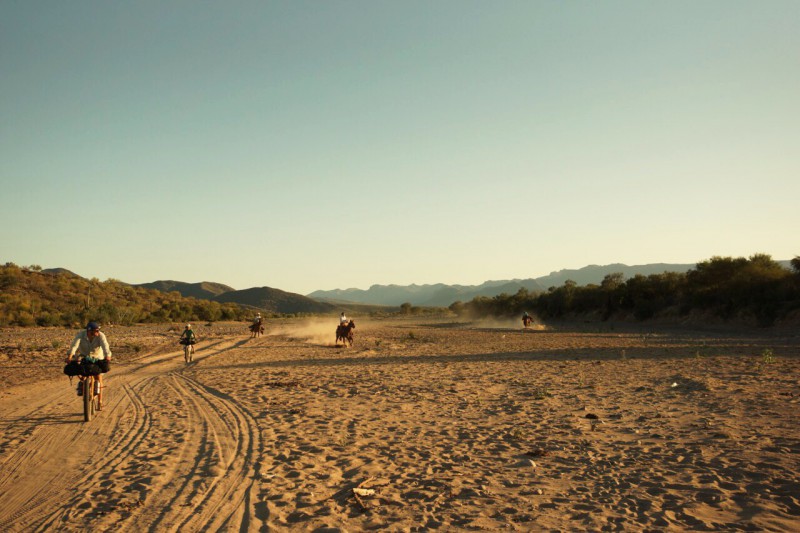 Further along, my path is blocked by a big herd of goats and unlike the other goats on the route they don't budge. I look around and it becomes clear they belong to the family of seven who all have eyes on me. A little black ferocious Chihuahua runs out and is about to grab my ankle so I roll forward. All seven people yell at the Chihuahua while I cut circles to keep my ankles canine free. An eighth appears to join in the yelling and the dog relents.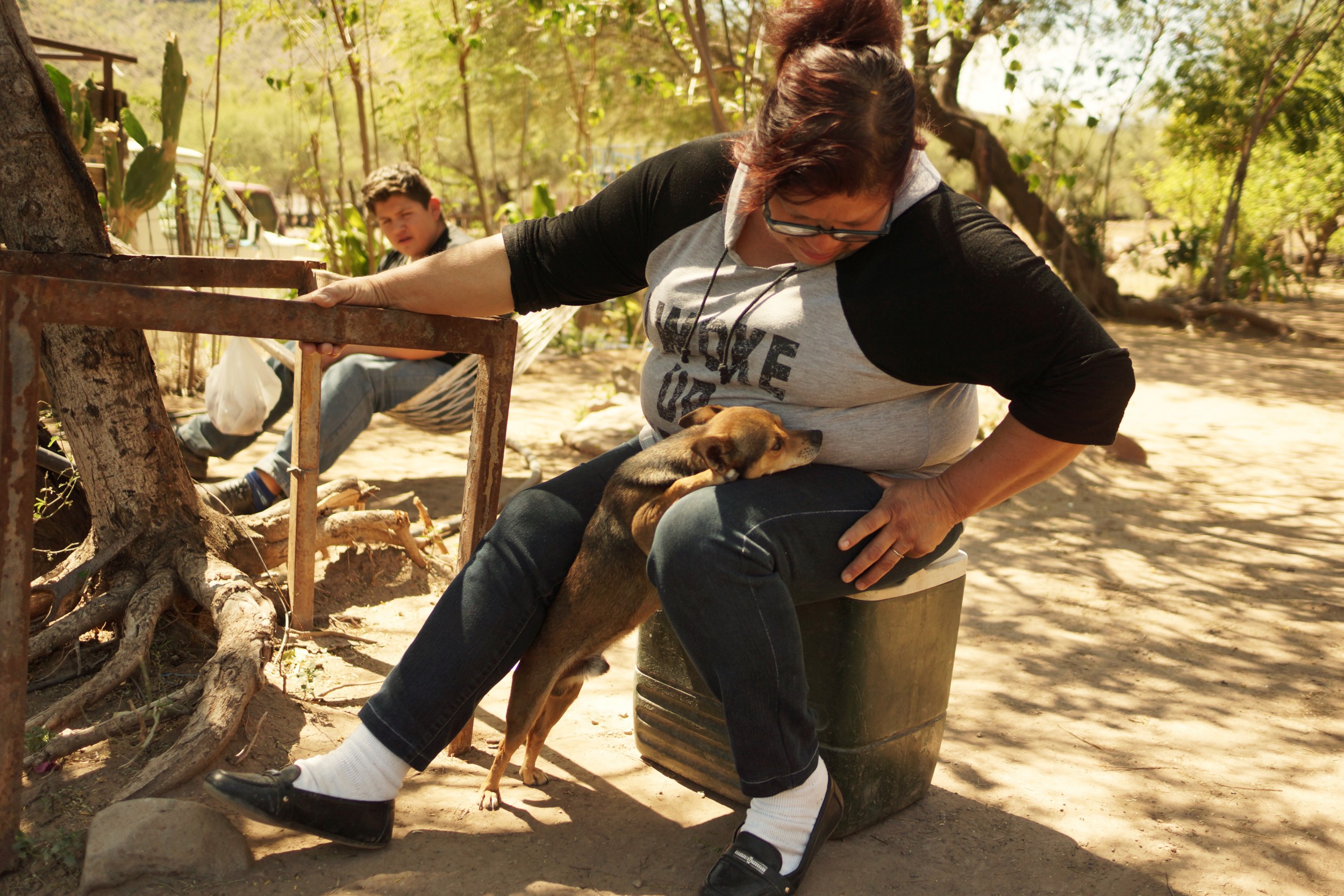 They tell me to come inside into the shade.
"Mucho calor"
The grandmother points to a seat, the mother brings me a glass of water and goes back to hand washing a family load of laundry.
I wasn't going to stop but I am unable to resist their friendliness.
We exchange names and situations. The grandparents have a ranch up the road but they spend most days here.
The mother asks if I am hungry, before I can answer she disappears into the house. A few minutes later she brings out three warm burritos filled with frijoles and queso fresco. Yum! I ask if they make the cheese themselves. "De chivas" she nods and points to the goats.
The four children and husbands are also very busy saddling, feeding dry alfalfa to the horses and herding the goats. I chat to the women about everything; they tell me about the government choppers that do food drops when they get flooded in during wet season.
Some time later Al, then Derryn, arrive. The mother is again in and out with fresh burritos. While eating, we watch the rancheros don chaps, boots, jackets and transform into storybook charros. Three of them head out into the heat of the day.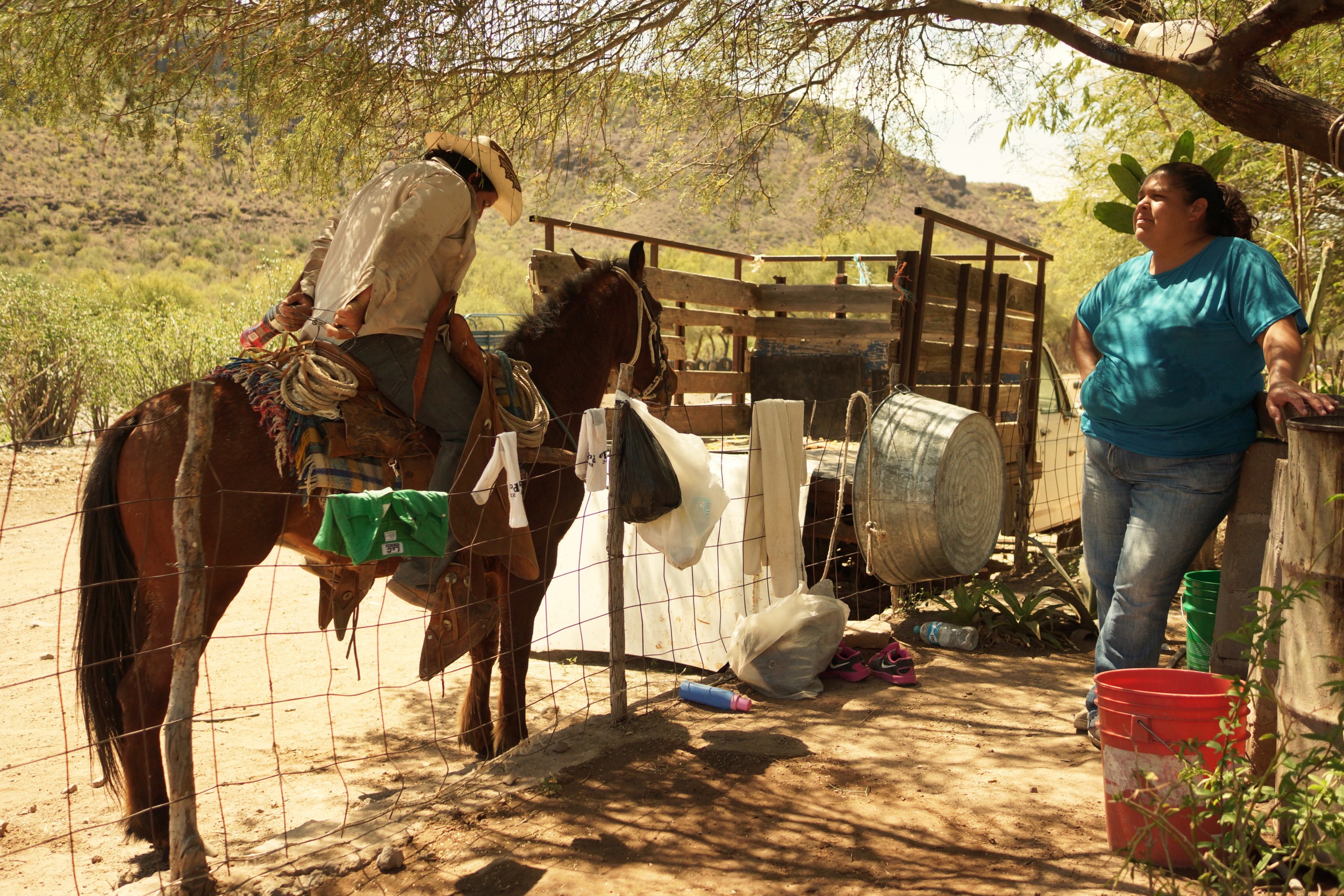 This is our cue to leave but I have become so comfortable here I had forgotten about my fantastic idea. We say our goodbyes; they tell us to stay cool. We push on and it is mucho calor. Immediately we are on an absurdly steep climb, I get off to push my bike. Al rides past on his heavily loaded bike with ease. This is mildly irritating. What's the big rush anyway?
I lose sight of Al and Derryn on the descent, then an identical climb. There are no more trees. The heat is stifling. I work myself up into a frenzy thinking I won't catch the others on this terrain, which means I can't stop and wait it out.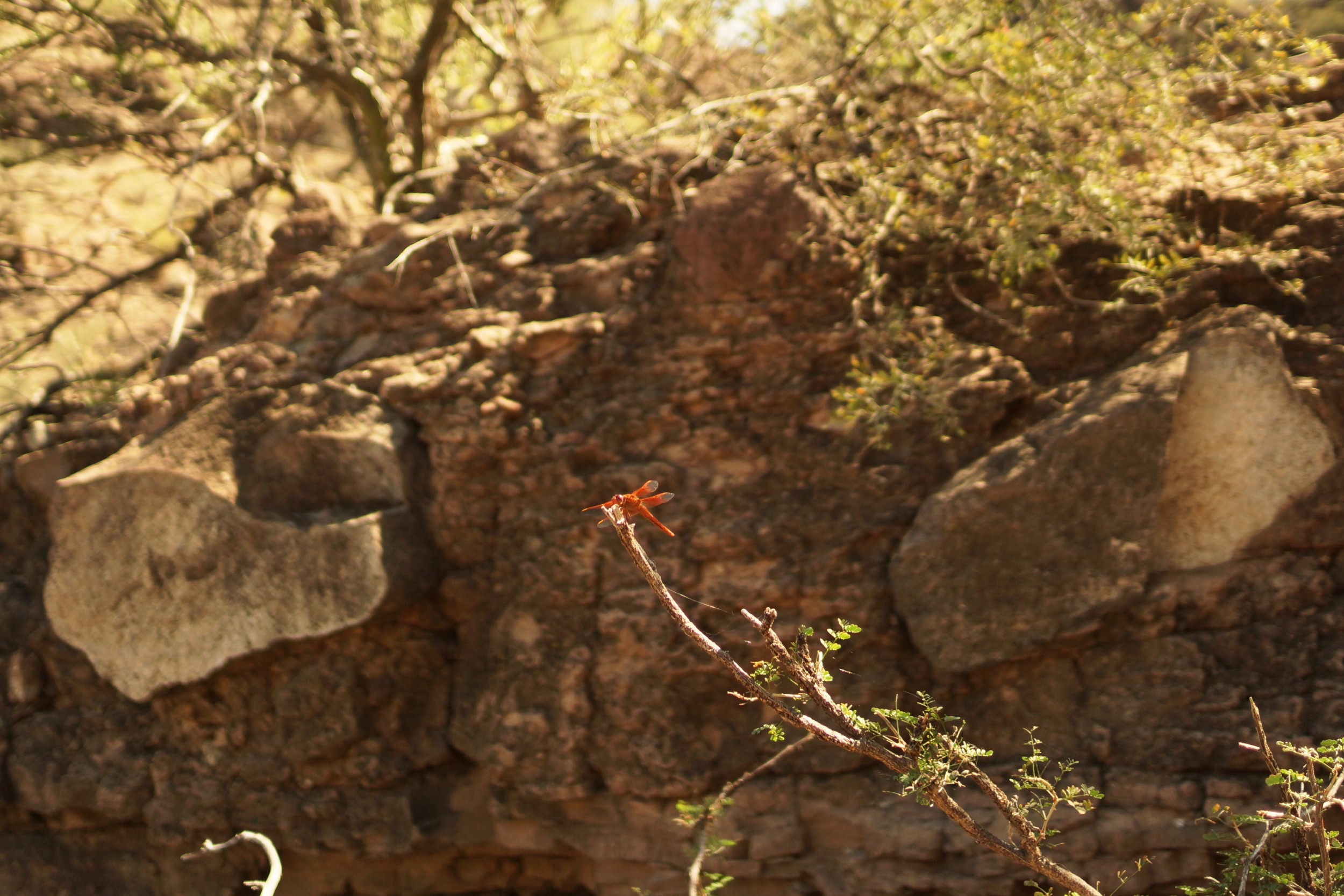 I get up and over the next climb at the bottom of which my friends are soaking in a sweet water (agua dulce) oasis. I frantically demand we take a break.
"Sure" they agree to what they are already doing.
I join them in the pool. Red, blue and purple dragonflies spin around us. Tiny fish try to nibble at our feet. We are not going anywhere, I become calm.
When we resume with brighter moods the terrain is still rough and now with even sharper grades as we sink deeper into the canyon. The roads are storm damaged. The loose cobble descents scary.
On one long slippery descent, I pump mindlessly at my brakes and come to a dead sideways halt. How did this happen? I shrug and awkwardly realign myself with the road to keep going.
As we inch closer to town the road is flatter and graded. We wind past several ranches then big agricultural properties. Three teenage cowboys ride next to us, but they are fresh and fast like the wind. When I spot the first date palms I become excited again and start rushing to where all the cars are coming from. We hit the pavement and roll into Mulege as a team and head for the first mini market. The fridge is chock-full of Coca-colas and Tecates.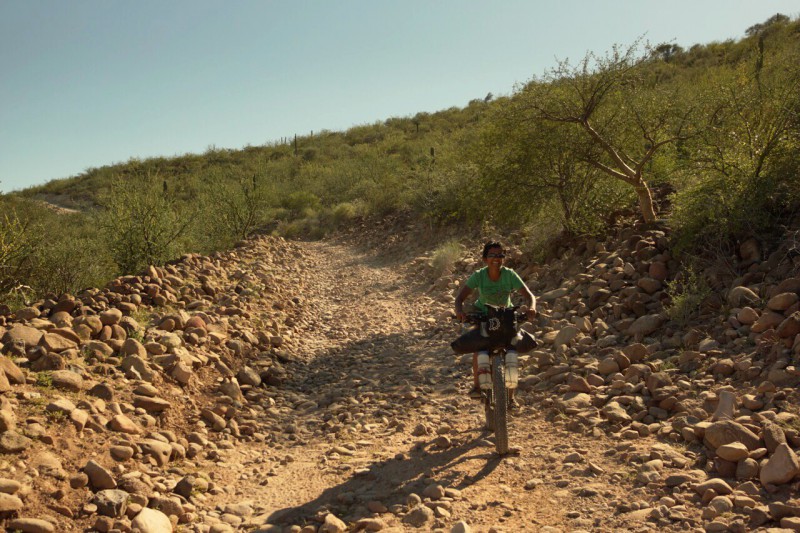 Lavanya Pant is the recipient of the 2017 Lael Wilcox's Globe of Adventure Women's Scholarship. Through an application process focused on she was selected as an outstanding individual to receive an Advocate Cycles bicycle, Revelate Designs bikepacking gear and a community supported travel stipend. To see more photos from her adventures find her on Instagram @lavlavish.
---