Blog
stories • happenings • adventures
---

April 3, 2015
Posted by Revelate Designs
We had a chance to catch up with Husband and wife duo of John Lackey and Kara Oney to find out a little more about their experience during the Iditarod Trail Invitational this year.
John won and obliterated the course record with a blistering pace of under 2 days, Kara placed 3rd in the womens and was the first women's rookie to finish.
We had a uniquie chance to "spectate" the race this year, starting a tour in McGrath at the race finish and heading southbound along the trail. We got to encounter racers passing us head on (if we werent' sleeping in the case of John!).
Plied with cookies we got a bit of depth about the race in this interview!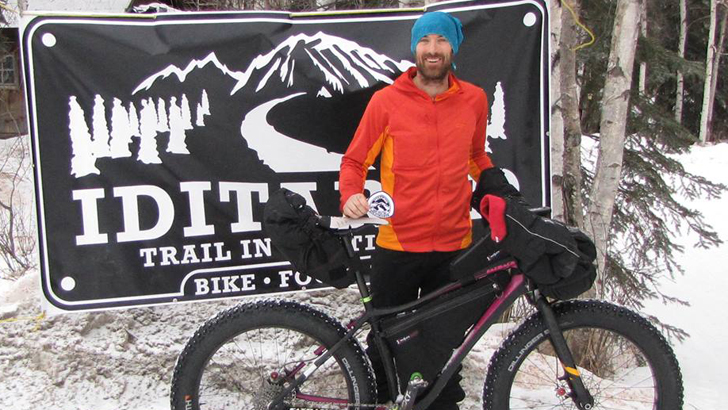 Eric: So how's your recovery going?
John: I've done two races since [the ITI]: the Talkeetna Trio and then the Homer Epic. Did fine in both of them.
Kara: I was still exhausted in the Trio; only did one lap. It was cold and my fingers still had nerve damage and were numb, so I was concerned that I was going to get frostbike since I couldn't feel my fingers.
John: With all the tussocks and the pounding [the ITI] just beats the crap out of you, especially when you're trying to go fast. It was brutal. My hands are pretty good now, but I still have one finger that's numb. It was worse for me two years ago; two fingers on each of my hands were dead for more than two weeks and it was hard to get any work done. We both got sick from being run down and pushing hard and not sleeping.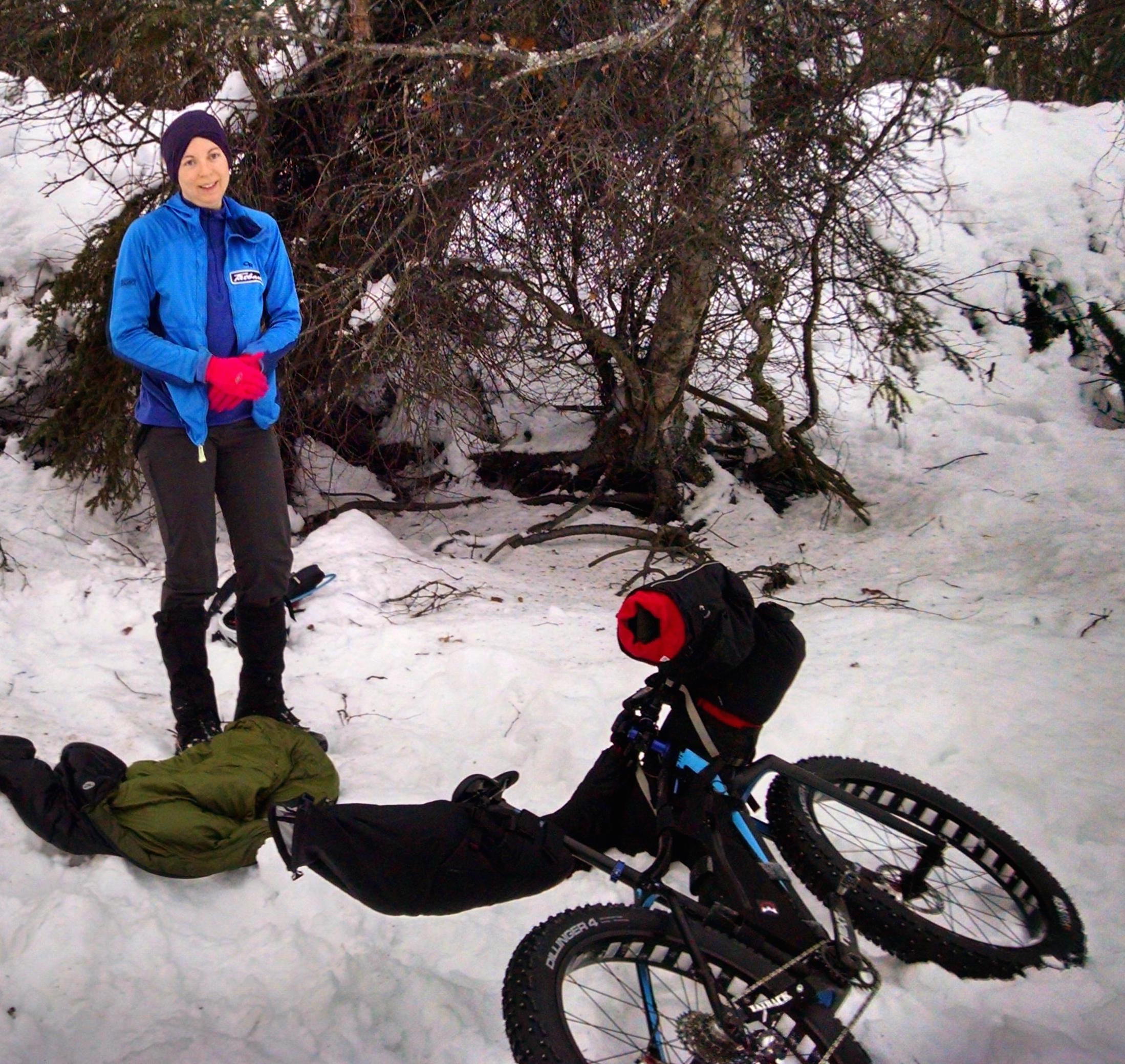 Eric: Kara, as a rookie what part of the race were you most concerned or nervous about?
Kara: I was really nervous about Rainy pass, nervous about going over by myself or with people I didn't know, and I was afraid of getting dropped and being lost. I'd heard horror stories about the trail blowing in or nasty weather [when] you can't even see the trail. I had a GPS but [the trail] changes year to year. I felt like if I missed something I'd be in thigh deep snow breaking trail. So that was a nerve wracking part going into it. But it turned out to be just fine!
Eric: So did you go over Rainy Pass with people?
Kara: Yeah, I ended up traveling with some folks. I made an effort to go with others during the daylight. I got to Rainy Pass Lodge at 8:30 p.m. and didn't leave till 8:30 a.m. because I wanted to go during the daylight and when other people were around. So I took a really long break that I didn't really need, but that's my comfort level. It was a bummer since it was twelve hours.
Eric: There's a flipside to that — so many people who are racing go through the pass in the dark and miss out on a scenic highlight of the course.
John: We had a beautiful sunny day, just gorgeous! There were some Buffalo hunters that had gone through [Rainy Pass] earlier and the trail had set up that night. It was a little punchy but all things considered it was awesome.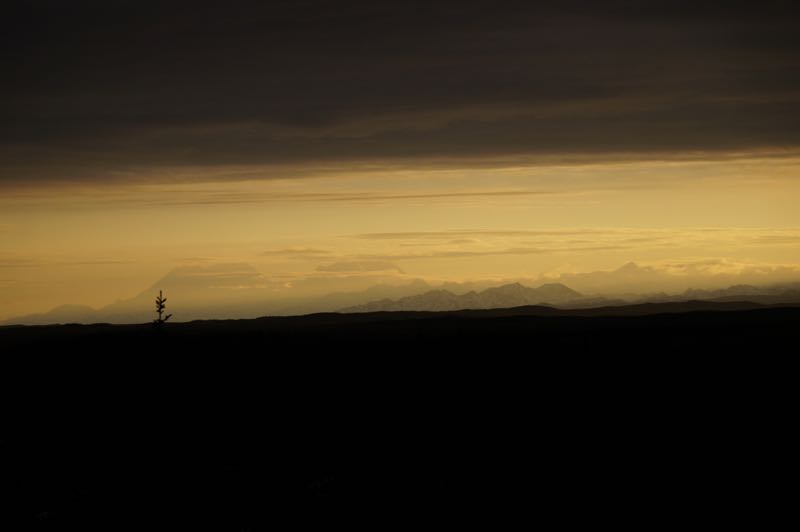 Eric: John, I read you had forged a strategy with your friend Tim Berntson: stay in the front pack going up to Rainy pass, recover downhill to Rohn, then drop the hammer on the north side of the Range. How did that plan go for you?
John: I was talking with [Tim] about his race last year and he was like, "If it's fast, you probably don't even need to sleep." Tim and I rode together last year for the whole race and it was the third night where we all just fell apart, but we did it. So I realized that I can go two nights without sleep and push it and see what happens. Jeff Oatley give me some advice that the race doesn't really start until Rohn. By then, mistakes have been made; you can easily lose the race before Rohn, but you certainly can't win it. So I took that to heart and rode with Kevin over the pass. Then in Rohn, we were sitting there talking and Kevin was thinking of taking a rest on the trail. I still wanted to see if I could do it without stopping. I was either going to implode and see Kevin riding by me later, or if it worked then it worked!
Eric: Did you ever feel like it was going to blow up in your face?
John: I was feeling strong until I caught Andrew and then it wasn't like I felt wasted — it was more like I lost motivation. It was two in the morning, dark, and I needed to get my head straight. It wasn't like I was falling apart or super tired . . . just over it. I'd spent six hours chasing down someone, then I did it and passed him. Now what? [I thought:] "Oh crap, I still have eight hours of riding until I finish this thing."
Eric: People say the conditions were as fast as they could be. But let's face it, without the snow on the north side it was a very abusive kind of fast — bumpy as hell… How did you fare through that?
John: It was super abusive. I was standing up the whole time absorbing bumps. I felt like I was going super slow; just getting crushed and falling apart. I thought Andrew was way out in front and maybe I'd catch him out of Nikolai. Then after the race I was looking at the SPOT tracker data and I was actually killing it through the rough part. So I passed him around Sullivan Creek and was like, "Oh maybe I was doing ok."
Kara: We actually train in that junk. We take our dogs out on the mushing trails when there is not enough snow. So we had some really rough training going into it. I bet it helped you get through that.
John: It didn't hurt. It's an odd skill I suppose. Like Peter [Basinger, multi-time race winner], he's just really, really good at pushing his bike.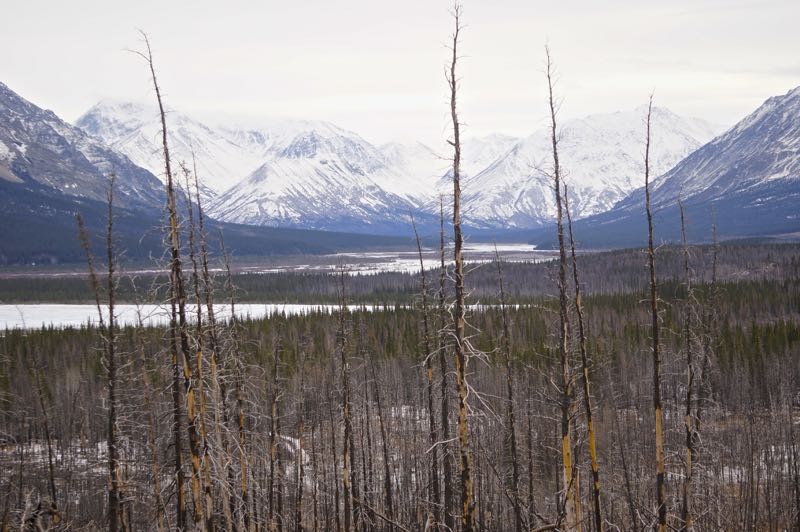 Eric: Kara, did you have a strategy going into the race, like trying to pace with the other women or were you out to ride your own race?
Kara: My strategy was to hit the pass during the day and to get rest earlier on the trail since that's where the good spots are to get decent sleep. I knew once I got to the top of the pass I would just keep going and hopefully gain ground on people who had not gotten enough rest. It worked pretty good. I bivied for 3 hrs in the [Farewell Burn] from l4:40 to 7:00am, then I saw you guys.
Eric: When we saw you in the hills leaving the Burn you had just left a bivy. How was the night for you leading up to that?
Kara: It was ok, but I saw someone else bivy and it put it in my head that "Oh yeah, I could sleep" and I was ready for a break. Then just when I get everything set and into my bag, another group of guys that I'd ridden with before came by. If I hadn't just gotten my bivy out I probably would have kept going with them. But it was 4:30 a.m. — the worst hour of the night. I got up at 7am feeling good and kept going through to the finish.
Eric: Hear the wolves howling that night?
Kara: No, I didn't!
Eric: We heard a bunch of howling as we were going to bed on the last hill at Buffalo Camp.
John: Yeah, when I was chasing down Andrew I was on some of those rolling hills and saw these huge wolf tracks on top of his tire tracks. I was like, um, I'm not THAT far behind him and those wolves are not THAT far away. They are out there.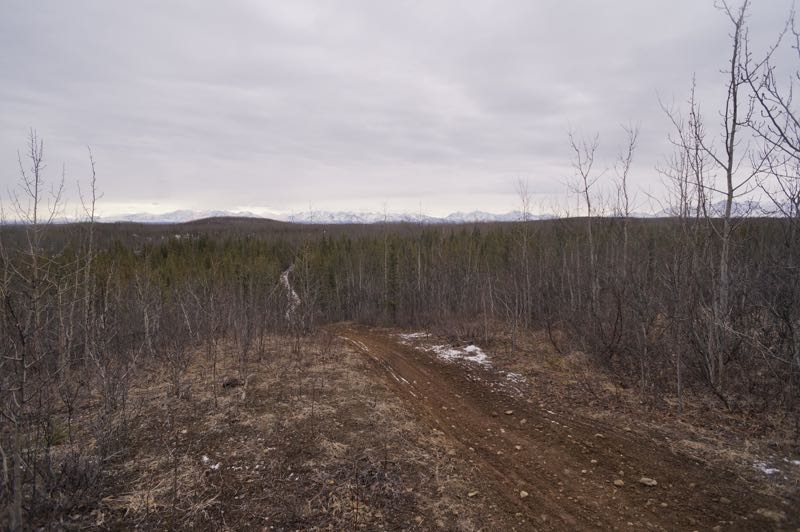 Eric: Kara, how was riding the [Farewell] Burn at night solo? It's kind of an eerie place.
Kara: Actually it was fine; I guess I couldn't see anything. Through all the frozen [Farewell] lakes and sketchy stuff, I could only see what was in front of me so I kept following the trail, oblivious.
Eric: Like, umm, is this lake frozen? It had been warm . . .
Kara: Right, well, I couldn't tell so I just kept going and hoped for the best! I also knew that Heather Best and Tracey [Petervary] were ahead of me and they're both veterans and really experienced and had been through it all already. I also knew it would be difficult for me to come up better than either of them. In this race, it's invaluable to either have done it before or to travel with someone who's done it before. As a rookie doing it on your own, it would be very very difficult to win.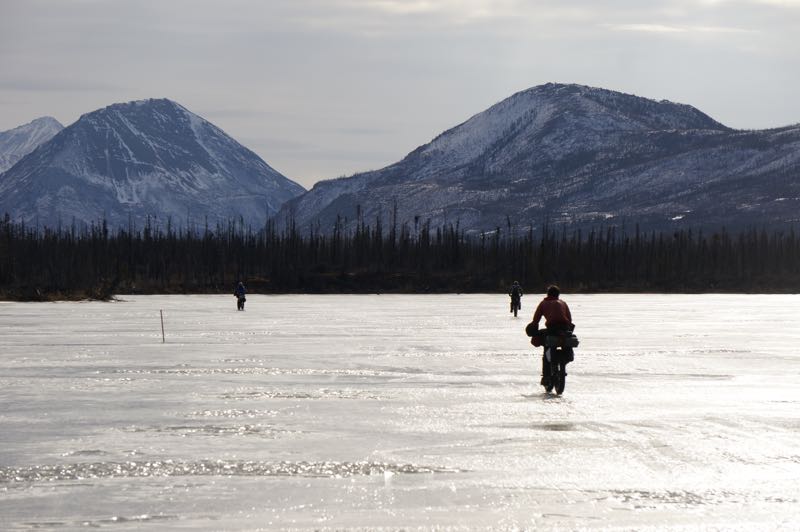 Eric: How did your bike and gear work? Anything you wish you had brought or left behind?
John: No problems at all. It was amazing, super smooth
Kara: I had no problems either. I didn't make a single adjustment, other than obviously tire pressure. Other people had problems with things breaking, frames cracking, fiddling with gear. Some people had some really bad problems.
John: One guy had broken his frame in two places. He had his seatpost pushed down really low and hose clamps holding it together as a splint. Amazing, and he still finished.
Kara: A lot of people had issues with the rough trail — of loads not being secure and things bouncing around, but I didn't have to touch my stuff once. It's nice to not have those issues. The bags I used were on John's bike last year, so they'd already been to McGrath once and are solid.
Eric: Did the warm temps forecasted for the race change your gear and packing list at all?
John: Absolutely, we both left a bunch of junk behind — like the minus 20 sleeping bags. We both brought 10 degree bags, lighter clothes, lighter everything. It only knocked three pounds off the bikes, but it was worth it. We both ditched a lot of food as well, since we knew it was going to be fast. I dropped half my food at the start since I knew I could get food at the lodges and be at Winter Lake [Lodge] for my drop pretty fast.
Eric: With finishing times breaking the two-day mark, and if conditions align again, do you think we'll see racers cut all bivy gear and go for it?
John: Dave Johnson [superhuman ITI 2015 running winner] did it with like no gear. He just napped under a tree with a puffy coat. That's Bold. People can and will do it. I wouldn't. It's taking a big risk if something goes south. The limit for me with no rest is two days. After that you don't gain any time, you just get slower. You're going to crash. Take a four hour nap [and] you'll be much faster.
Kara: That's what I hate about records for snow bike races: it's so condition dependant. The records are the records for that year. You could go out with the same effort and go 1/10 the distance.
John: Look at 2012, it took people two days just to get to Skweetna [90 miles in on the ITI]. Totally different race.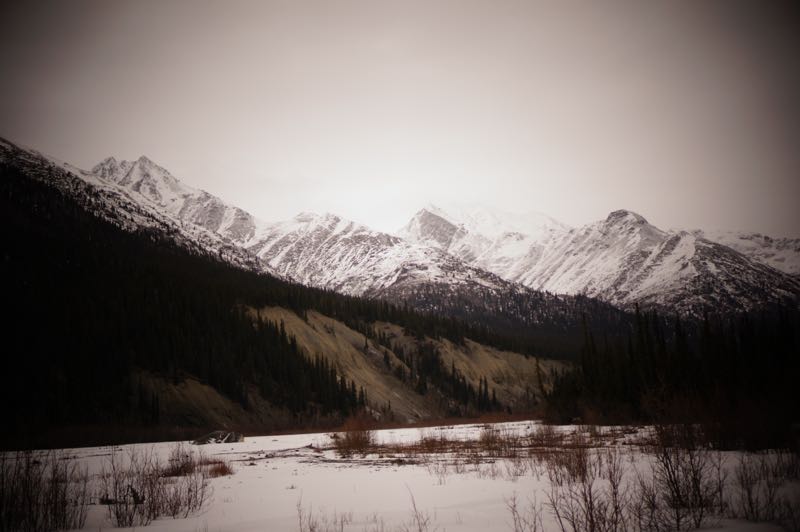 Eric: Kara, You've been getting more into self-supported bikepacking rides and races — Colorado Trail last year and now the ITI. Plan to do any big races this spring and summer?
Kara: I don't know, maybe. I liked parts of the Colorado Trail. But I was not into the hike-a-bike. I was carrying my bike up to these ridges and hikers were looking at me perplexed like, "Why do you have a bike up here silly girl?" I like the riding but not necessarily the Type 2 fun — and there's a lot of that on both the CTR and AZT.
John: On the full AZT where you have to hike [your bike] through the Grand Canyon . . .count me out!
Eric: Anything else you care to share?
Kara: I think your bags are the best out there and I've been using some of the same bags from when you were [sewing] in your garage. I still have all of them. We've both shared them in many races and it's the one thing that we don't have to worry or even think about. I have a friend who uses the cheapest stuff ever and it's always on the verge of exploding and is such a pain in the ass. It's so nice to not have to deal with any of that.
Eric: Awesome, thanks so much for doing this and for your time!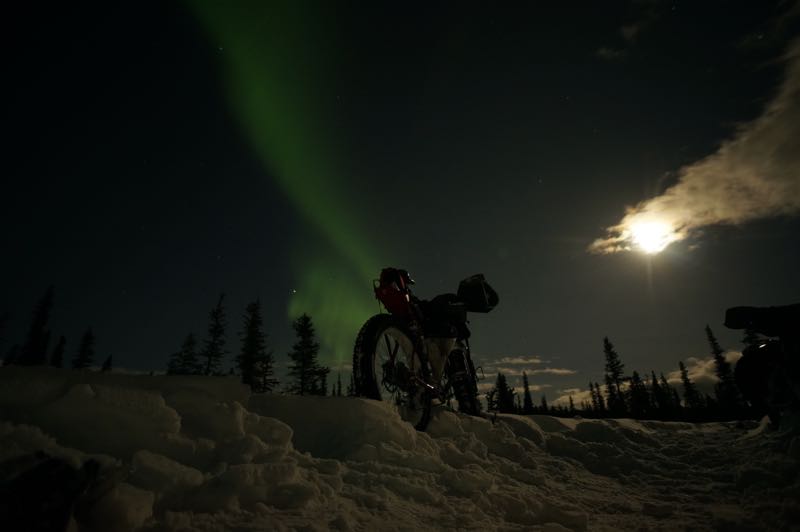 ---