May 15, 2013
Posted by Revelate Designs
Timing is everything, getting schedules to match up, weather to be just right, and conditions for travel all to agree usually takes a lot of luck.
Billy Finley (Revelate's web and tech guru) and I headed up to Eklutna lake 45 min from Anchorage to get up to Pitchler's perch, the first mountaineering hut along the Eklutna Traverse ski mountaineering route. The 'Traverse' is a classic spring ski trip linking together 3 mountaineering club huts along a glaciated route wrapping around the back side of the western Chugash range. Our plan was to stay at Pitcher's for 3 nights and slay peaks surrounding it. It was my 3rd trip up there, Billy's second, we knew what to generally expect, but as usually is the case, when you go a little deeper, your eyes are forced open even more and the hole just keeps opening up around you…
The plan was to Fat bike across the 10 mile long lake, then ski and climb for 3 days before coming down and out. We used Surly Puglseys loaded to the gills to ride the re-frozen morning crust on Eklutna lake.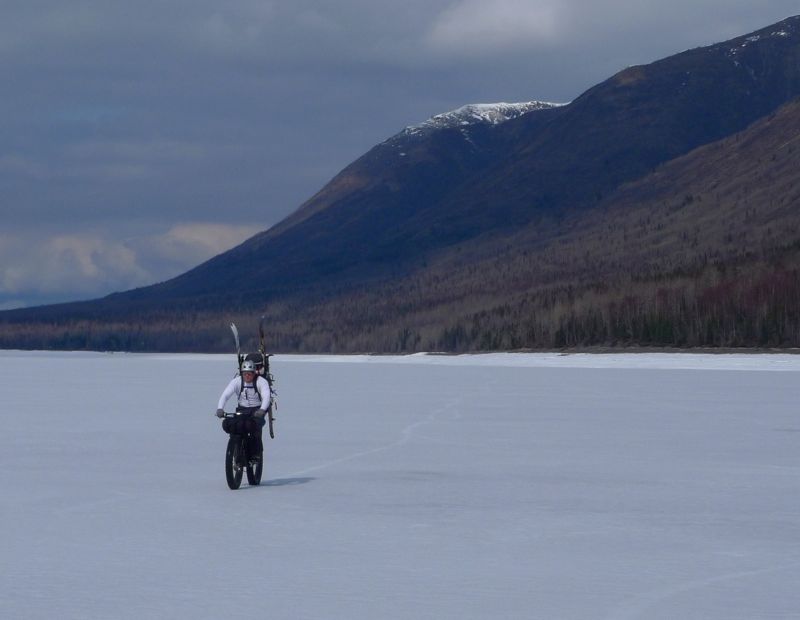 We've had a very cold spring in Alaska. Snow still covered the usual lakeside trail that in typical years is a fast ride on skinnier tires. We were not complaining though. Peddling towards Bold Peak rising over 6,000′ above the lake: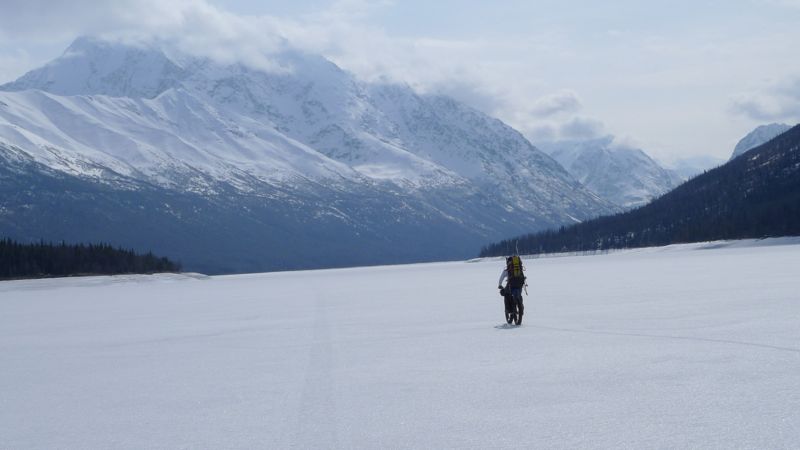 Packing setups was pure anarchy. We both had Harness's, full frame bags and Terrapin Seat holsters. I crammed a 60m 8mm climbing rope into the Terrapin and threw in my sleeping bag, pad and a small bag of food for good measure. On the Harness I had my clothing drybag and all pointy stuff, poles pickets, ice axe, shovel handle. Frame bag had the rest of my food, fuel bottle, harness and glacier gear. Backpack had ski boots, splitboard, crampons and some other junk.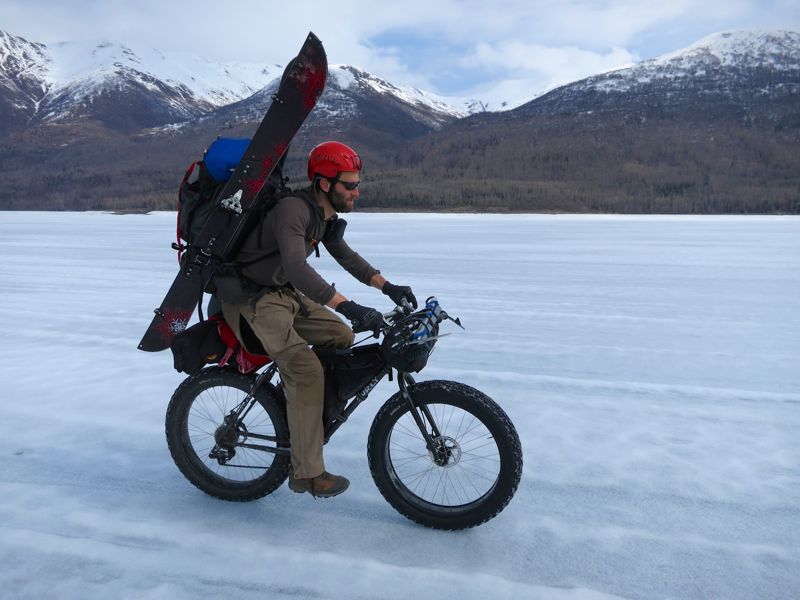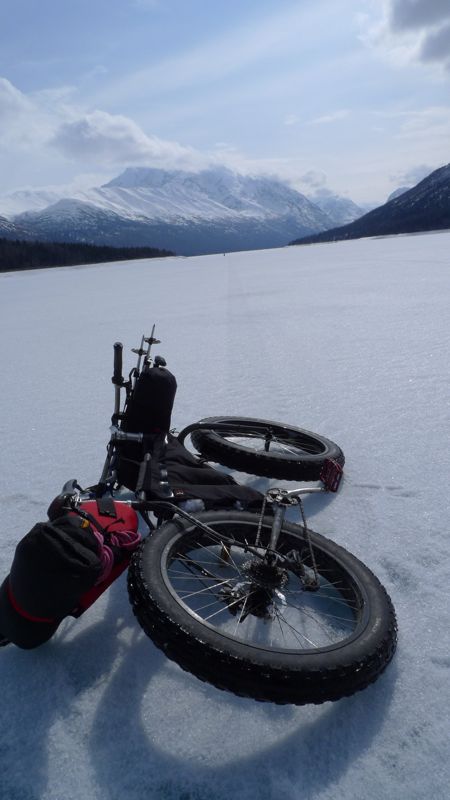 We reached the far side of the lake with the crust quickly disapearing. We both aired down to low PSI and churned along, only had to push a little bit but we made it off the lake before the sun finished it's work. Note to self – be off the lake before noon!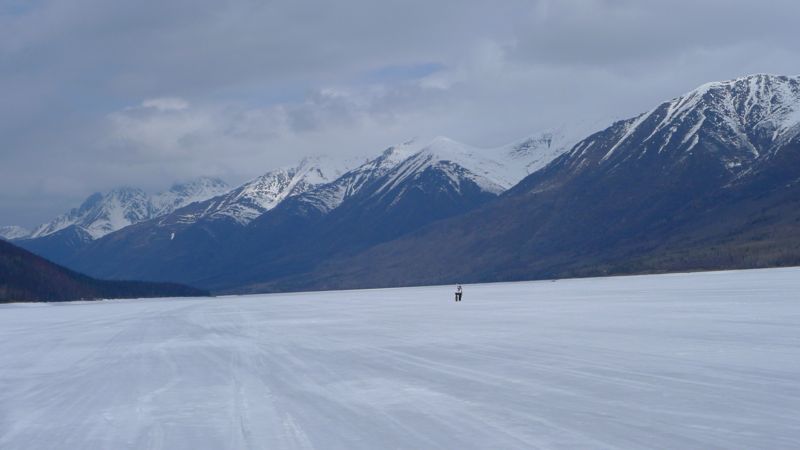 Slushy rutted trails from ATV use, terrible conditions, even for fat tires. We ditched the bikes after a few miles of tough going and made the switch to boards to ski up the Eklutna River and eventually reach the glacier toe.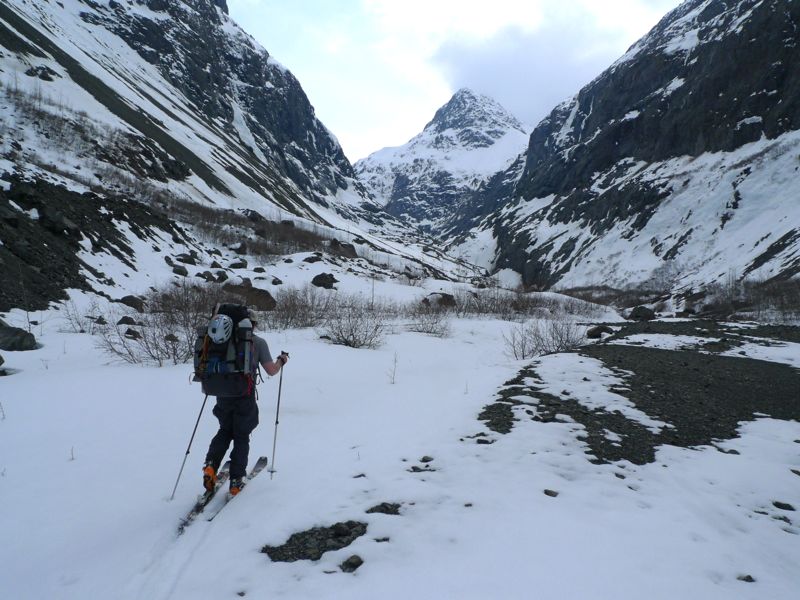 Slogging almost done, we reach the ever changing toe of the Eklutna Glacier. Access is up the ramp on the right side then over a short technical step which required crampons and a belay.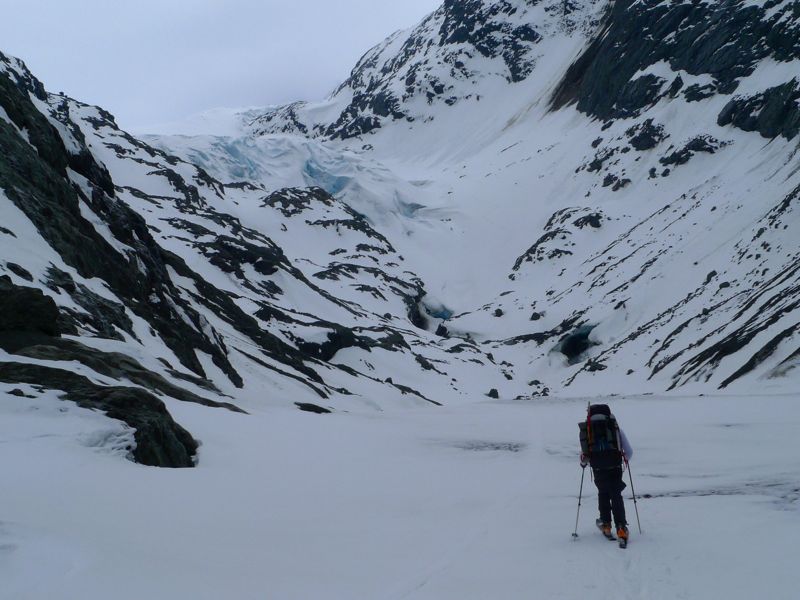 Up on the glacier, back on skis, evening cruising up & weaving past crevassed sections.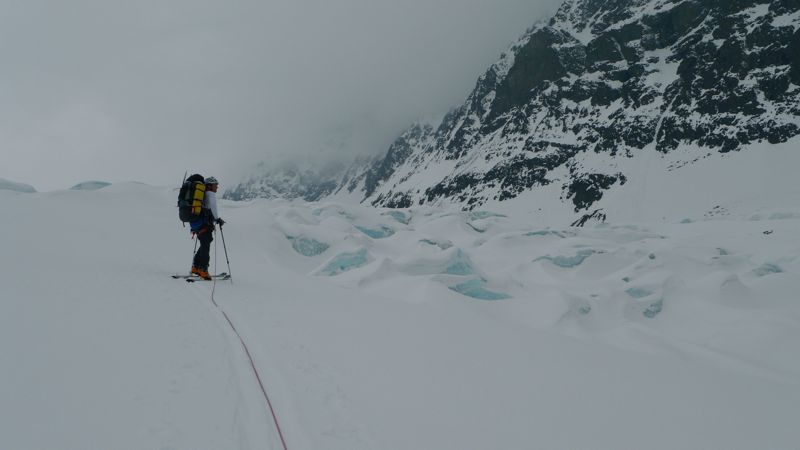 Evening arrival at Pitchlers Perch, an A framed hut built in the late 60's. It's log books contain volumes of adventures from years past and it's easy to spend hours pouring over the scratchy notes. We were pretty tired and wet from the mild temps and high humidity.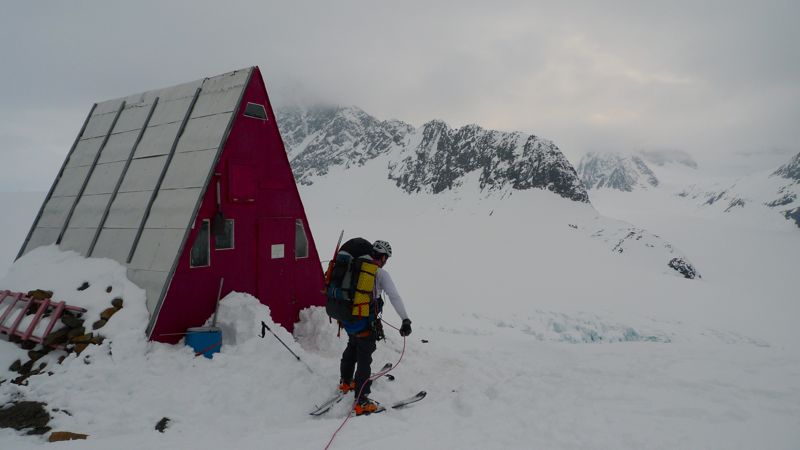 Wednesday broke clear and calm, our stoke factor was through the roof. Smack in front of the hut is the twin summit of Peril Peak, our objective for the day. We'd ski a few miles around to the S. face for an easier route than the steep gnar of loose rock when viewed head on like this.
Touring up the West Fork of the Eklutna Glacier, Bold peak as seen earlier is now the summit over Billy's head.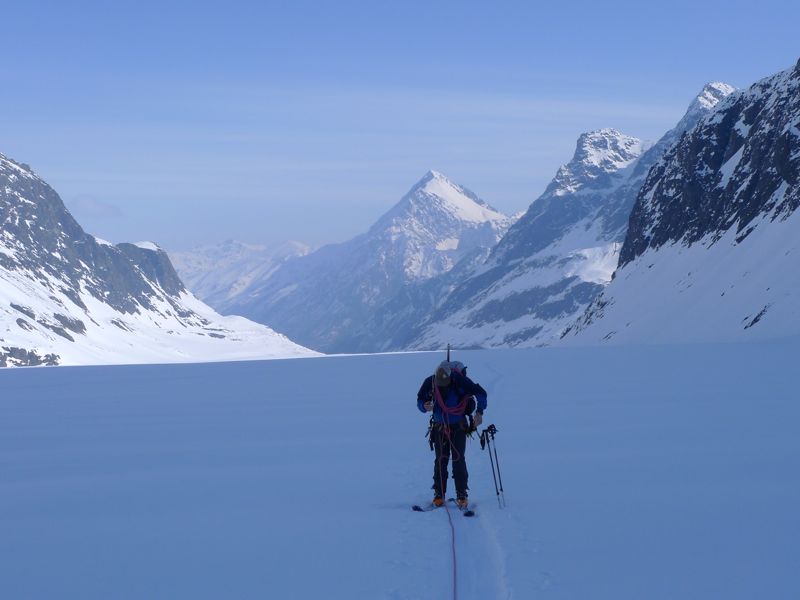 So long story short, we bailed on our intended route due to a variety of reasons and took off to the corner of the glacier that faces mountains that drop into the Eagle River valley. More skinning under a scorching hot sun. We were not the only ones, Wolverine tracks abound…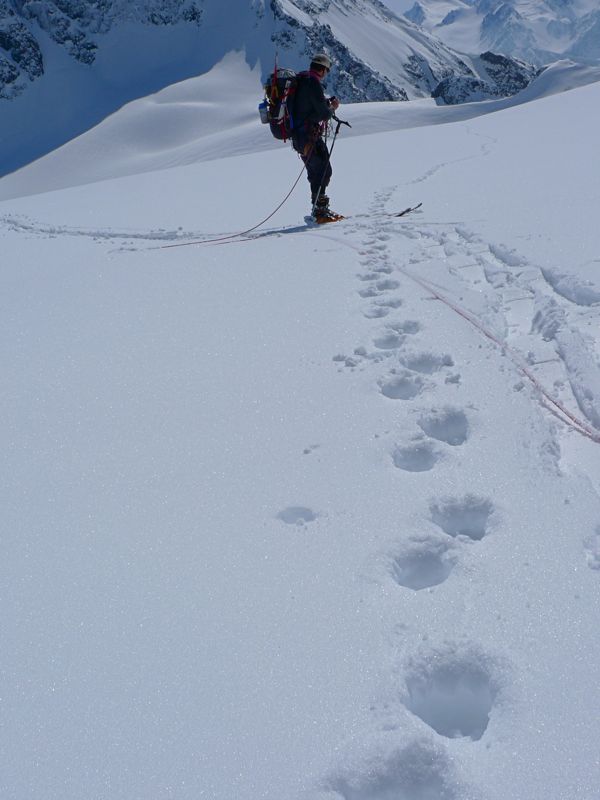 Ditching the rope and glacier gear we started climbing up the snow slopes of Icicle peak, passing this crazy wind sculpted bowl. It was about a 20′ vertical drop at one point!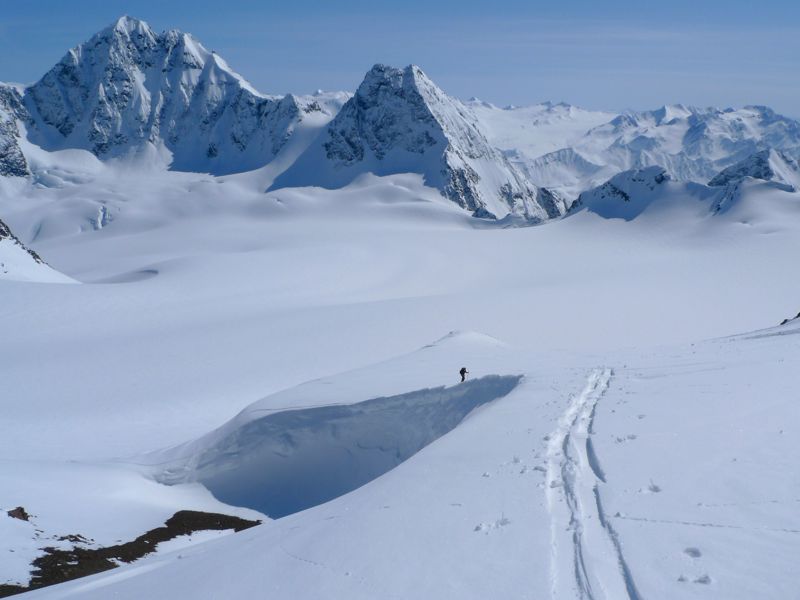 up & up & up & up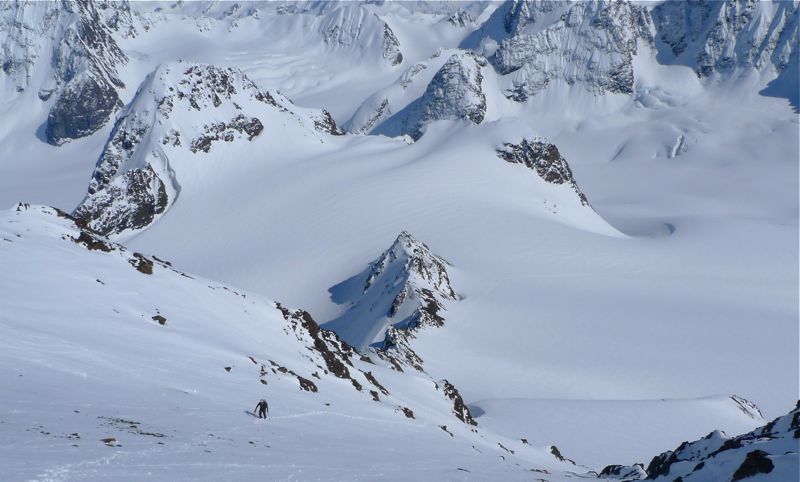 Billy on the summit of Icicle peak, a sea of mountains & glaciers surround us. I think Billy and I had a shared sense of pride, much of Alaskan climbing is done with airplane support, but we had rode our bikes and skied here under our own power within a day and a half.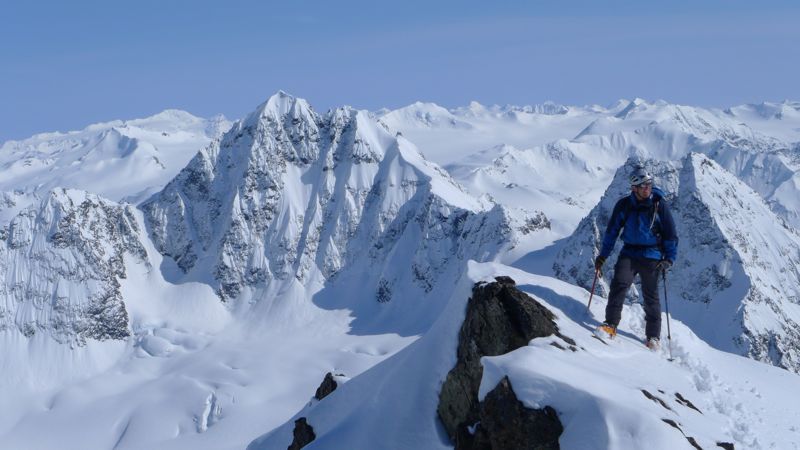 After descending we did some nearby bonus peaks, one of those days with limitless energy fueled by your surroundings.
All great days have to end eventually. At the hut that night we both felt like it was one of the best days in the mountains either of us have had, and there are quite a few on that list!
Thursday we went back to try Peril again, but the weather shot us down, the cloud layer dropped and we bailed back to the hut after skiing around for about 5 hours.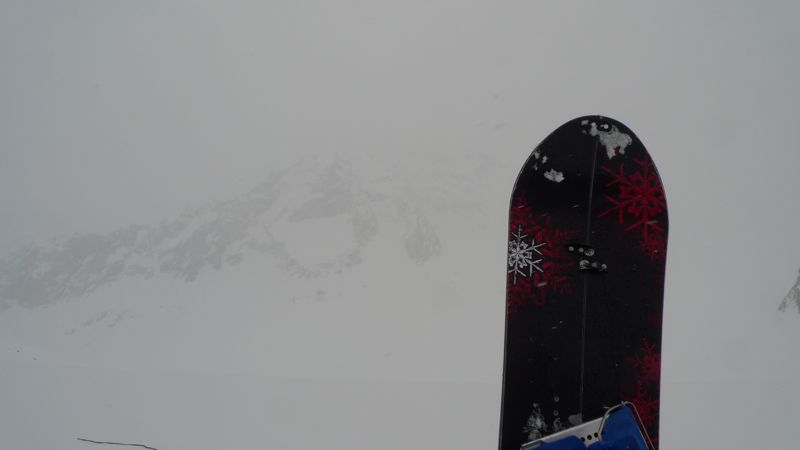 Friday the weather broke clear, but alas, it was time to head home to our lives filled with responsibilities. Billy skis down the Eklutna below Peril.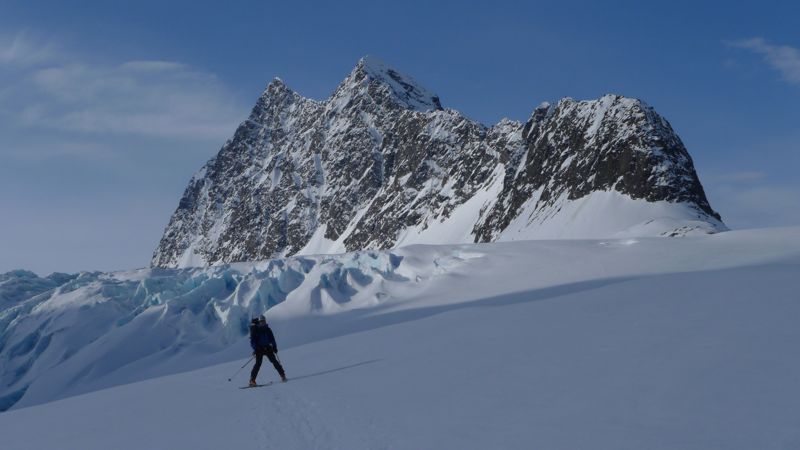 and hacks away a good spot to set an ice screw to get off the glacier. good job Billy, hack away and place pro!
Skiing below the glacier…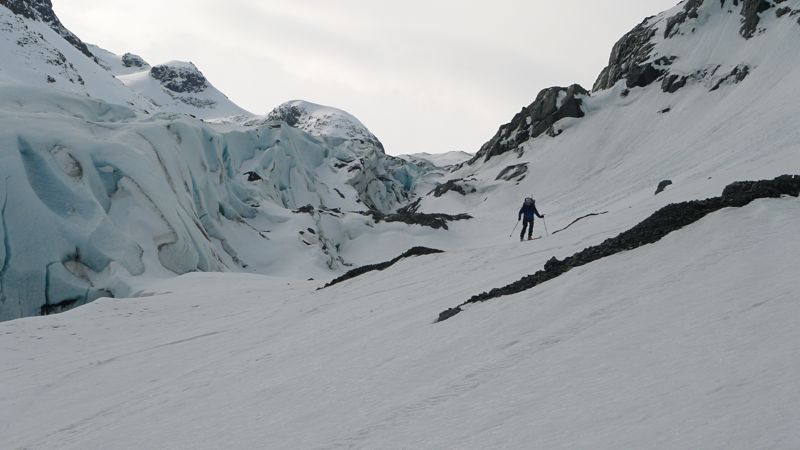 Getting back to the bikes we both got a little wet as the river had opened up a bit…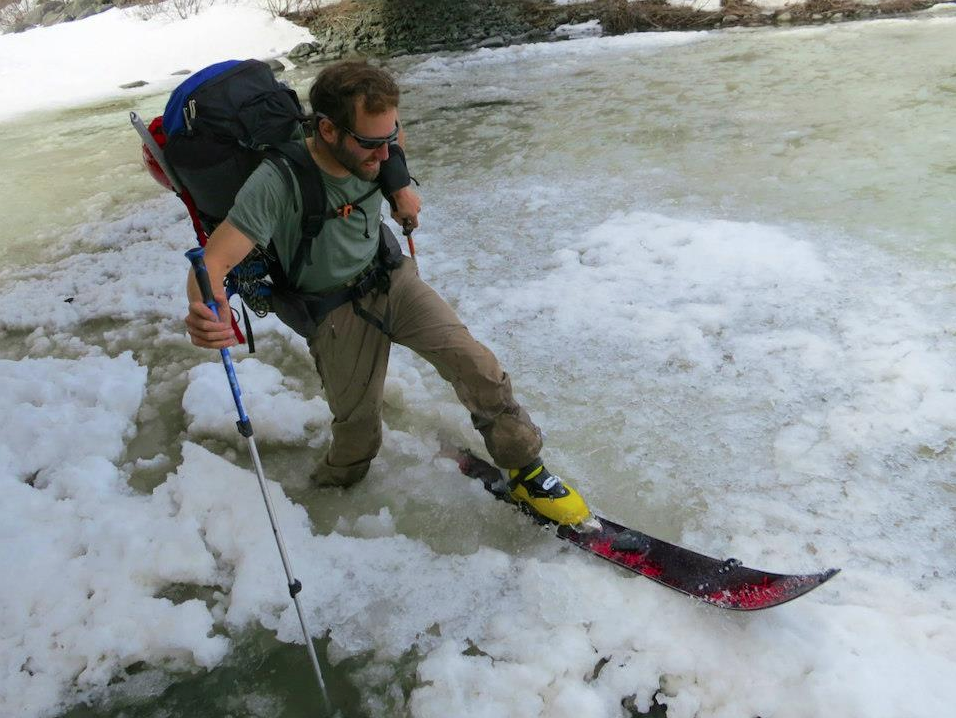 Finally back to the bikes (isn't this a bike related blog afterall?) trench warfare through rotten ATV ruts to get back to the lake.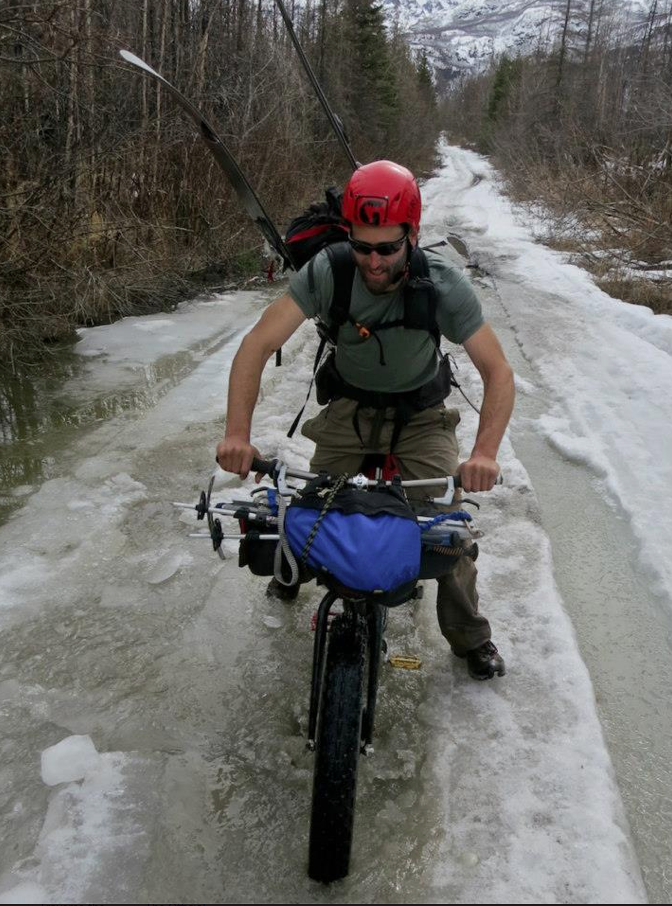 On the Eklutna Airstrip, hoping the ice ahead is actually ridable. It was 2 hrs later than then we came in, but the temps were cooler and the sun was hiding.
Success!!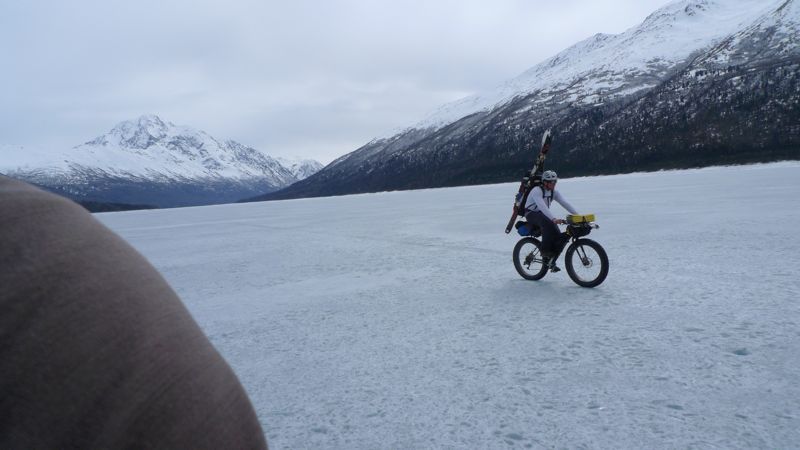 Exiting the lake DUN.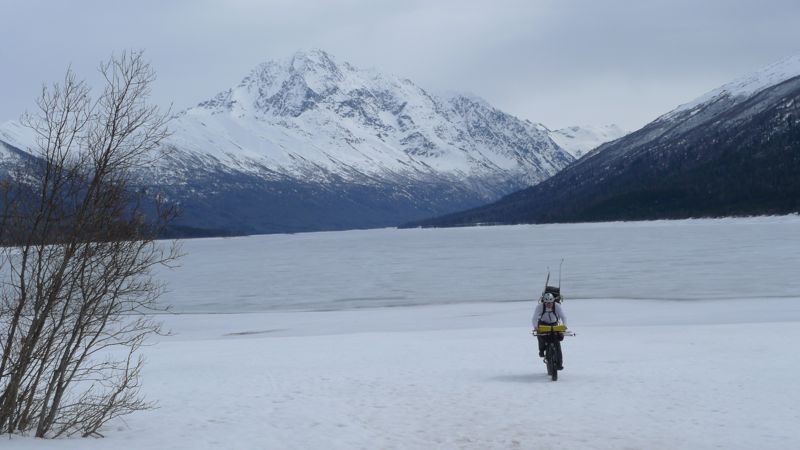 Ok so not a whole lot of riding here but the point is there is some really amazing shit you can do with bikes. Open up your mind to the improbable and give it a whirl.
I know, go on, I have such a way with words. stop it..
Thanks for the great trip Billy.