Ambassadors
Good friends who test our gear
---
Our Ambassadors are good friends who we've developed long-term relationships with in the testing and development of our gear. They all share a passion for adventure cycling
whether that be ultra racing along the spine of a mountain range, or living day in, day out on the bike, making touring a lifestyle. It's an honor to both support and collaborate with them.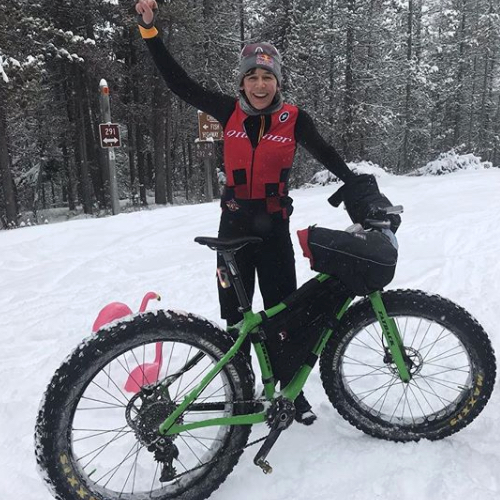 Rebecca Rusch
Rebecca Rusch is the Queen of Pain with a heart of gold. It doesn't matter if Rebecca is pedaling through the night on an epic adventure across Italy, riding her bike up Africa's legendary Mt. Kilimanjaro, or teaching at a #JoinTheRusch camp or clinic, she brings energy, positivity and inspiration to whatever challenge she meets. She redefined the team dynamics of adventure racing and has given the men a run for their money in endurance mountain biking. Rebecca's work extends far beyond the start line as the best selling author of Rusch to Glory, event producer for Rebecca's Private Idaho, motivational speaker, firefighter, and cycling advocate. Rebecca released a full length feature film, Blood Road, which followed her very personal journey biking the 1,800 kilometer Ho Chi Minh trail. Follow her at Rebecca Rusch.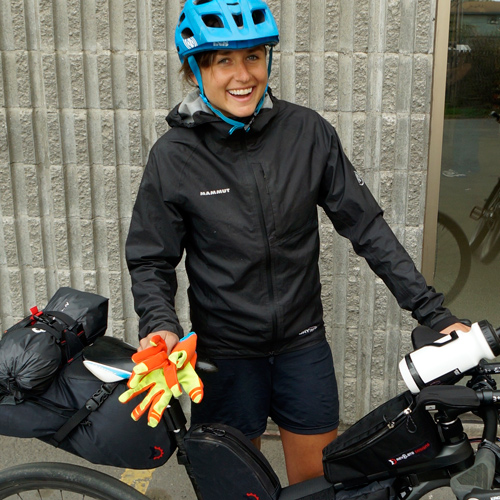 Lael Wilcox
Lael is based out of Anchorage, Alaska. In 2017, she was named "Bikepacker of the year" by Bikepacking.com. She holds the women's records in the Tour Divide and the Trans Am Bike Race. She has ridden over 100,000 miles in 35 countries and there is so much more she wants to explore. Her most recent endeavor was riding all of the major roads in Alaska in the summer of 2017. As an advocate to get more women on bikes, her current favorite project is Anchorage GRIT, a middle school girls cycling mentorship program. She also has a women's scholarship in the works for the upcoming year. Follow her adventures at laelwilcox.com and on Instagram @laelwilcox.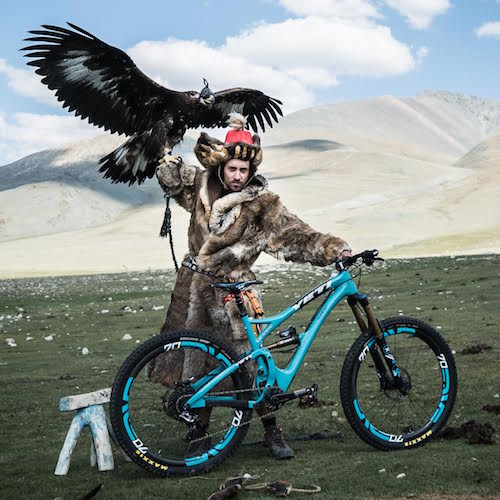 Joey Schusler
Joey Schusler is a professional mountain biker, photographer, and filmmaker from Boulder, Colorado, who has been a passionate member of the mountain biking industry for more than a decade. His skill set spans a vast range, from placing top ten in an Enduro World Series round, to creating award-winning adventure films, to having photos inked in the pages of Bike and Outside. Joey is also an official contributor for National Geographic Adventure. His career has strayed away from mountain bike racing and in the direction of bigger and wilder adventures to the far corners of the globe with a camera always in hand. For more on Joey's adventures and photography follow him on Instagram @Joeyschusler and Joeyschusler.com
Mark Watson & Hana Black
Mark Watson is a landscape and outdoor photographer with a passion for steep places and human-powered, two-wheeled machines.He has authored three books; including the acclaimed Te Araroa – Walking New Zealand's 3000-kilometre trail.
Hana Black has put her previous life as an outdoor clothing designer/developer on hold so she can follow her dream of freewheeling about the planet on her Surly Ogre. In early 2016 she rode the inaugural 3000km Tour Aotearoa – the classic New Zealand bike packing tour.
Both from New Zealand, Mark and Hana are currently bike packing the length of the Americas: Alaska to Patagonia. Follow them at: Highlux photo – Alaska to Argentina and Instagram @Highluxphoto.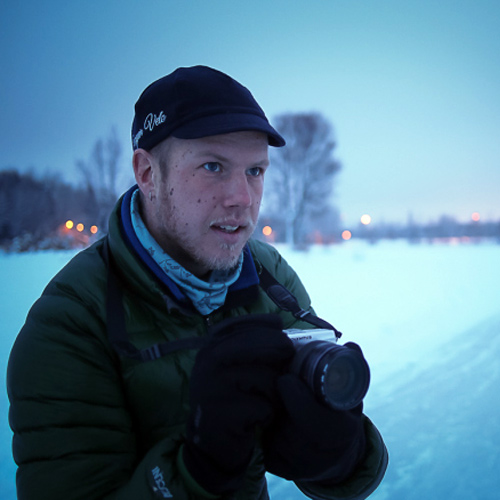 Nicholas Carman
Nicholas Carman left on a bicycle trip in 2008. Since then, he has have chosen to spend more than half of each year on the bike; to ride bigger tires, off-pavement; and to cover less distance every year, in trade for riding over mountains and drinking with locals. Nicholas has spent time working in bicycle shops and restaurants, as a pedicab driver and a marine forklift operator, and increasingly, as a freelance writer and photographer. Recently Nicholas has spent time on the 1000 Miles Adventure Route and the Adriatic Crest route. He shares words, images, and ideas at Gypsy by Trade and Instagram @NicholasCarman.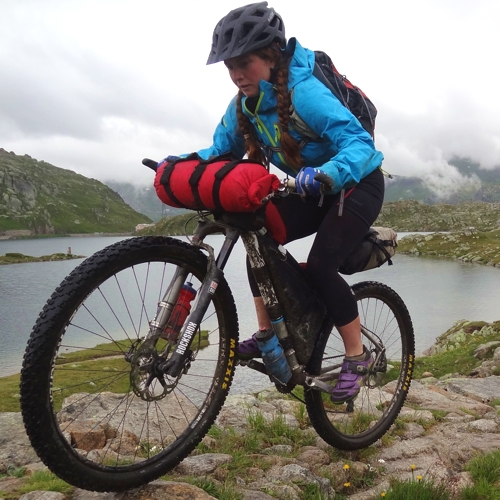 Kaitlyn Boyle
Kaitlyn's love of wide-open spaces and wild places has inspired her to create a life filled with skis, ropes, boats, and packs as she has adventured and taught adventure education throughout the American West. She began cycling while recovering from a climbing injury, toured the Great Divide Mountain Bike Route not long after, and has been an avid bikepacker ever since, tackling long, exploratory bikepacking routes across the West and Internationally, and pursuing riding fast and light on the side. In 2018, she took home the women's record for the AZT300, cementing her place in endurance racing. Her latest pursuits include penning the first guidebook for bikepacking and co-founding Bikepacking Roots. Photos from her tenure as an adventurer and athlete are archived here: Of Wildness and Wilderness.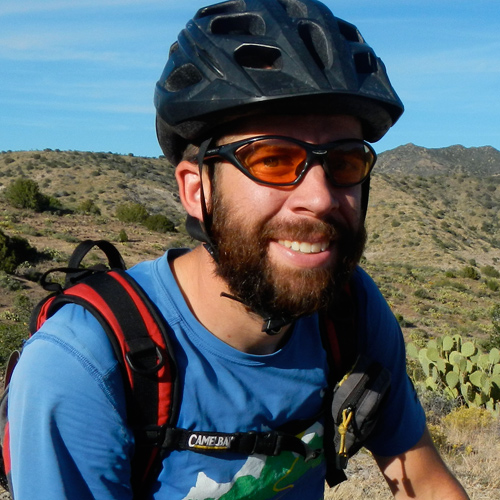 Kurt Refsnider
Kurt enjoys conducting sleep deprivation experiments on himself, the trials usually begin after riding 200 miles of singletrack and don't stop until his GPS says so. Kurt is a veteran of the AZT350 & holds the record for the AZT700 as well as being a multi-time finisher / pace pusher of the Tour Divide. He's also a PhD Geologist professor at Prescott College. He has has lead student groups on "Geology by Bikepacking" classes and runs a consulting service Ultra MTB Consulting. His most recent project is advocating for the advancement of bikepacking and landscape conservation through Bikepacking Roots. Kurt seriously gets after it. See Kurt go nuts at krefs.blogspot.com.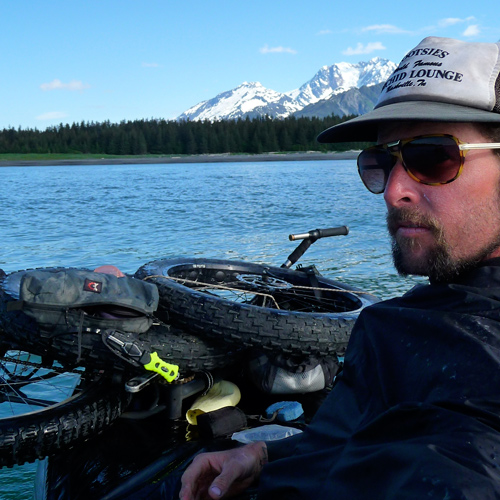 DOOM
Steve (DOOM) Fasbinder is a prime instigator for creative, off the hook "Doomadventures". Those fortunate enough to accompany him usually end up mountain biking to some remote corner of the desert west, rock climbing a sandstone tower (or ten) then packrafting, canyoneering and peddling back to civilization finishing several pounds lighter around the waist. Steve is the real deal. He works for our friends at Alpacka raft in Mancos Colorado and shares words and photos at The Republic of Doom.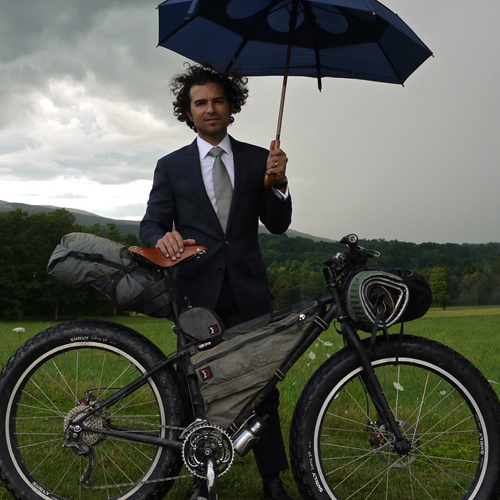 Joe Cruz
Joe Cruz is a philosophy professor, writer, and expedition cyclist. He has toured and raced bikes the world over. While Joe perfectly well likes rugged, remote, and challenging trips, his favorite bikepacking always includes a substantial cultural and historical element. He thus counts Tibet, Pakistan, and Peru as highlights. Joe and his wife split their time between rural Williamstown, Massachusetts and their beloved native New York City; his blog is Pedaling in Place. Instagram @Joecruzpedaling.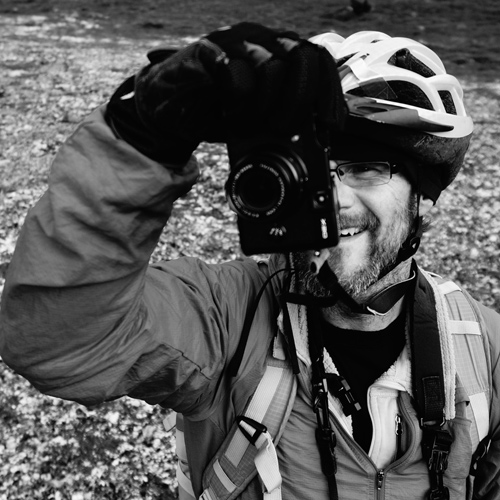 Dan Bailey
Dan and Eric go back a long way. The pair went on their first extended bike tour together riding over gravel high passes in Ladakh, Indian Himalaya. Dan has built his life around adventure travel. He is a professional action adventure photographer based in Anchorage. Through the lens, Dan has explored and traveled by mountain bike in countries all over the world. When he's not riding or shooting photos he can be found flying around the Chugach mountains in a tiny yellow airplane. Gain photo insight and check out his adventures at Dan Bailey Photo and Instagram @Danbaileyphoto.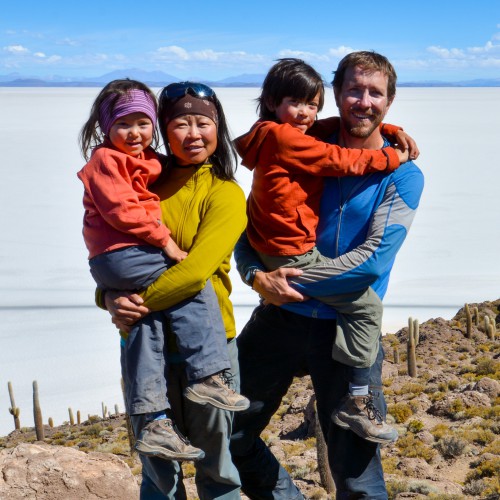 Clark Family
The Clark family has been taking on extended self-propelled wilderness camping trips since their kids were born. They have travelled 3600 miles by bike in South America and a similar distance by canoe in the Arctic, spending 500 nights sleeping under the stars on these adventures. They are gearing up for their biggest trip yet, a nine-month, 7000 mile ride from the Arctic to Mexico along the Continental and Baja divides. Follow their adventures at simplypropelled.com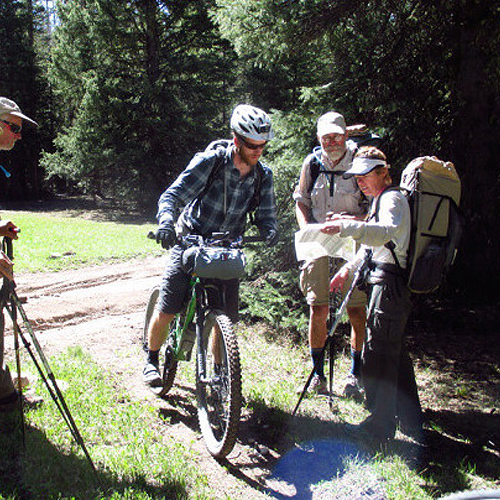 Scott Morris
Scott is one of the founders of the modern bikepacking movement. Scott pioneered lightweight travel in the mountains of Arizona, founding the Arizona Trail Race 350, and 750. Scott recently spent an entire summer bikepacking the complete Continental Divide Trail and is constantly seeking out creative multi-day hike a bikes. Scott is the co-founder of the bikepacking essential GPS mapping software Topofusion, and is partner of Trackleaders.com. Follow his journal at TopoFusion.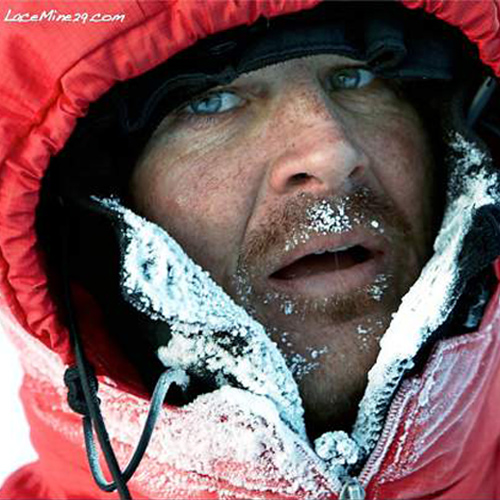 Mike Curiak
Mike has been at the forefront of endurance mountain biking since the sport was invented. He's best known as a pioneer in winter racing and self supported expeditions on Alaska's Iditarod trail. Mike lives in Grand Junction Colorado, builds beautiful custom wheels and consumes more Mike & Ike's per year than the average gang of 12 yr olds. Mike sets exacting standards for his equipment, which helps us build better gear. Follow his ventures at Big Wheel Building.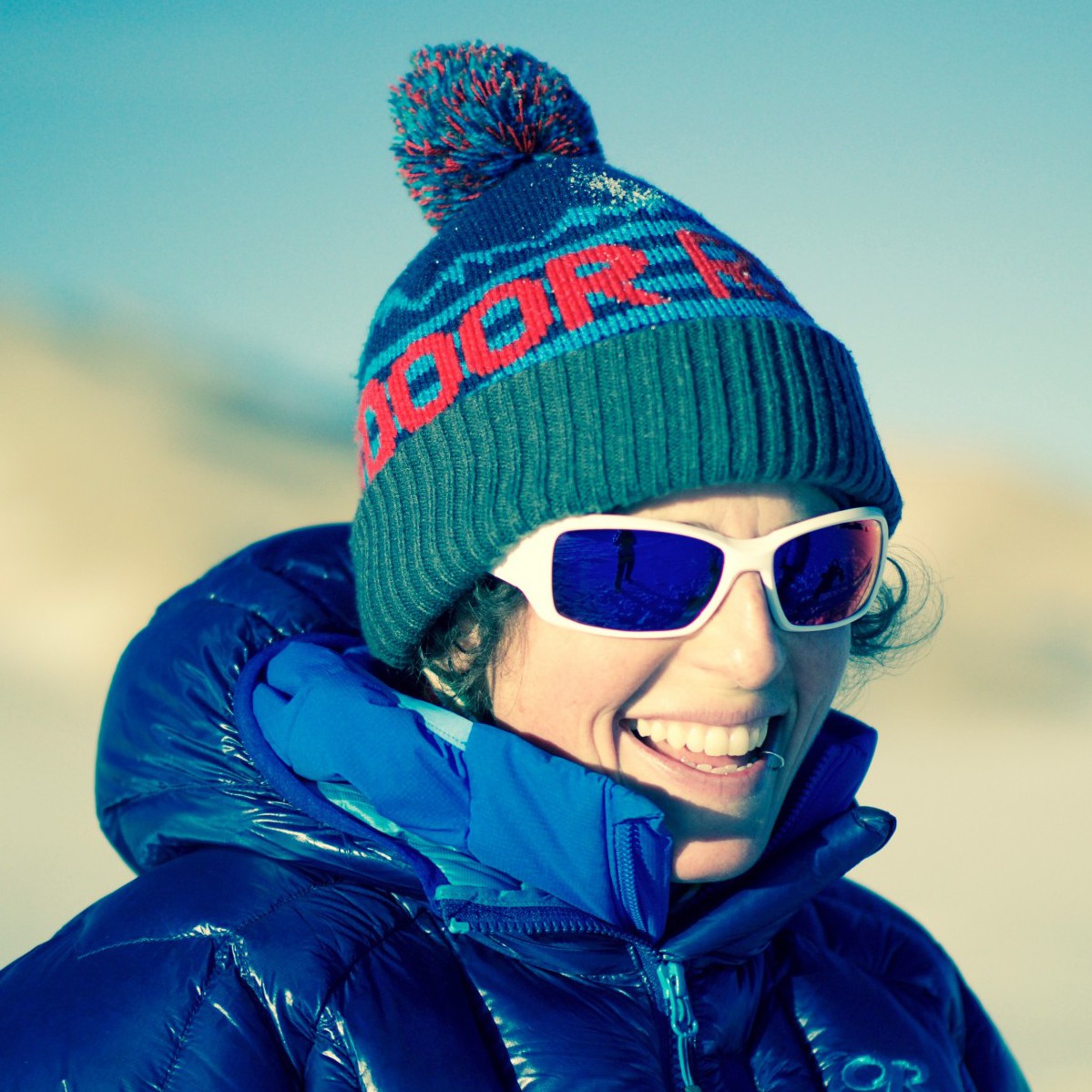 Ali Criscitiello
Ali loves the cold. She is an ice core scientist, which involves long months of living in a tent and drilling ice cores in places like Antarctica, Alaska, Ellesmere Island, and Greenland. When she's not busy shivering for science she seeks out the cold for fun, guiding expeditions to major peaks in the Andes, Alaska, and the Himalaya. She led the first all-women's ascent of Pinnacle Peak (6955m) in the Indian Himalaya, led pioneering first all-female ascents on mixed routes in the Central Alaska Range, and recently skied Tajikistan's border with Afghanistan, China, and Kyrgyzstan (yup, in winter). The recipient of AAC climbing awards, most recently the Mugs Stump and John Lauchlan Awards, she has only just begun cold mountain exploration by bike. When skis aren't on her feet, axes not in hand, Ali races in Ironmans, catches lobsters, plays the mirror game with her identical twin sister, and generally makes the rest of us feel equal parts inspired and lazy.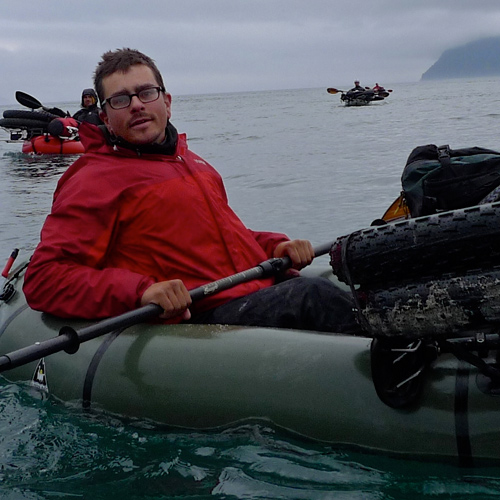 Dylan Kentch
Born and raised in Alaska, Dylan's savy backcountry skills have taken him on numerous far flung biking adventures such as pioneering packraft beach bike trips along Alaska's gulf coast. Dylan has ridden from Anchorage to Ushuaia, done laps around the US, and encircled Australia. We never really know where Dylan is, but if you happen to run into him, feed him some buttered ramen and ask him about the time he got hit by lightening.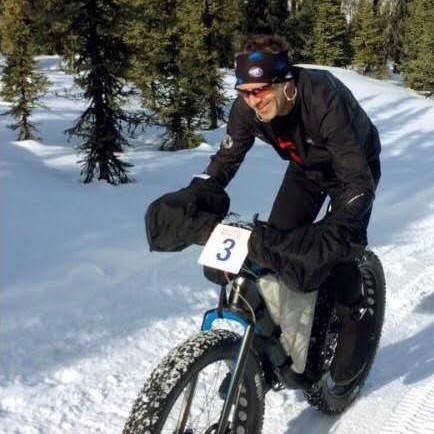 Tim Berntson
Tim is the nicest, fastest guy you know. You will find him at the top of the leader board on any of Alaska's most grueling winter rides including the Iditarod Invitational, White Mountains 100 and the Frosty Bottom.
---