Blog
stories • happenings • adventures
---

August 15, 2014
Posted by Revelate Designs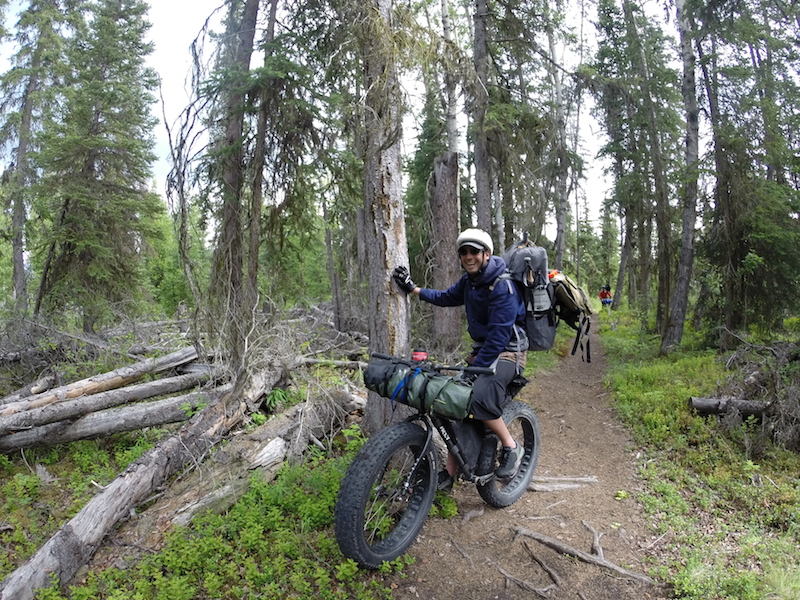 This is my third summer fatbike/pack raft trip to Alaska. First year we attempted Eric's Lost Coast route and were crushed by weather. What I learned that year was to enjoy the moment, find patience and let the finish line go…. Last year we did the Hope to Homer route. Luckily my father loves Alaska so he hauls our gear up and picks us up at the airport! Having Dad there gets our minds to diversify our trip.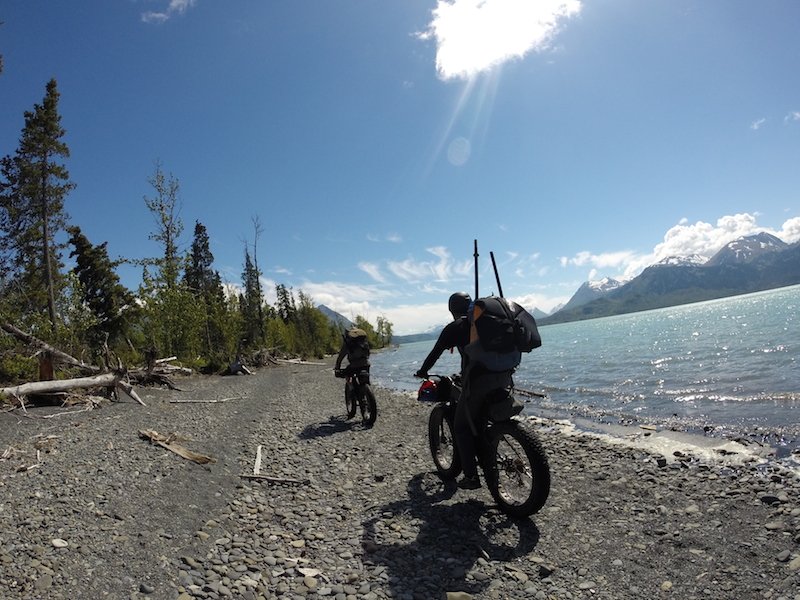 We left Hidden Lake and peddled/paddled across Skilak Lake and up Skilak River. Initially we wanted to peddle up the washout to the glacier but the braided river gave us a funky challenge of carrying the rafts while riding. This was okay for a while but after miles of this we needed to just set up camp…many braids to cross.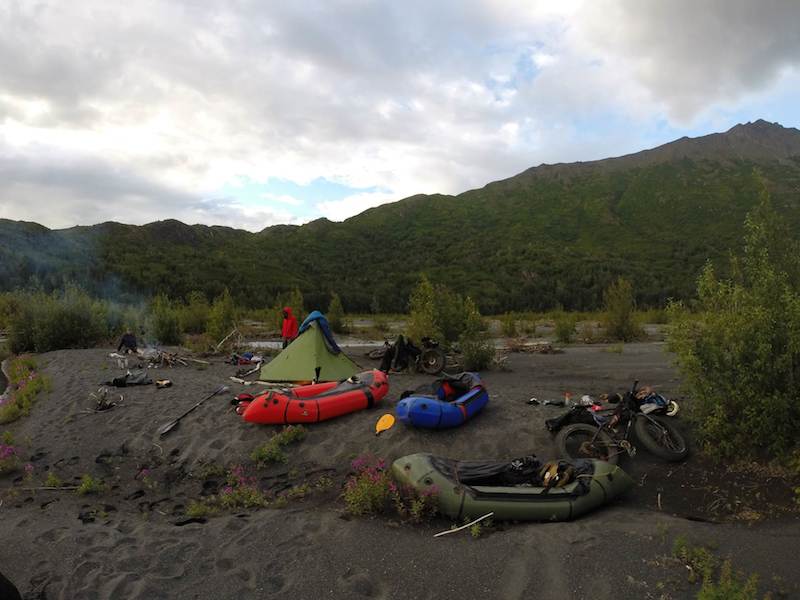 After camping, we carried the rafts to hit all the rivers without blowing up the rafts every 50 yards. We did this it seemed all day and I loved it. After some good hiking and bush whacking we reached the glacier lake.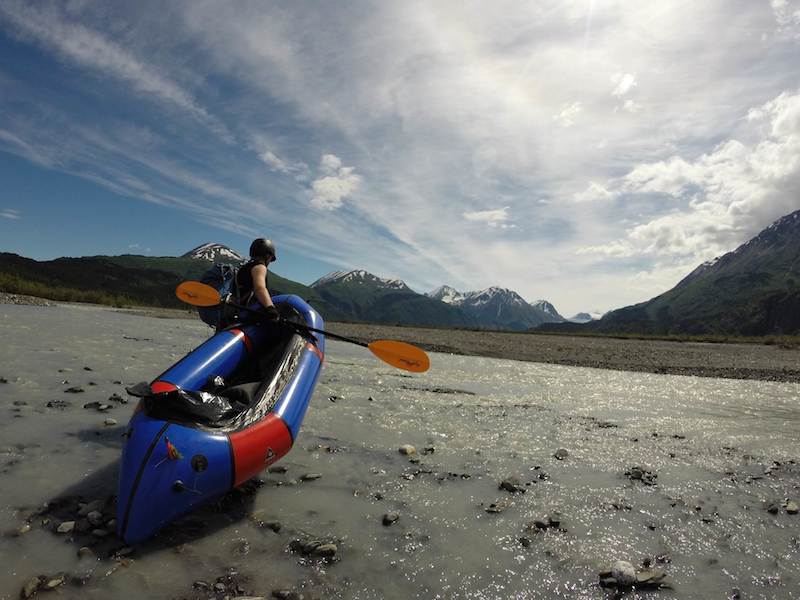 It's rewarding to see ice sculptures floating when you earn them. The pack rafting back to the bikes was rewarding and we were jazzed that we ditched the bikes for the River Flow! None of us are Pro Raft dudes so the was a full on heart pumper. I was jammed on a rock and I hear "Dude, I'm going to hit you!" and then Bang!…I loose contact into the water, lost paddle but saved raft. Thanks Dustin for the quick paddle rescue! Ari brought up the point that last year we paddled from Skilak Lake to the ocean and this year we paddled from the glacier to Skilak Lake, so as we split 2 packs of ramen between the 3 of us that night we were stoked that we have pack rafted from that glacier to the ocean…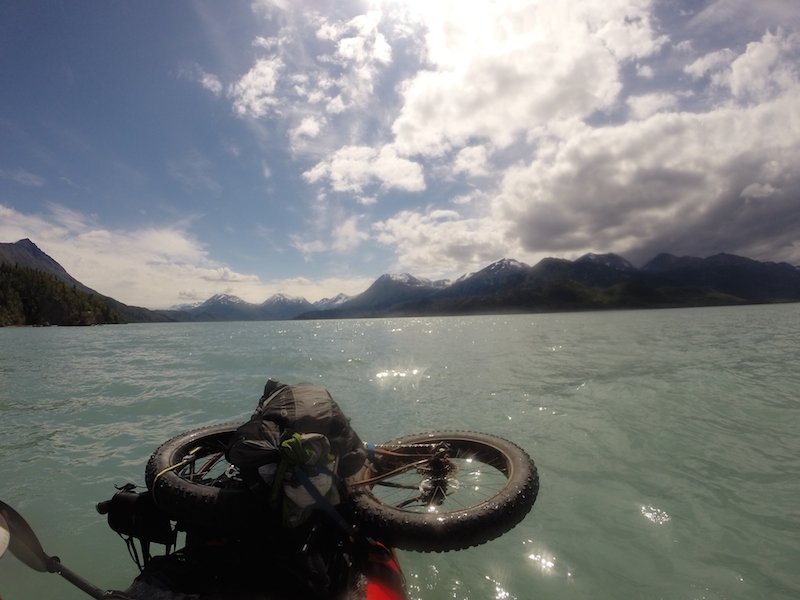 Next morning it was paddle/peddle back to dad with clear blue…Nothing better than getting to camp after running out of food and having dad cook Brats with Beer and Onions! After some beer and long boarding dad drove us to cooper lake where we followed the single track to upper Russian Lake and camped. Late into the night Dustin has contact with a Large Lynx! Ari wakes up to share his morning with a black bear despite the 2 eagle feathers he put on his tent for "Bear Deterrent Voodoo"… Obviously it didn't work! As we were packing up We heard a ton of salmon flipping around. So on accident we rolled up on the zone where the Salmon are spawning (a week early apparently) Ari brought a pole by chance, so we decided to enjoy our day fishing! I have no idea how to fish but all the wrestling I did that day got me hooked. Very cool intro into fishing, hundreds of huge aggressive salmon just chilling with us all day…Super cool!
---