Blog
stories • happenings • adventures
---

May 6, 2014
Posted by Revelate Designs
When it's all suns in the weekend forecast, lack of planning can't keep you in town.
Eklutna lake was decided upon, we've been going there with Finn several times a summer since he was 18 months old in a Chariot trailer. It's a relatively short trip in a beautiful setting with simply awesome camping. We quickly got our bikes together Friday night, and did the bulk of our packing on Saturday morning. Dusting off our summer camping gear for the first time since last fall. Loaded up and got out of town.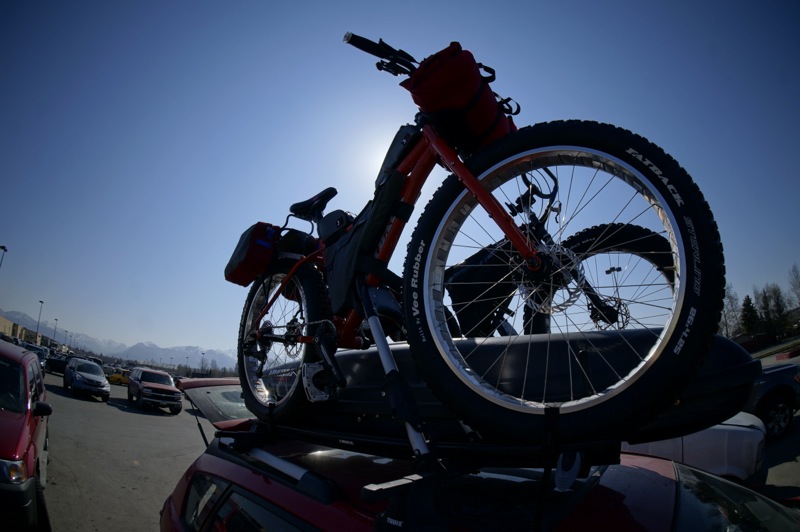 I was on my Pugsley, mainly since it's an awesome load hauler, is super stable with Finn in the front seat and lets me ride the gravel bars off trail at day's end. Finn is rocking the Yepp Mini front seat which has been getting daily commuting use lately, this was our first camping trip with it though.
Eklutna Lake is my happy place. I have many great memories from adventures here through the past decade. From climbing the giant 7,000′ – 8,000′ + summits, to hauling ski mountaineering gear for trips up on the glacier. To trips like this where it's family time down low. The place has energy and makes one think big.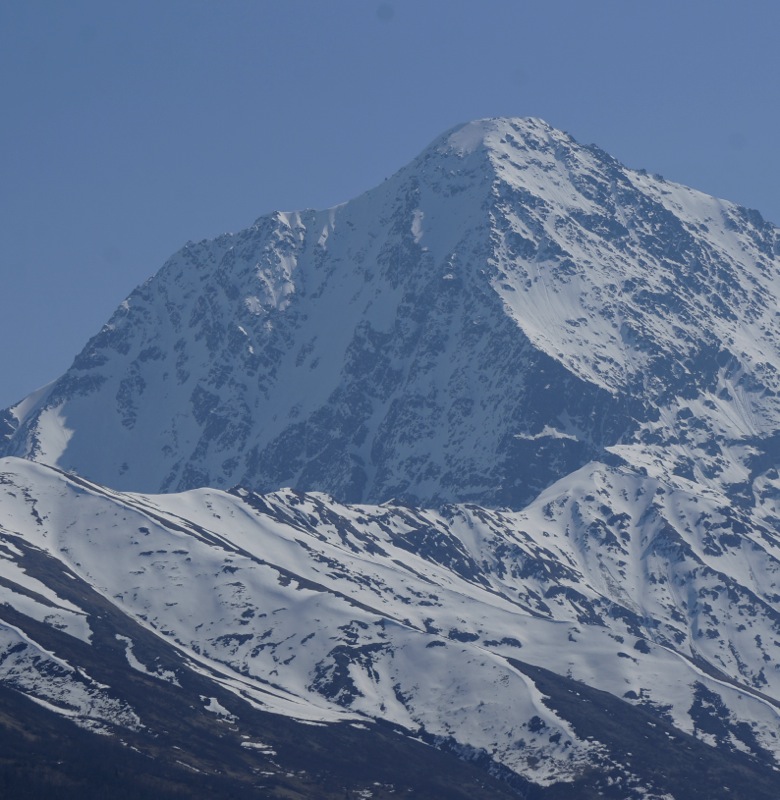 It was a pretty warm day, and a long run for Lucy, so she did what dogs do best, and got a bit primal with it…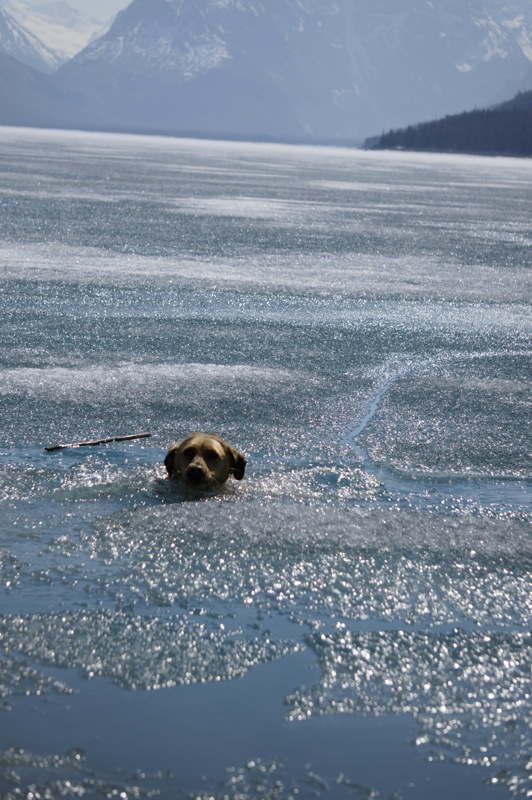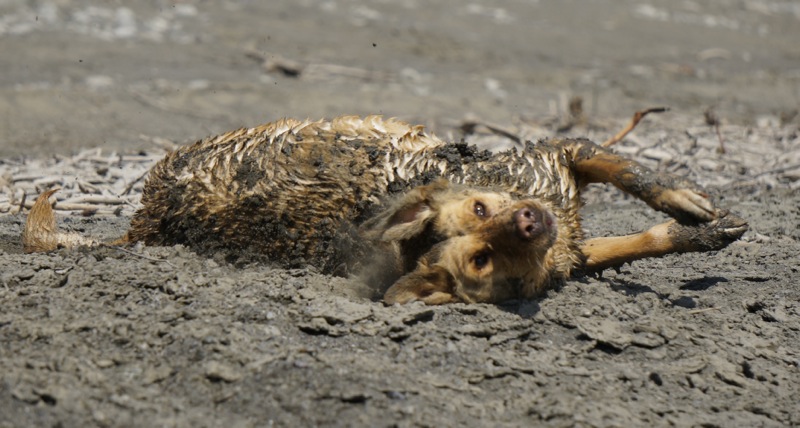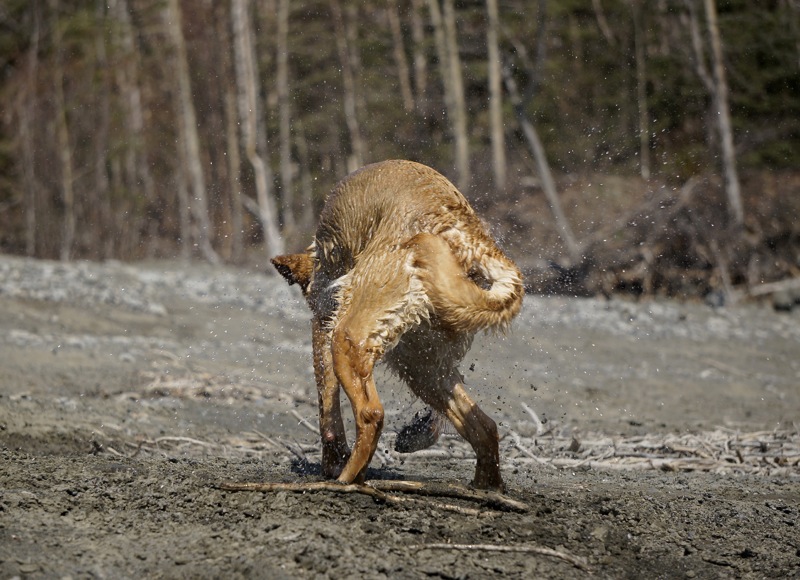 The lakeside trail is super fun for kiddo riding.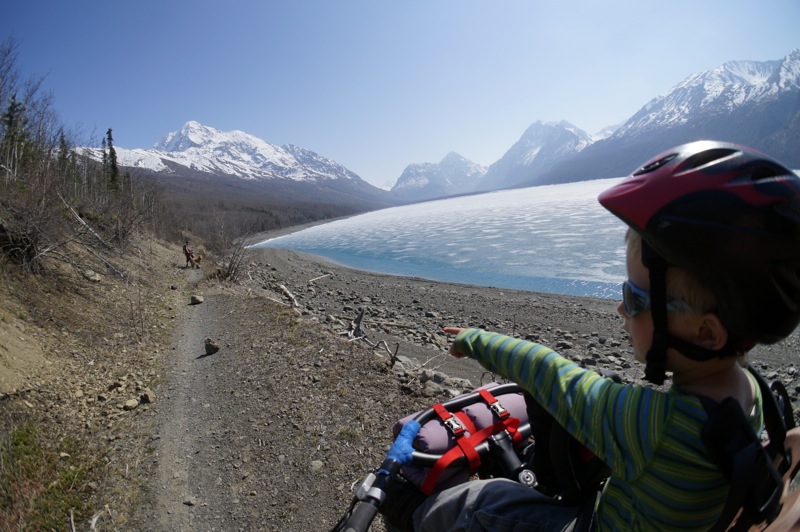 However the trail has gotten hammered in the past 2 years with fall rain events & flooding. As a result what used to be a nice double track is now completely washed away in a few spots. This used to be passable with a 2 wheeled trailer, now it's a hike a bike!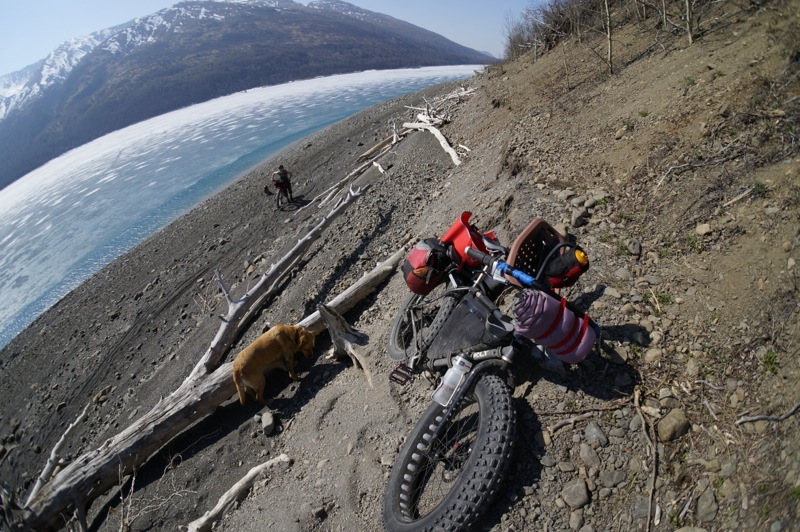 Julie's Fatback and Bold Peak.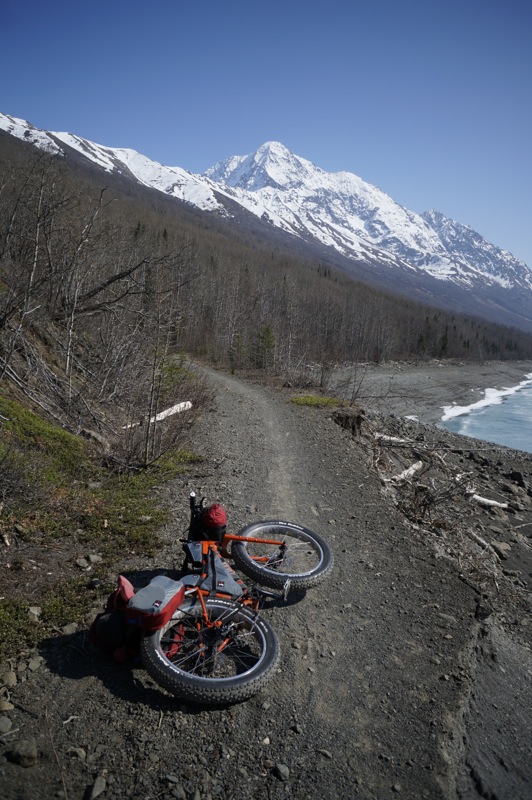 Cruising…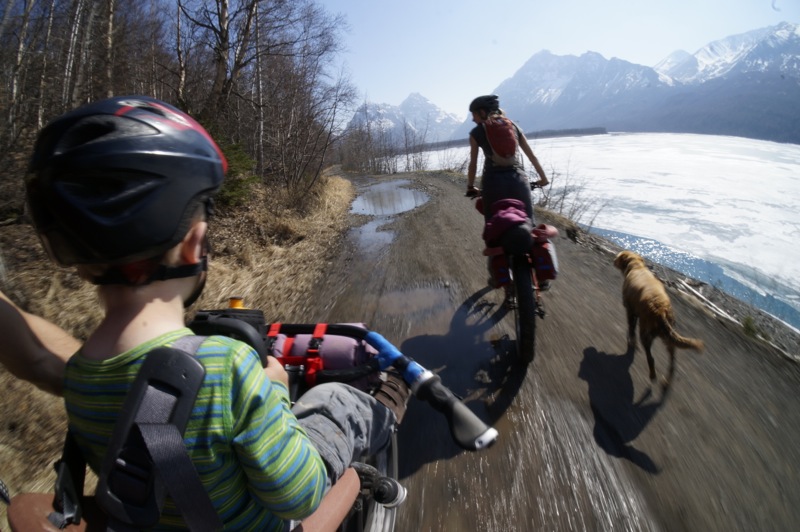 At the end of the lake the trail hits an ATV road and meanders through the woods for a way's. Here is the Red Spot Glacier rising 4,000′ above us.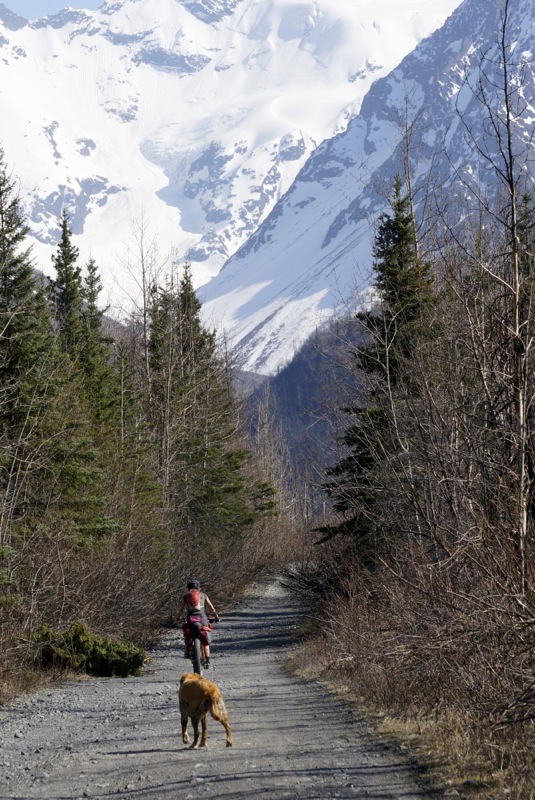 We camped at our favorite spot on the gravel bars along the river. Since it's still early May there is not much of any glacier melt happening yet. The post-dinner gravel bar riding was world class fun.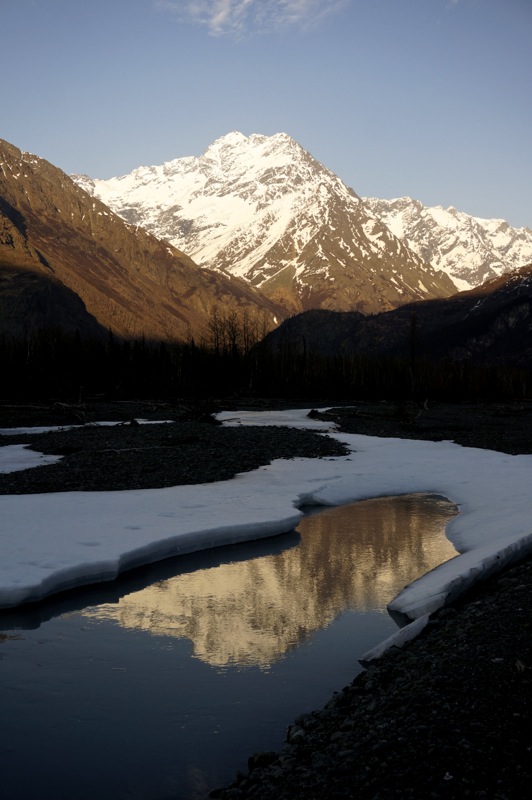 Evening light on Bashfull peak, the highest in the Chugash State Park rises 7,000′ above the valley. It's a stiff day hike!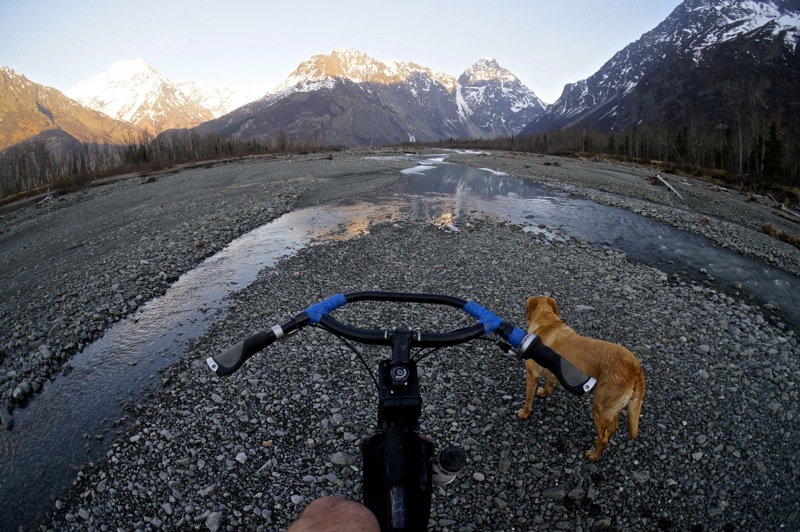 Morning proved to be chilly with the clear skies, frozen water in the pot. The fire broke the chill while we packed up.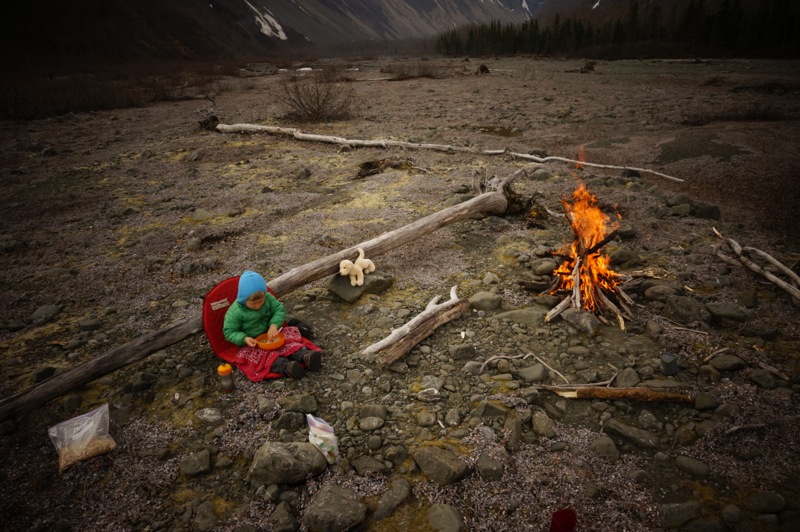 Heading home…
Thanks again Eklutna, will be back soon…
---