Blog
stories • happenings • adventures
---

October 19, 2017
Posted by Eric Parsons
Luc taps me on the shoulder, "Got a water bottle?" I see desperation in his face. I shake my head, all I had was the full 1 liter bottle I had just purchased in the Fairbanks airport. The drone of the twin engine, eight seater Navajo plane muffled out any small talk, this time for the better. I was sitting right behind the pilot, and could read his GPS display. Galena, a town along the Yukon River in Interior Alaska, was our next stop, 128 miles distant and at least another hour. Though rightfully concerned for the situation in my own bladder, teamwork is essential for a two person group heading off on a wilderness bike trip. I pounded the full bottle in one go and passed the bottle to Luc, he awkwardly unbuckled from his seat and squirmed behind the only other passenger on the flight to re-fill the bottle. I took one for the team, now my eyes focused on the GPS display 124 miles. 123.9..
The plan was to attempt a bike traverse of an alpine ridgeline that spanned almost 100 miles, separating the Yukon River from the Bering Sea Coastline. Luc came up with the idea through talking with friends and intimate studying of google earth imagery. (See his trip planning insight here). Luc grew up in the Kuskoquim village of McGrath and was able to get some key logistical contacts. We advance air freighted our bikes to the Athabaskan Native village of Nulato and had a care package of packing tape for our bikes and dry socks shipped to our planned finish on the coast at Unakaleet.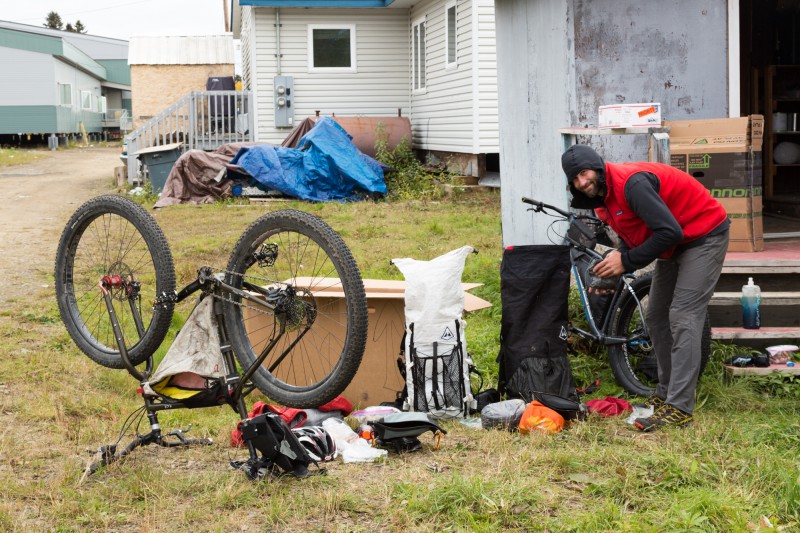 Upon landing in Nulato, Luc and I picked up our bikes and packed up near the school. The forecast for the week was not great and we were thankful to at least start off dry. That didn't last long though as right at the end of the road we had to cross the chest deep Nulato River. It was an abrupt entry into wilderness.  Start pedaling. Get soaked. Commence bushwhacking.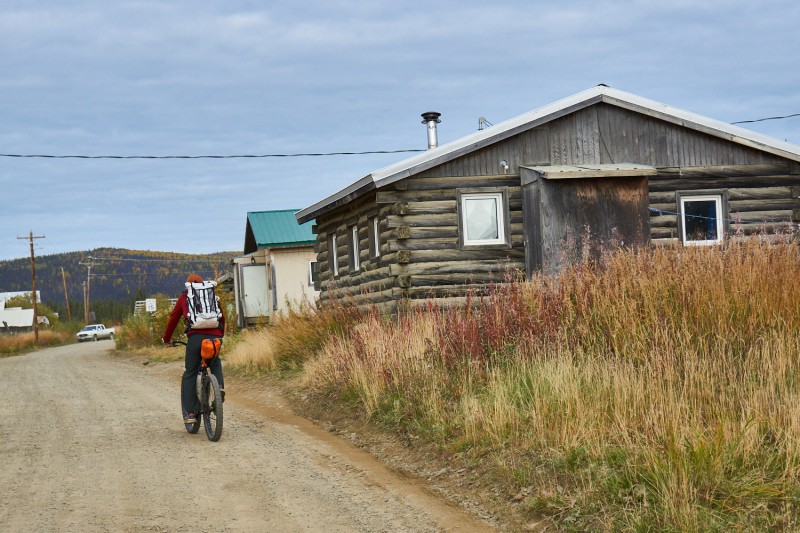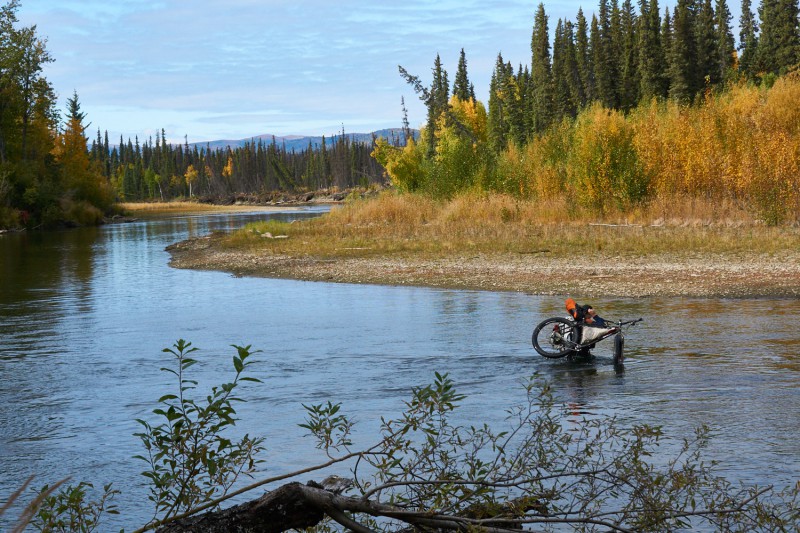 Our first day we knew would be hard, we had to traverse 8 miles of trail-less terrain to get close to the ridge line. The area had several forest fires recently and we encountered the full range of bike-schwacking greatness from apocalyptic burnt bogs, low deadfall, and thick, seemingly impenetrable new growth. By taking our pedals off and rotating handlebars sideways we threaded through the worst of it and slowly gained elevation. With fading light, we scrambled up a steep slope out of a small valley and finally hit tundra and easy travel. We setup the Mid and crashed out exhausted.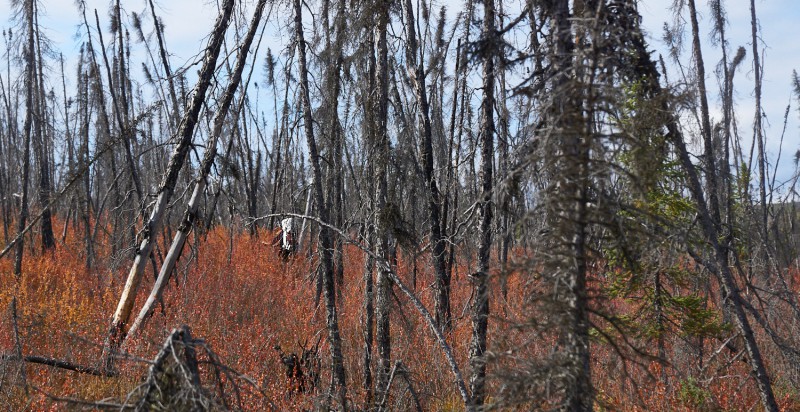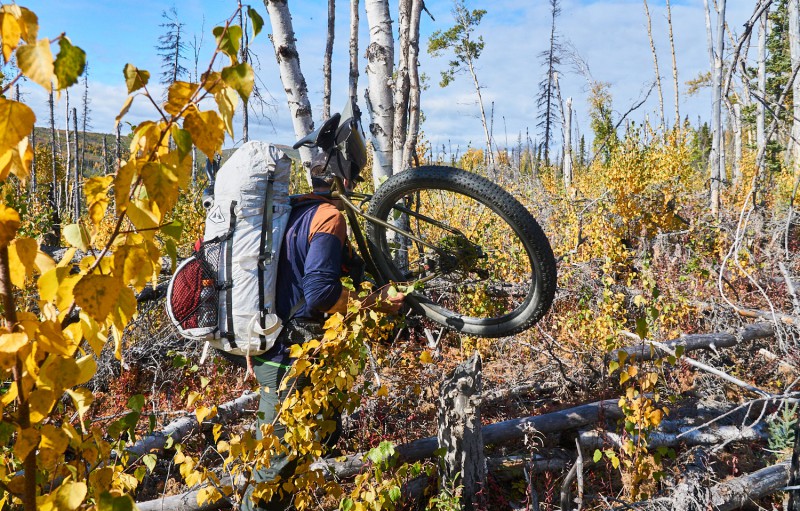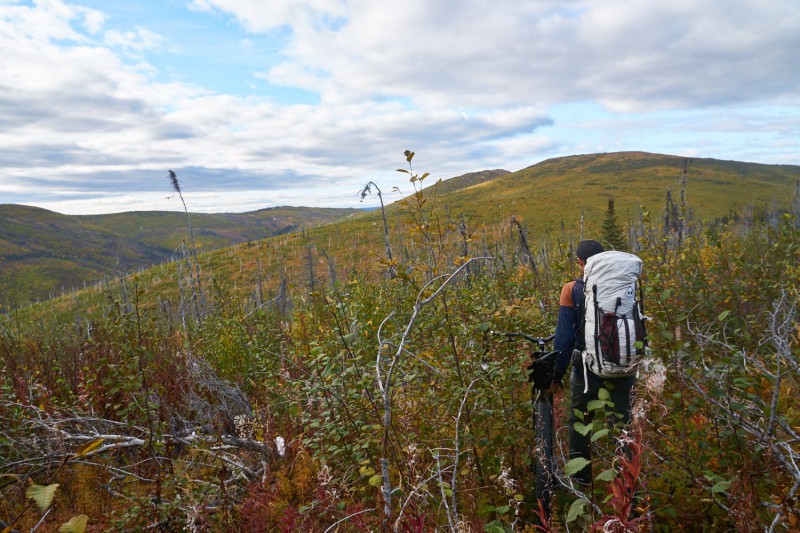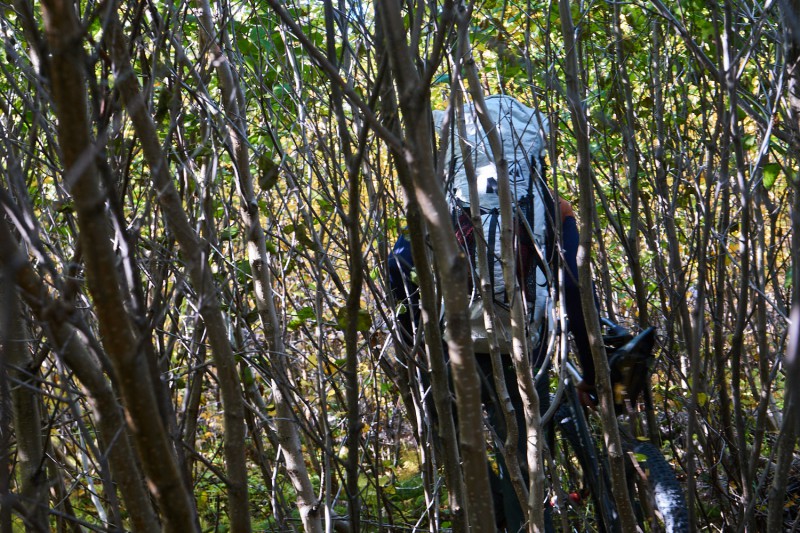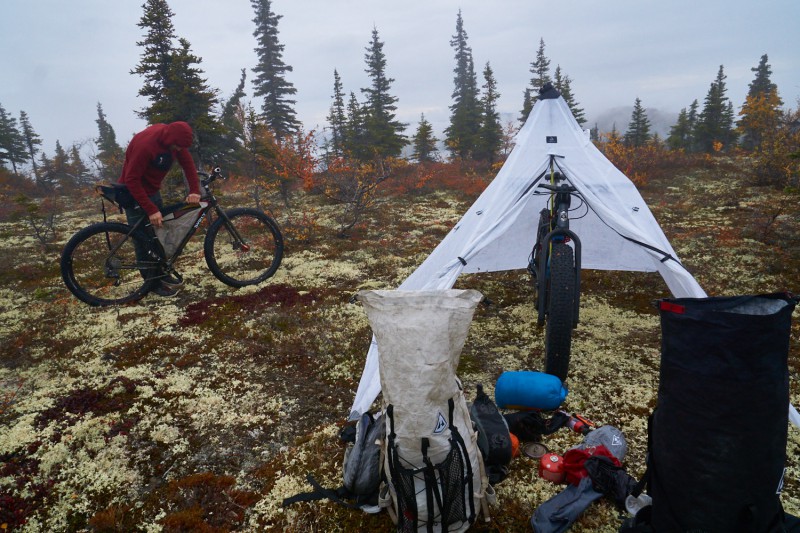 The morning greeted us with rain and a heavy fog that stuck with us all day. While technically on the ridge now, it was more a series of hills with bush in the low points. We had no visibility in the clouds and were reliant on using Gaia GPS. Even a small navigation error meant leading into more brush and trees which with the bikes and rain meant a lot more soakings and bike wrangling.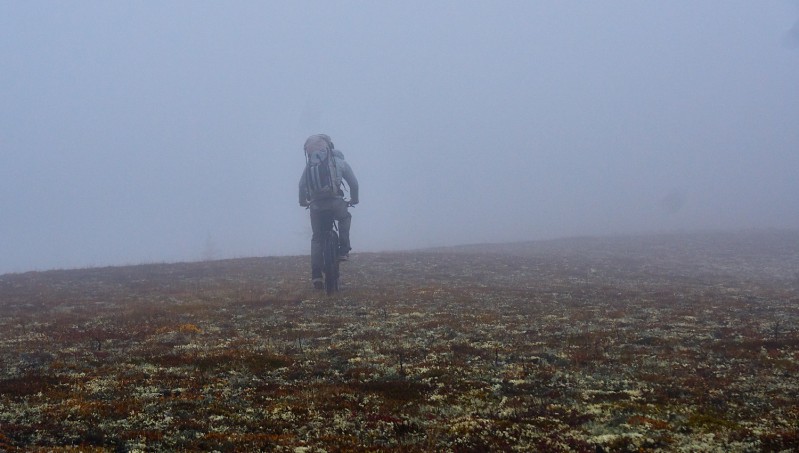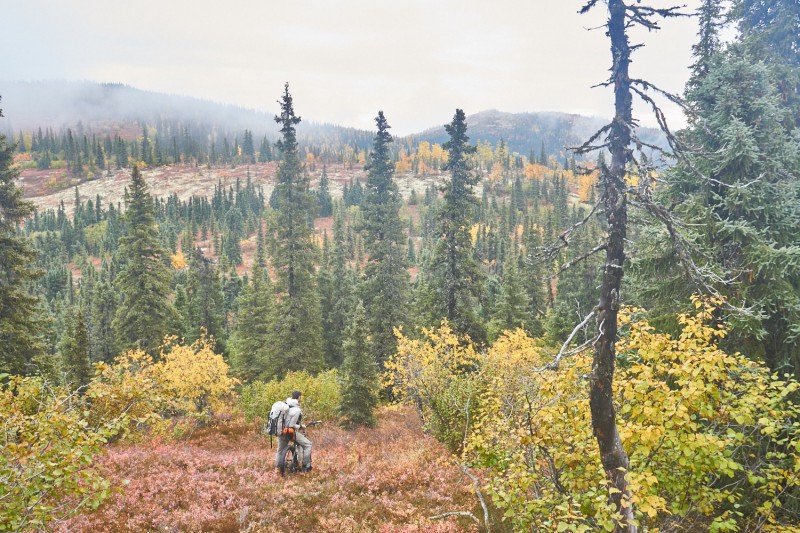 We made steady progress and let out whoops of joy as we put the pedals back on the bikes and started to ride. First only the downhills which were are a soft spongy brushy mess, then later hitting animal trails where we could ride through some of the low points more and more.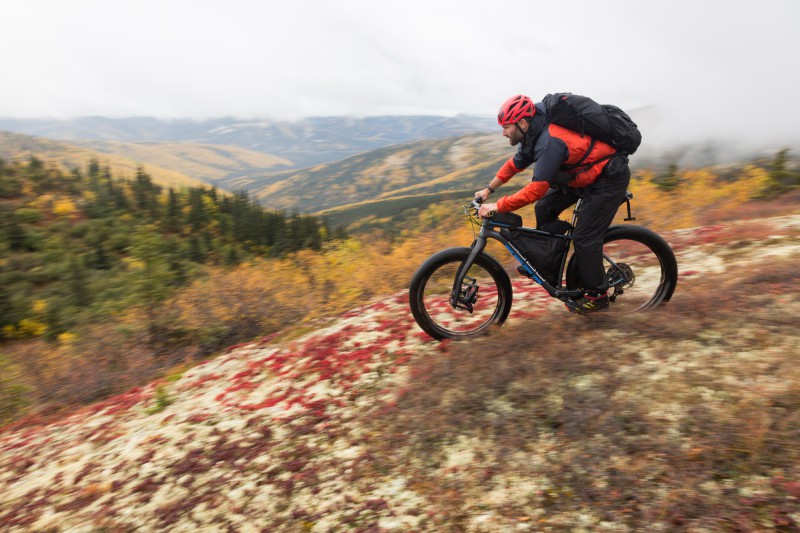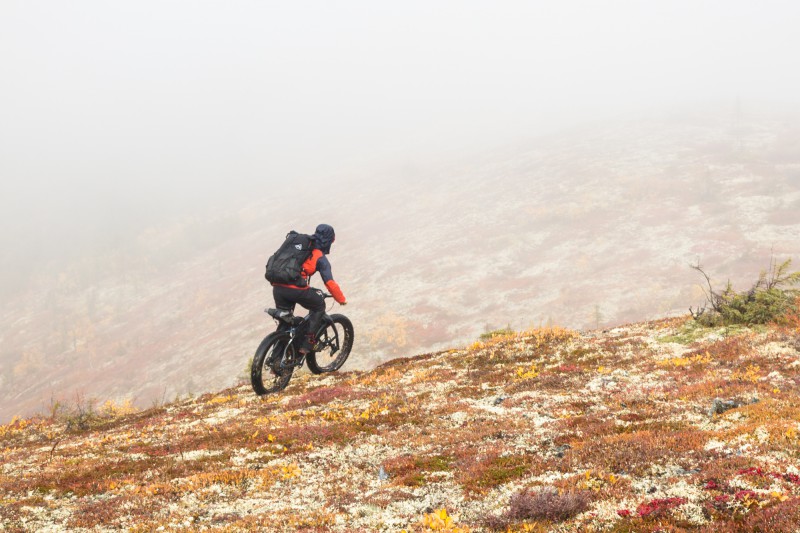 "Get up here now!" Luc said in a half yell, half whisper. I drop my bike and run up the hill. Through the mist right in front of us a large musk ox. "So that's who's been making these trails", goes through my mind. It was a mystical encounter, the beast was seemingly unafraid of us and slowly wandered off until we lost it once again in the cold mist. I hop on my bike following a trail to the side around where the ox was seemingly giving a wide berth, moments later I come face to face with the ox again! The ox snorts and rears up on its hind legs while I simultaneously slam on the brakes, jump off my bike and fumble for my camera. Having lived in Alaska for over 15 years I've startled more than my share of very large mammals while biking, and I never thought that I'd be adding musk ox to that list.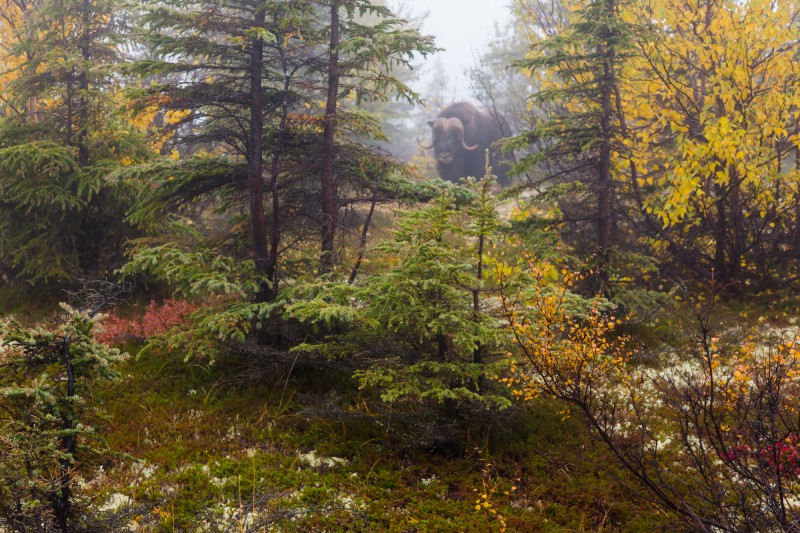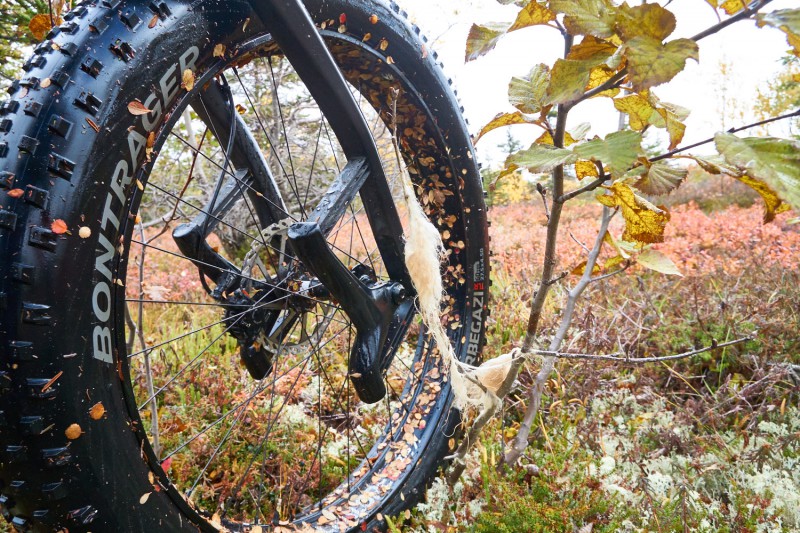 The next day we continued traversing high point after high point in a cold but now broken fog. We could see more and we moved faster with the easier navigation. Riding more and more as we left the brush behind and the tundra firmed up under our tires. Climbs were all still a push but then we were treated to wild cross country travel and brake squealing descents.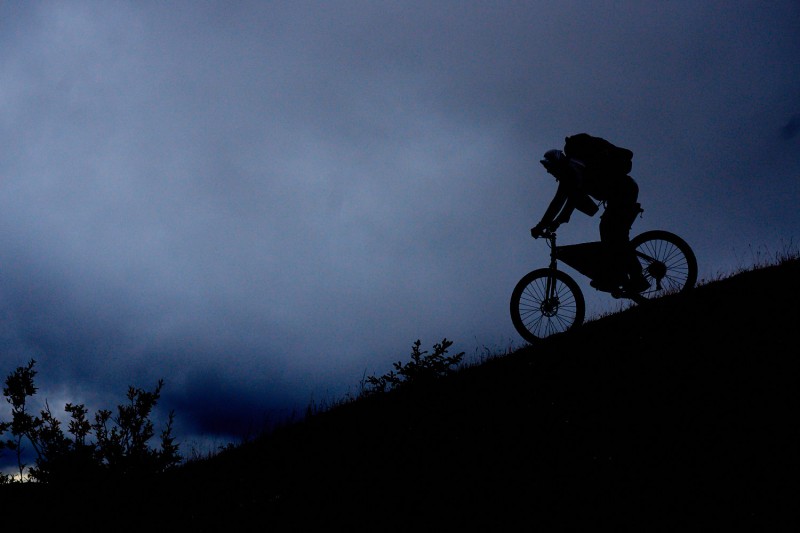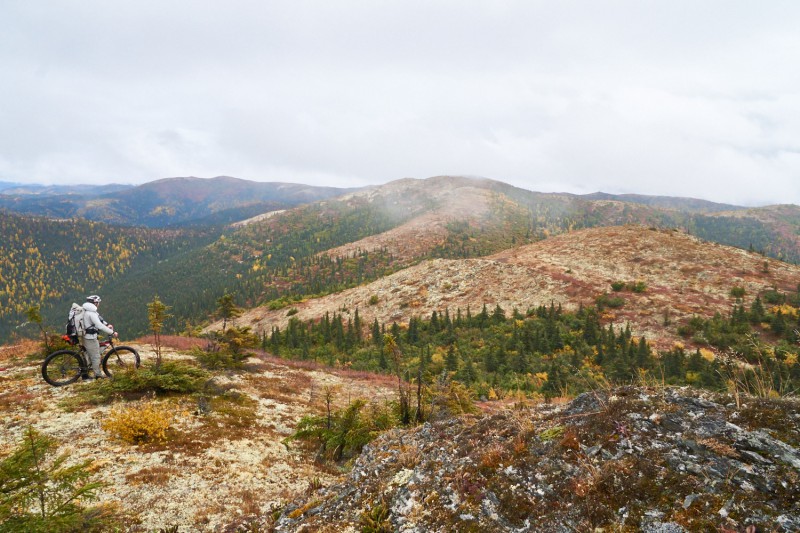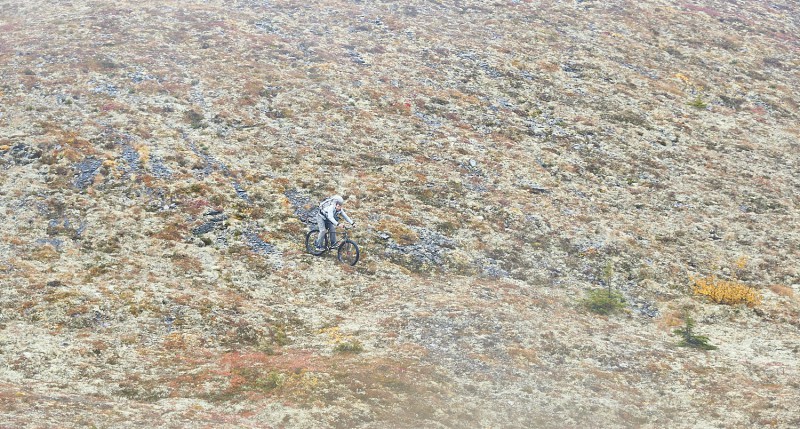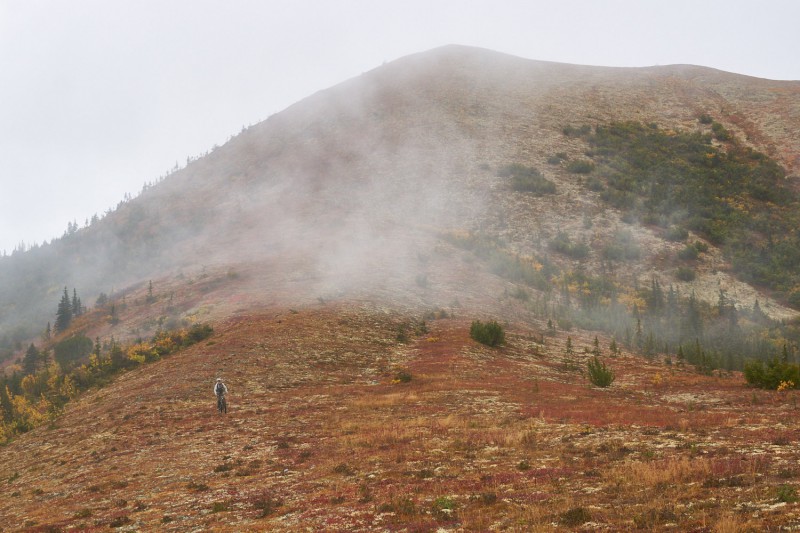 Mid way through the day we had a reality check on our progress. We had an ambitious schedule to keep and were way behind it in terms of pace. Luc ran the numbers and we figured we'd need almost 4 more days worth of food than what we had brought if we kept at it. Our route took us into even higher country, while the riding might get better, there was no way around the amount of elevation gain and loss. Our rations were too thin to stretch and keep going. Decision made, we turned around and started heading back. While dreading the return trip through the bushwack I was somewhat relieved as I felt conditions in the high country would have been rough with the wet fall weather.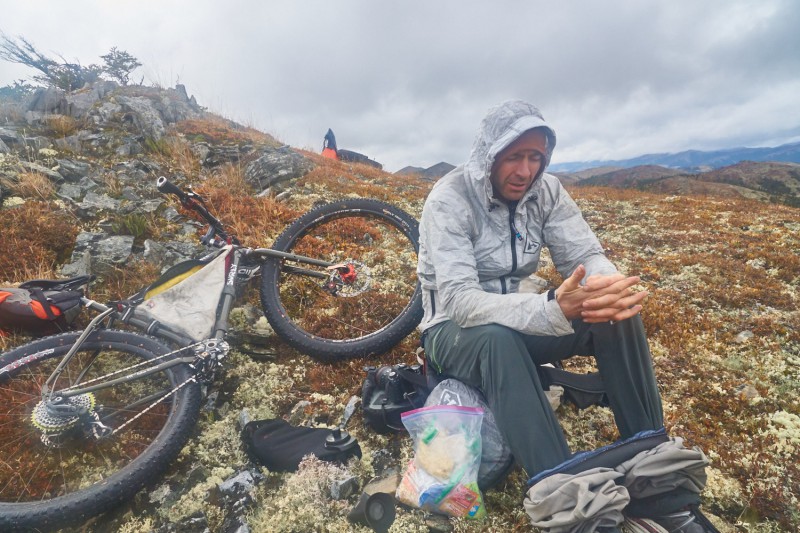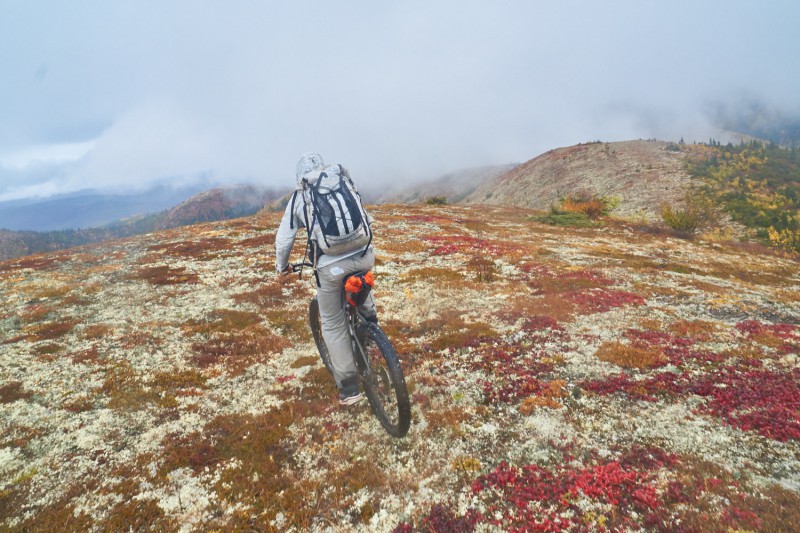 Even though we were "bailing" it did not feel like that way. With the clouds and fog clearing out everything felt like new terrain as we worked our way back. Expansive views into Yukon country unfolded and I was still giddy that we were riding our bikes way out here. When trying new trip ideas and exploration the conventional terms of "success and baling" are all relative.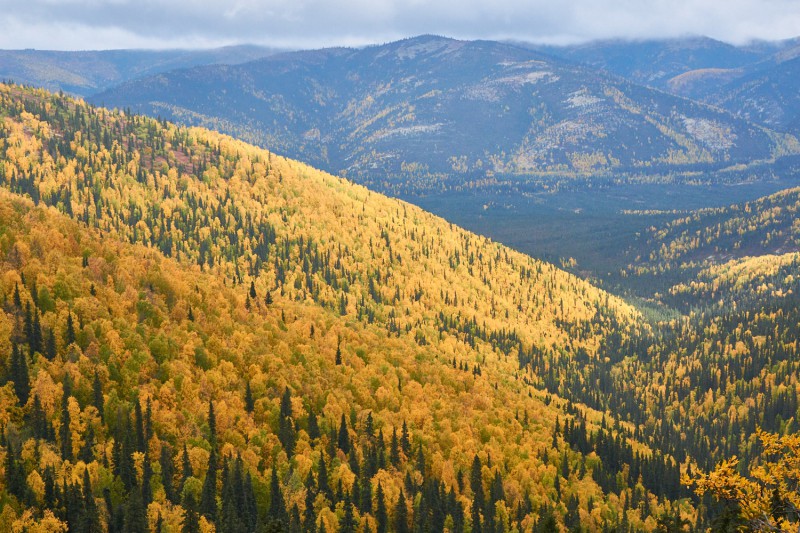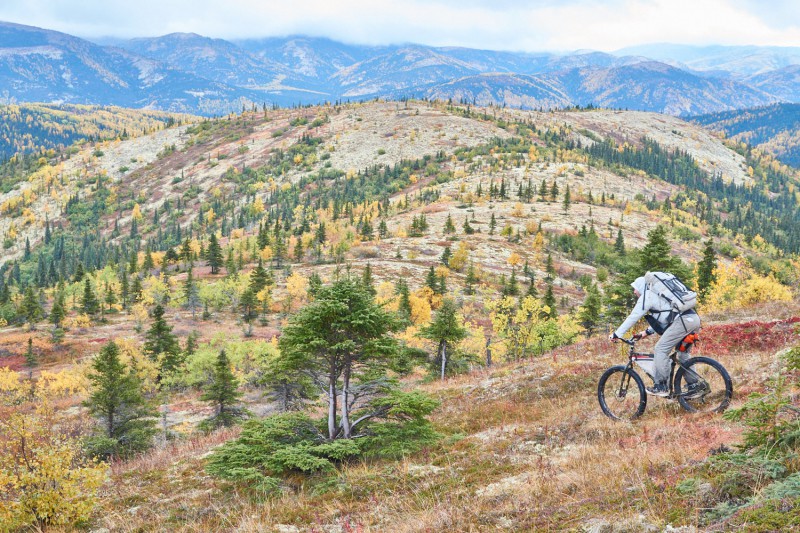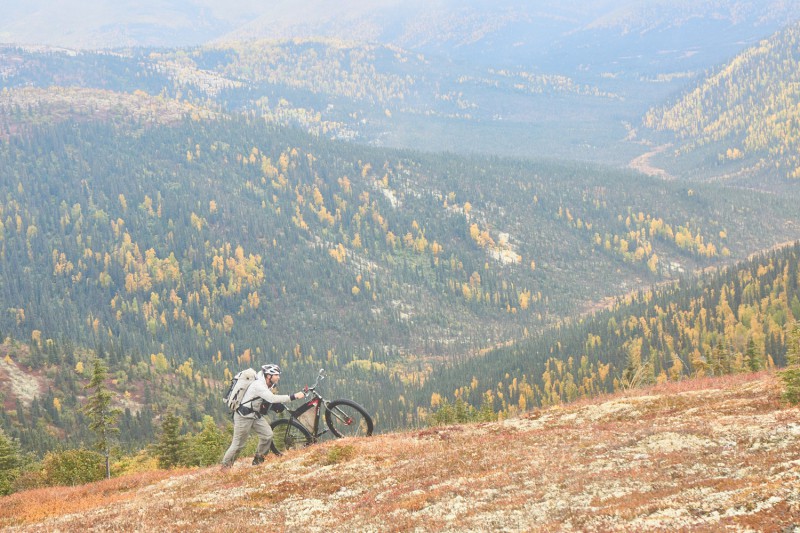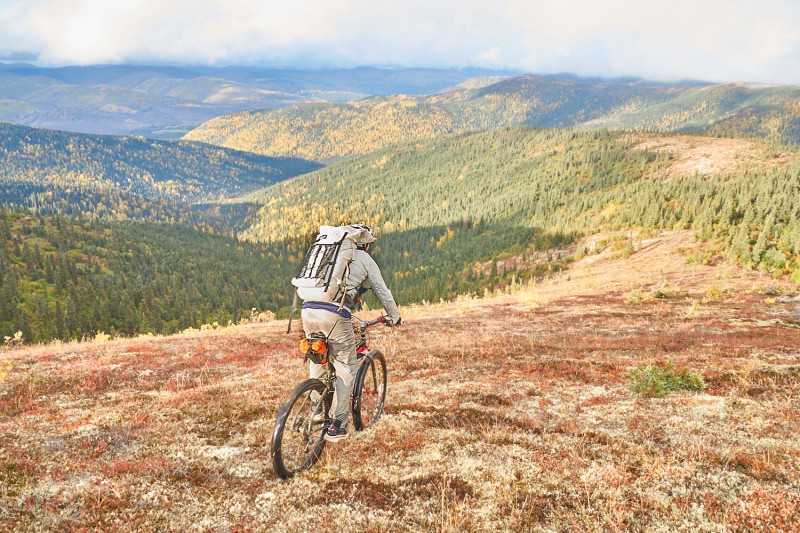 In Alaska, water is almost never an issue. Until you're on a ridge in the fall. We found no running water after the first day. We had to make gutter systems off the sides of the Mid to collect rain water at night. Later when the rain had subsided, we resorted to sponging water off the tundra using  handkerchiefs and liner gloves. It was desperate but kept us from getting completely dehydrated.
Reaching the one creek on the return bushwhack we celebrated by chugging liters of cold water and electrolyte tabs having not seen running water for days.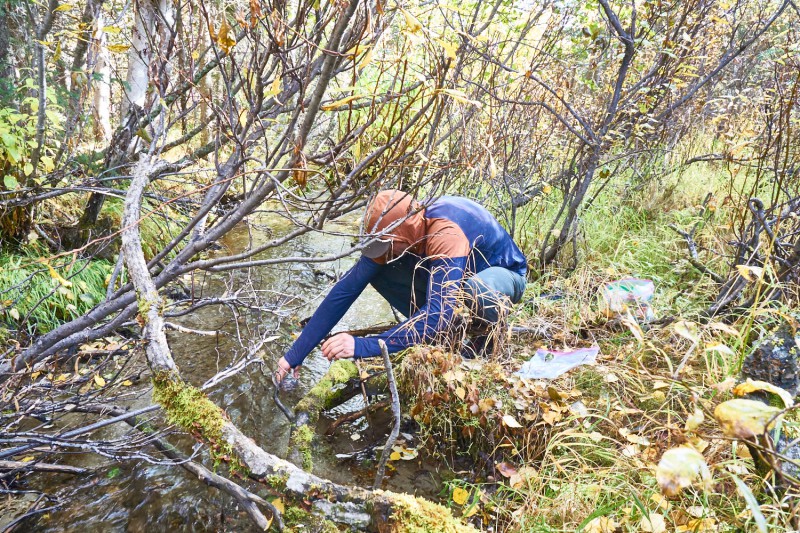 Though dreaded, the exit from the ridge back to Nulato was not as bad as on the way in. Luc and I shifted into "Go" mode and cut a few hours off our time heading in, reaching the  river crossing at dusk. Luc promptly stripped naked and waded across, a proper cool down and rinse off.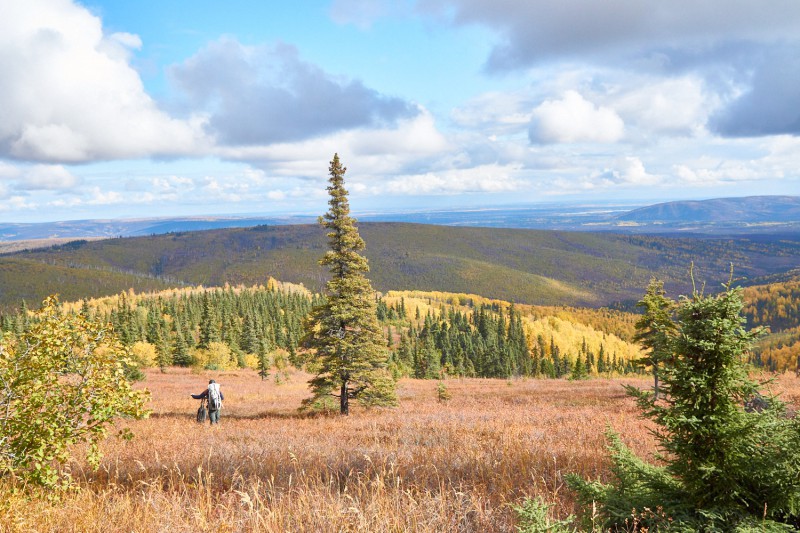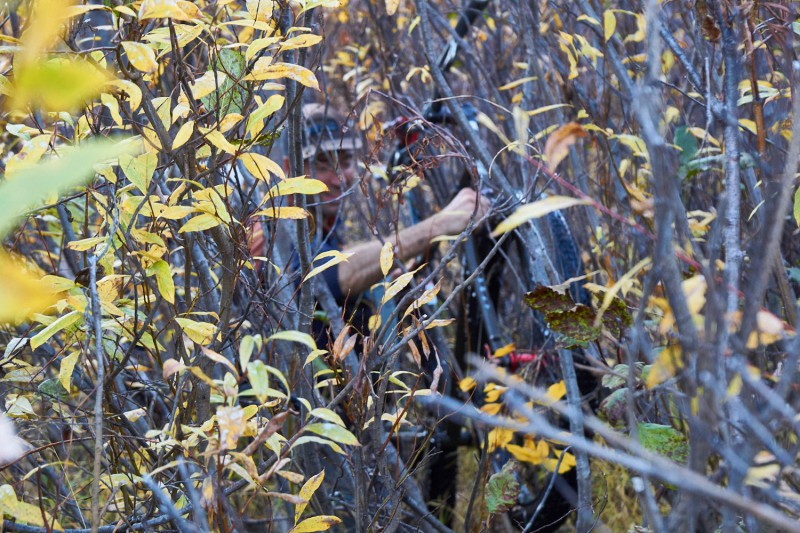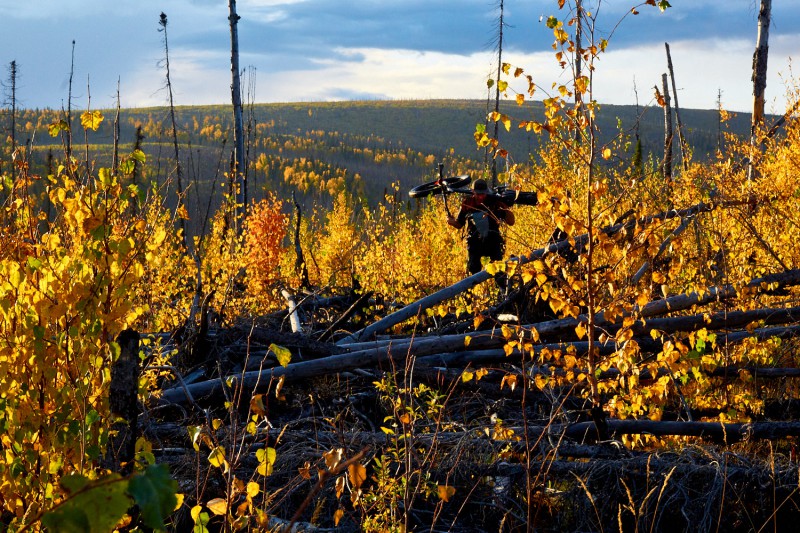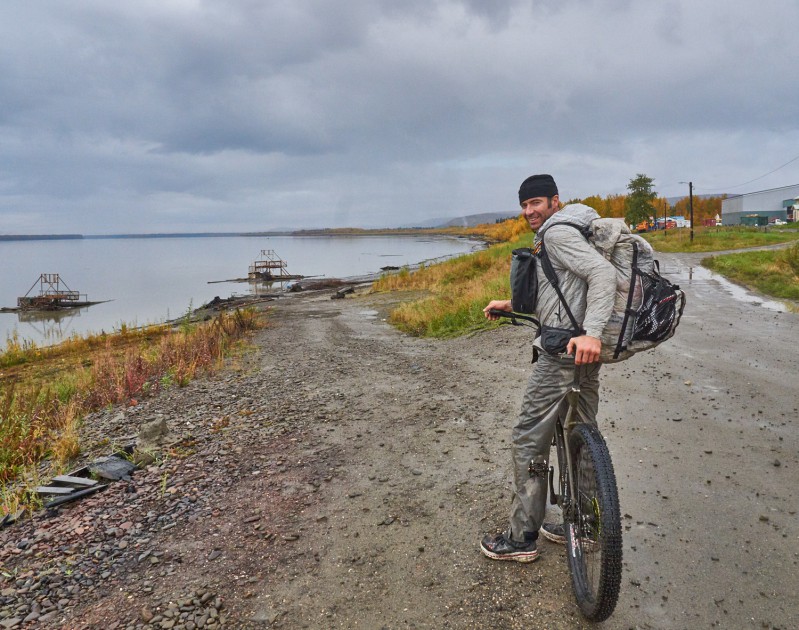 On the flight out we were treated to a tour of Yukon River villages as we made our way back to Fairbanks. It was glorious seeing Alaska's interior in peak fall colors from the air, all the while tracing imaginary lines of where we could go next.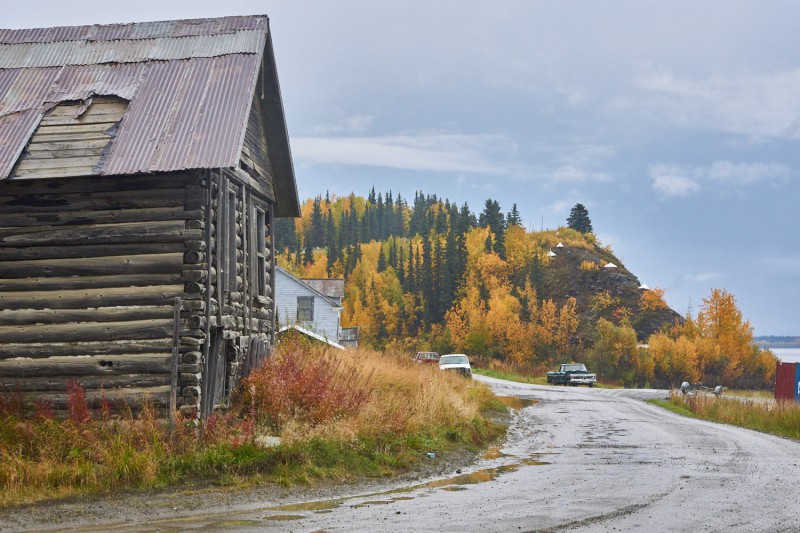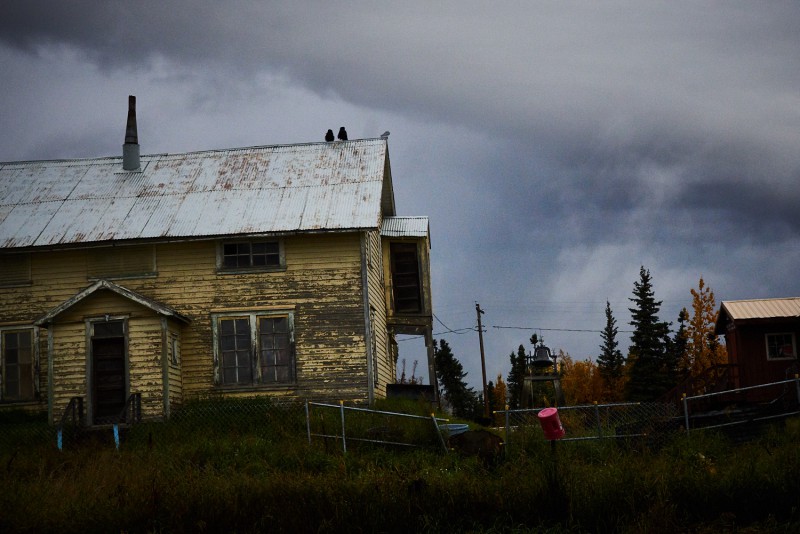 Thanks again to Luc for several of these photos, and compiling the video featured in this post. You can check out his account of this trip as well as other adventures at Things to Luc at. Our many thanks also go to Jason Johnson of the Nulato school for his logistical help and to people of the village of Nulato who greeted us with smiles and gave us rides to the airstrip.
---