August 8, 2016
Posted by Holly
Roman Dial is no stranger to Alaska's Lost coast. Perhaps that is why, instead of chronologically ordering the days of suffering, this story is full of history, geography, and earth science. Not enough time has passed since Roman and this all-star crew, who he quickly introduces in this story, departed to forget just how the tempestuous wind and icy precipitation feels as it hits your skin. He has a way with words though. You're more likely to leave feeling intrigued, inspired and wanting to explore the wilds of Alaska than you are hindered by the weather, the unpredictable, and the unknown.
Part 1 of 3
Misery loves company and hammering along at three, maybe four miles an hour max into heavy rain and a stiff headwind, I loved our pace line, five of us fat tire to fat tire grinding low gears across soft sand.
Loaded with packrafts and food we were following the epic "Lost Coast" of Alaska, 500 miles of coastline pinched between the biggest, iciest mountains in North America and its stormiest sea.
Back in 2011 three of our group tutored under expeditionary beach-boating bike pioneers Dylan Kentch and Eric Parsons. Through salt, sand, and surf we bike'n'boated the wild end of the Lost Coast. That 200 or so miles of coastline south from Yakutat to Glacier Bay included ten days of June sunshine, big beaches, big boulders, bad brush, tidal rides, and a nasty cop at the end (Pedal, Paddle, Push). Our Lost Coast South trip was 60% pedaling, 30% paddling, and a full 10% nasty pushing, carrying, and sometimes throwing bikes.
Doom (Steve Fassbinder), MC (Mike Curiak) and I were back to finish the Lost Coast by traveling its north end, this time with young Jebs (Jon Bailey) and smiling Brat (Brett Davis). Jebs and Brat had fat-biked and packrafted the tussock tundra and gravel bars of the Brooks Range with Doom last year. They were eager to sample beach riding.
Steve Fassbinder was a bike messenger when he headed to Burning Man and came back Captain Doom. Rail thin, with a neatly trimmed handlebar mustache, and a contagious, easy laugh, Doom mixes competence, intelligence, and a touch of compassion with western wear on a bicycle. Doom's variety of adventure germinated on the Colorado Plateau when he and Jebs started a crew of banditos that applies packrafts, desert riding, and tower climbing. He works at Alpacka Rafts, rides for Specialized and generally lives large #doomstyle.
MC really needs no introduction. He earned a hard-won reputation grinding out miles setting records on the gravel Divide and snowy Iditarod races of enduro-cycling. He builds wheels (big ones) and bikes (good ones) and picked up his first packraft five years ago. If a packrafter is someone who has not been a kayaker first, he's the best packrafter I have ever seen. His combat rolls in big water inspire. A mechanic in everything he does, Mike picks up something new, strips it down, then puts it back together better than when he picked it up. He's smart, funny, facetious bordering on sarcastic, and likeable, but not particularly good looking, thank god.
Jebs, a child of the 80s, offered up energy and enthusiasm to buoy us all. Part of an employee-owned bike shop in Durango, he was quick to fix anything that went wrong, whether mechanical or motivational. His big grin beneath a curly mop never seemed to sag, even when rain soaked alders like a car wash on our fruitless out and back searches for the mythical Yakataga road.
"You know RoMan, it's nice to have you along, 'cause in the Brooks Range I was always the last one ready," and with that he pedaled away as I cinched another strap.
Like me, JB was often fussing around with this or that after the others had pedaled or paddled off, but he was also the one who checked-in making sure everyone was doing OK. Like the others, his talents go beyond riding and suffering misery.
When we finally got to Yakutat, belly up to the bar, a woman came in asking for help fixing her TV. Doom and Brat volunteered Jebs, who, pro mechanic that he his, fixed the TV in no time, then graciously accepted the $20 she offered him for the deed. With that soggy Jackson he bought a round of Glenlivet for us all, drinking his while playing the bar's piano.
The oldest of the Lost Boys, Brat wore their trademark perpetual grin and traveled "team heavy", emphasis on team. As the director of the outdoor program at Ft. Lewis College in Durango, Brett's livelihood depends on making sure everyone is safe and well cared for. He carried the biggest load of water, for instance, and was quick to fill when we pulled into camp in the rain. Educated at the University of Chicago in economics, his grooming to be a financial whiz came to naught when he decided to boat, bike, climb, ski and hike all around the world.
All four of these Coloradoans are active outdoor guys in work and play. They ride everyday. The oldest was ten years my junior. So when I somehow invited myself along and fell off the couch, landing upright on a sweet, carbon-fiber Fat Boy, courtesy of Doom, I risked holding the group back. But as more adventure than goal-seeking, they big-heartedly waited for me to catch up hour after hour, day after day.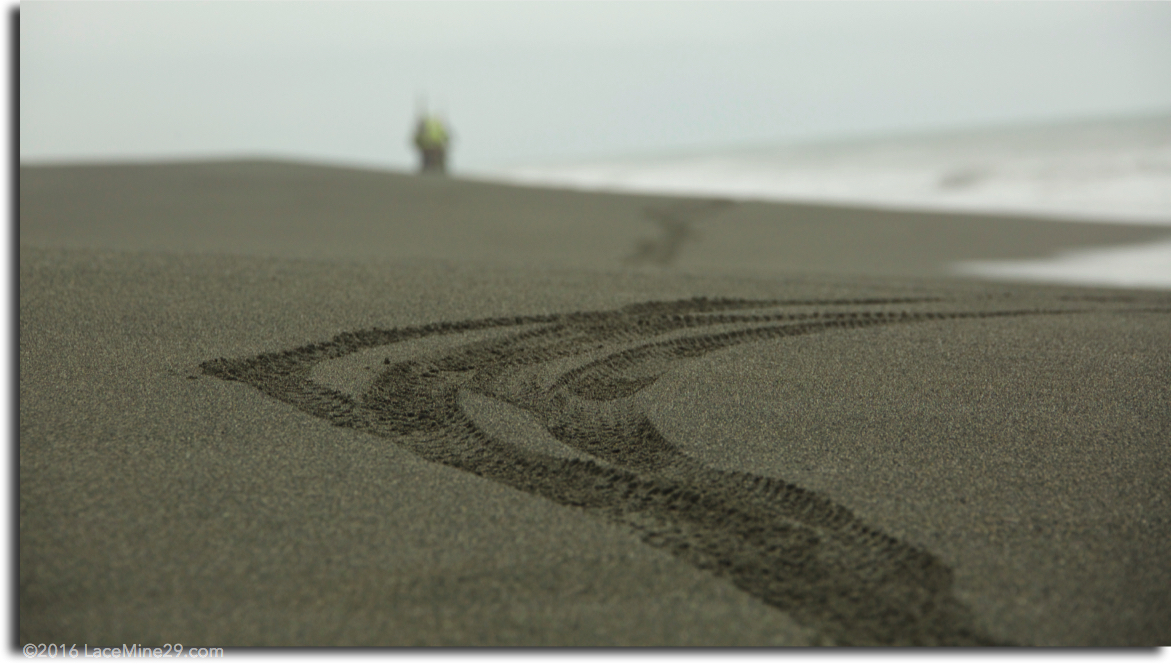 Seven Day Route
Our seven day route this year to just beyond Icy Bay Lodge would pencil out at 175 miles, although we'd planned for 100 miles farther on to Yakutat, but were shut down by weather and a tight time schedule. The Lost Coast North route we followed was well over 70% riding on 20 or so beaches that stretched between packraft crossings or rocky points. The other 50 miles followed roads (15 miles) parallel to the beach or beefy bodies of water by boat (35 miles): the Copper River Delta, Icy Bay, and the Caetani River pumping out of the Malaspina Glacier's moraine. The only extensive pushing we did was up or across creeks and the only bushwhacking a mistake.
We were not the first to pedal, paddle, and push this coastline. In 2008 during August, the rainiest of the summer months, averaging nearly an inch each day, Eric and Dylan left Yakutat Airport headed for Russell Fjord, its terrifying Hubbard Gap between rocks and hard, falling ice (https://www.youtube.com/watch?v=afrTbAXW2BE). It took them several days to give up on dragging their bikes in the rain through alders bristling along steep mountain slopes. Instead they braved the shards of ice pushed by erratic waves born of calving Hubbard Glacier in the Hubbard Gap itself, a varying-sized slot between cliffs and the massive glacier's calving face.
Riding single speeds, their trip ground to a standstill until Eric's folded chain-ring was replaced by an airdrop. They had some stumbling around the Malaspina's ocean side moraine, an easy crossing of Icy Bay, great beach riding, and even a fishing boat trip across the bastard that is Controller Bay.
Details are few (but see http://www.adn.com/outdoors/article/riding-and-packrafting-alaskas-lost-coast/2008/10/26/ ) on what was surely the gnarliest Alaskan bike trip in a century, since George Pilcher stuffed rope in his tires at the end of his 550 mile ride from Nome to his cabin on the Lower Yukon in 1908.
On burly brake-less Pugsleys, Eric and Dylan faced a surly, dynamic clash between seaside and mountain-scape, establishing what has to be the best wild beach riding on the continent — if by best, your definition is that it's mostly roadless but rideable, sometimes challenging but not muddy (too often), visually exciting, and certainly not devoid of spicy water crossings.
Since that visionary ride of 2008, the stretch of coastline from Yakutat to Cordova has become a classic verging on trade route. Following Dylan and Eric, Cameron Lawson and Brett DeWoody (Biking the Lost Coast) repeated the route sans Hubbard Gap in August 2010. In August 2011 an impressive Italian, Maurizio Doro (video of trip, words and photos), who did the Hubbard Gap-less route solo in about the same number of days as Dylan and Eric, although he required a Coast Guard rescue near the end for murky reasons.
I have heard of at least one other Alaskan fat-bike group who did Cordova to Yakutat in ten days of sunny weather in the last year or two. Keeping their trip to themselves, I'll leave it at that.
Gordy Vernon coined the phrase "Lost Coast" (good advice on the Lost Coast at http://www.anchoragepress.com/news/rules-road-southeast) after he hiked with Dick Griffith from Yakutat to Cordova back in April 2003 and wrote about it in We Alaskans.  He came back from that trip saying, "Roman, you should go bike those beaches."
Dick had done the southern portion two or three times in the 1990s calling it the best trip in Alaska. Then Erin McCittrick and Hig Higman came though on their year long trek out of Seattle during November 2007. Erin devoted two chapters to the Lost Coast in her first book, A Long Trek Home.  In the last decade, particularly with the popular discovery of packrafts, it has emerged as an Alaskan wilderness destination. The stretch between Cordova and Yakutat could be called North America's fat-biking test piece and the stretch from Yakutat to Glacier Bay among the best wilderness trips in Alaska.
While we rode and paddled, two friends who'd left Cordova the day before us walked the same route. We caught and camped with them, and MC, always the communicator, kept in touch with them as we travelled in parallel via InReach. Stopped, too, by weather (and maybe sore feet) a day behind us, we shared the airplane that picked them up on the west side of Icy Bay and us on its east side.
Wilderness Riding is Off-trail, not just Off-road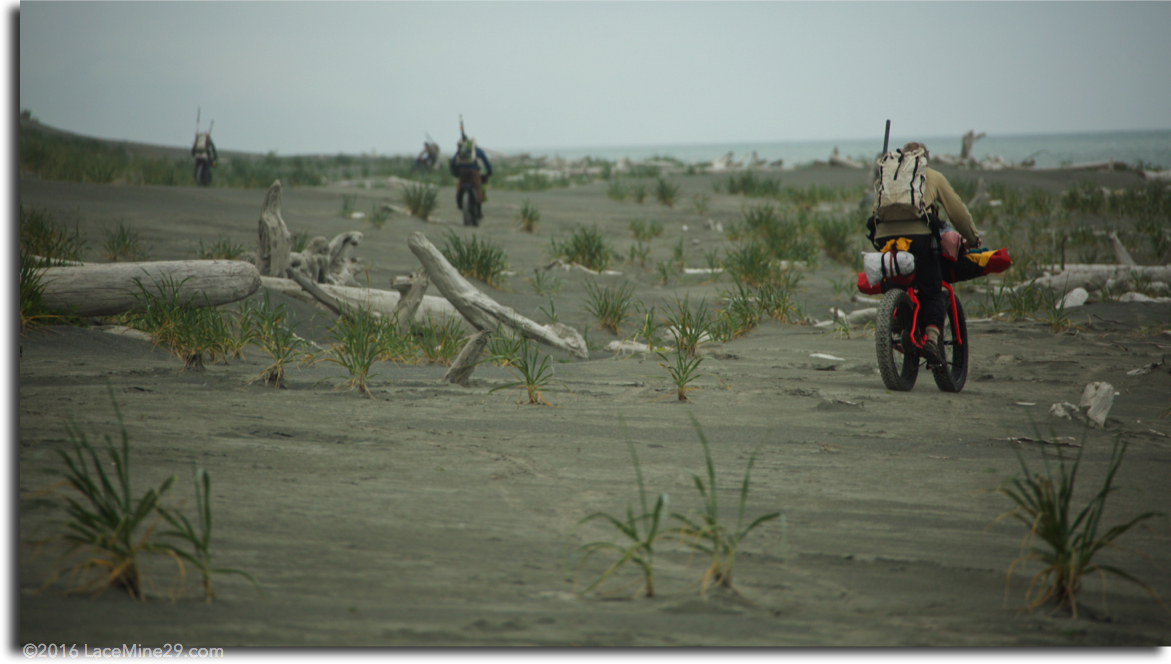 Fat-bikes have emerged as the ultimate wilderness riding machine, where there are few to no maintained human trails  and riding takes place on wild animal trails, raw sediments like sand, gravel, and cobbles, low vegetation, and even glacier ice. Multi-day wilderness cycling adventures have centered, with the exception of Alaska and recent journeys to Mongolia, mostly in deserts: Australia's Outback, Africa's Sahara, Tibet's Chang Tang Plateau, Utah.
To call wilderness cycling "bike-packing" is a bit like calling a climb up El Capitan's Nose a steep hike.
In Alaska, the most popular multi-day wilderness routes follow beaches, like portions of the Kenai Peninsula's "Hope to Homer", the rideable Lost Coast North; the boulder-strewn Malaspina Lost Coast, the wild Lost Coast South, and the muddy Lava Coast on the Bering Sea side of the Alaska Peninsula.
Several of Alaska's major mountain ranges including the Alaska, Brooks, Kenai, Wrangells, and Talkeetnas have been crossed or traversed lengthwise via wilderness routes by riders going uber-light on 26-inch hard-tails
Fat-bikes hung with frame-bags stuffed with food for a week or more, and a boat and paddle for every rider, make wilderness trips heavy. A heavy bike makes pushing something to avoid and carrying impossible. In other words, pure-bred cyclists might find fat-bikes and mountains an unsatisfying mix, not worth the effort.
Hence beach rides have emerged as the most popular destinations for Alaska's wilderness riding. Eric pioneered fat-bikes across mountain wilderness, too, when he and Dylan (on a single-speed mountain bike) crossed the Wrangell Mountains via the 150 mile Nabesna to McCarthy route, a route Jon Underwood, Carl Tobin, and I pedaled and packrafted in 1988. Just this year, a group of Spanish came and took ten days to fat-bike Nabesna to McCarthy with seven days food, pushing more than they expected.
One approach to wilderness mountain routes is to take only one boat and one paddle and travel as light as possible with the intention of riding as much as possible.
If you are just going to push, maybe a wheelbarrow's more appropriate, right?
Stay tuned for part 2…
Photos by Mike Curiak