May 17, 2017
Posted by Holly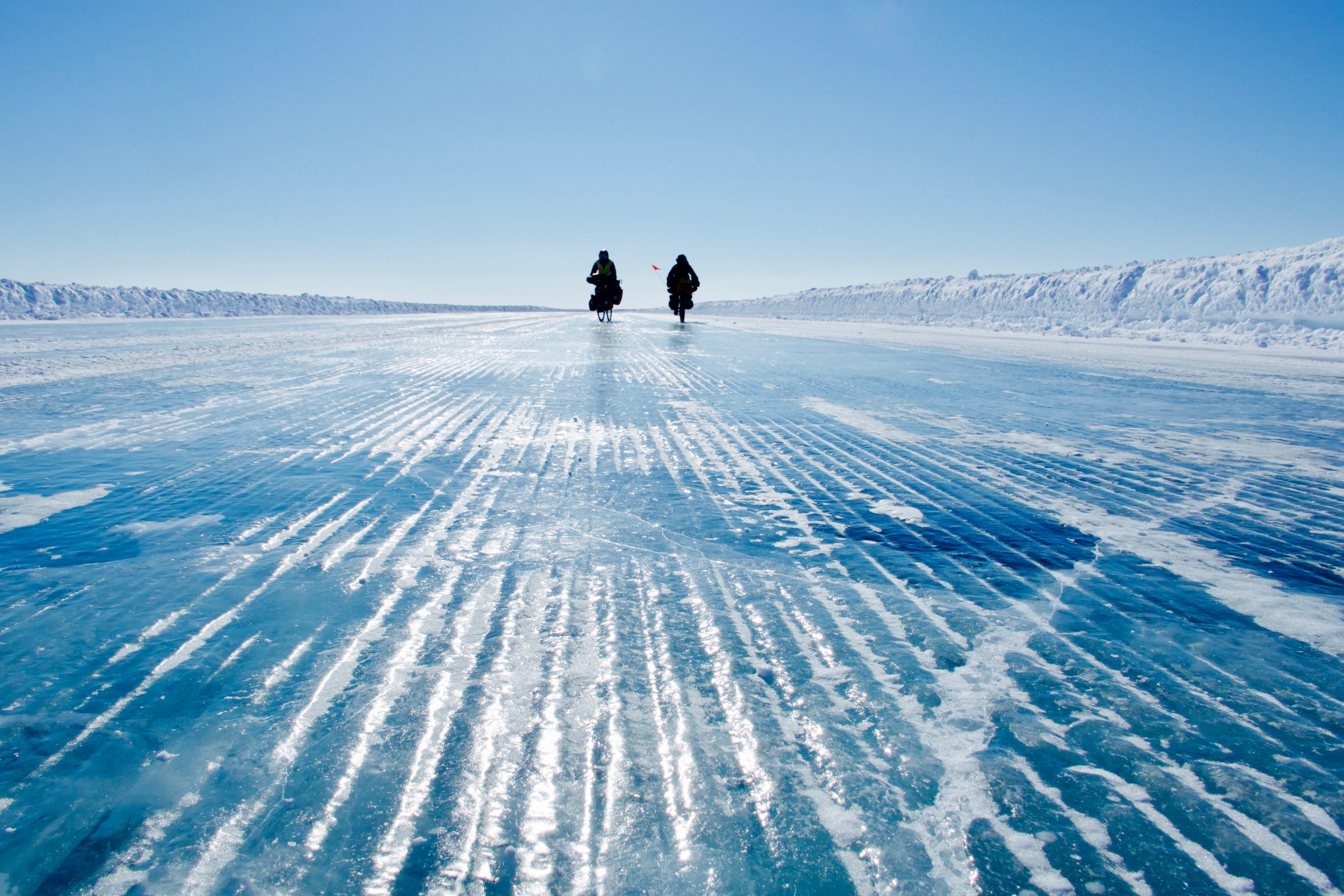 In 2010, I set out with my dearest expedition pals, Kate Harris and Rebecca Haspel, to become the first all-female team to summit Lingsarmo/Pinnacle Peak – a 6955m peak in the heart of the Indian Himalaya. By the time we were descending from the precipitous summit, we were already brewing up our next expedition. A few years later, we headed to Tajikistan to ski its unruly border with Afghanistan, China and Kyrgyzstan in the cold of the Pamir winter. Again, as our adventure neared its end, seeds germinated for what would come next for our trio. Kate and Rebecca are Canadian. I on the other hand was just a hopeful one, but am now a permanent resident. Though Kate knew that Rebecca and I might be useless without skis on our feet or axes in our hands, the idea was born to explore by bike the frozen world in our own backyard. As Canada would be celebrating its 150th birthday, it would be a momentous year in the history of these northern communities. Knowing at the time that this would also be the last year of the Inuvik-Tuk ice road, we became fixated on biking, skittering, on the Arctic Ocean the last year it would be possible. Our idea was to start on the spring equinox, at the tail end of the Arctic winter, and hope to finish just before spring break-up. We would begin in Dawson, and bike north (because why not add the challenge of a constant headwind?) to Inuvik. After biking the length of the Dempster in winter, we would ride on the frozen Mackenzie River until we hit its mouth, bearing down across the Arctic Ocean until reaching the northern edge of the continent: Tuktoyaktuk. And if we timed it just right, we could coincide with spring jamborees in the communities along the way. And if we got really lucky, we would also catch the reindeer crossing, as they made their way to spring calving grounds.
The rub: two of the three of us hadn't even done a single summer overnight bikepack before, let alone a multi-week 1050-km Arctic winter bike expedition. Rebecca and I – alpine climbers, skiers, but by no means bikepackers – would learn by fire (ice?) how to travel on wheels and not skis in winter. Luckily, a big piece of this was known to us – the winter camping part. The part where you know how to live and function and laugh at -30 for weeks. But when Rebecca and I looked at our pile of stuff in Whitehorse that was going to have to fit on our bikes, we were unconvinced it would even be possible. Kate, with an impressive resume of bikepacking expeditions and off-road racing, laughed herself to tears as she watched the two of us be pushed into this new and uncomfortable world; studded tires on a shifting icy groundscape, heavily weighted bikes threatening to throw us off.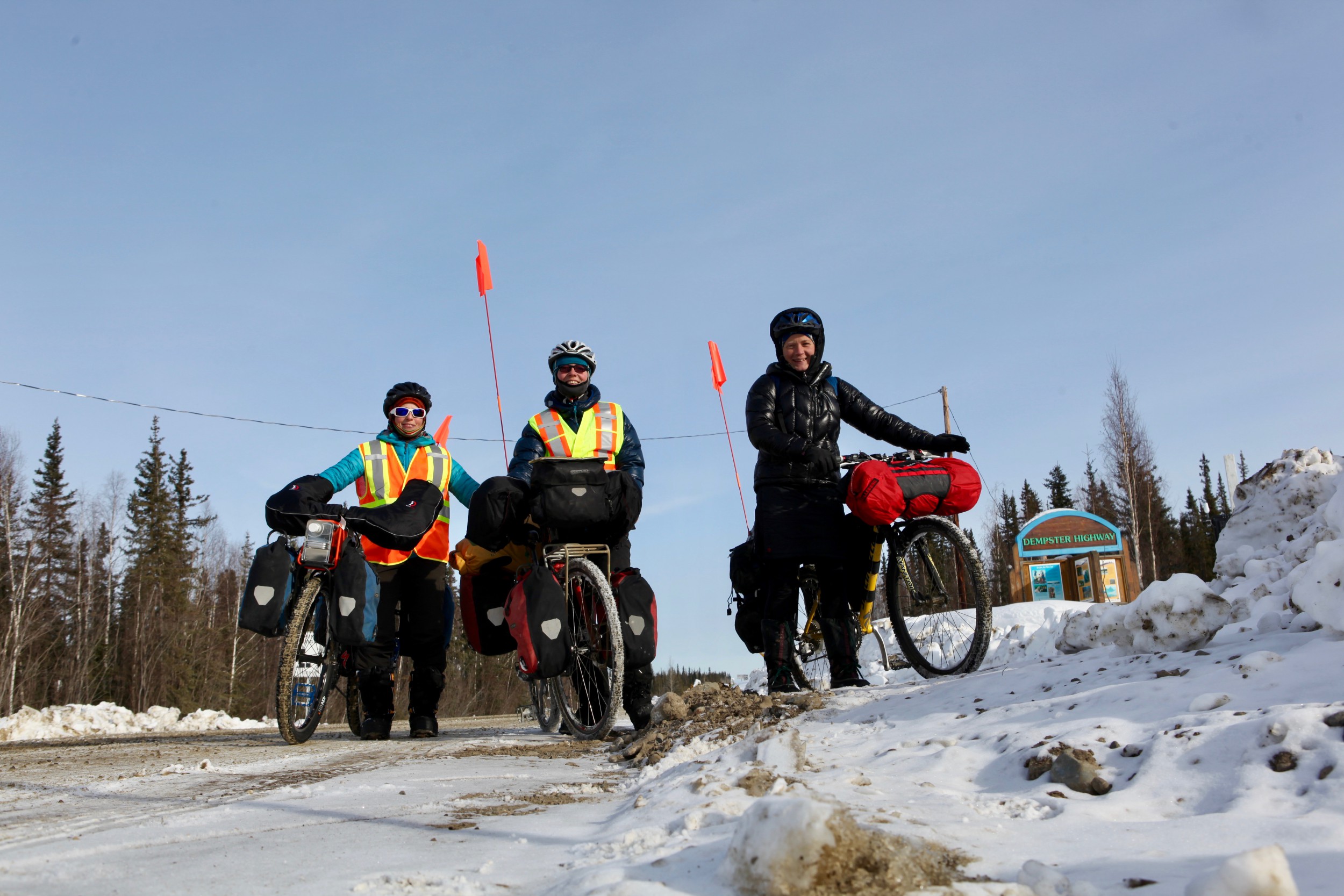 "Holy demoralizing headwind," I wrote after the first day. How on earth were we going to bike with that weight and those temps into a headwind, 50-80km per day, until hitting the Arctic Ocean? After a couple days, we started to learn the new systems, and get more comfortable with this mode of winter travel. The lunar landscape of the Tombstones lay deep in winter. As we made our way out of that first mountain range, our world studded with sharp white peaks, one of our coldest mornings had me worried about frostbite on my feet.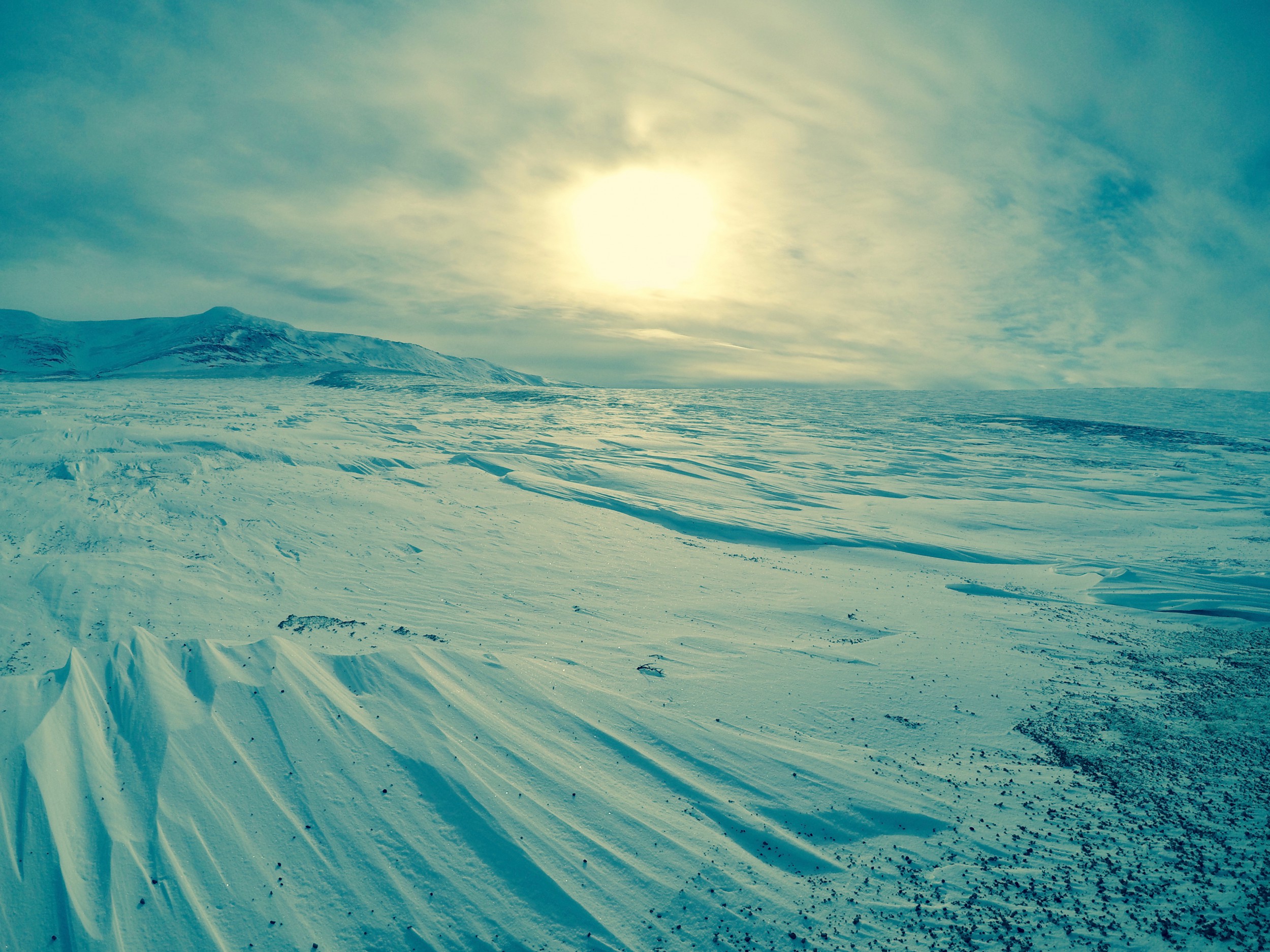 In that very moment of deepening worry, we spotted a paper plate on the side of the road with something written on it: "Hi girls (bikers), u r welcome to stay in small brown cabin km131, gone snowmobiling." Bacon, brownies, and the kindness of strangers saved my feet and fueled our fannies over Windy Pass, along the Blackstone River, and into the Ogilvies.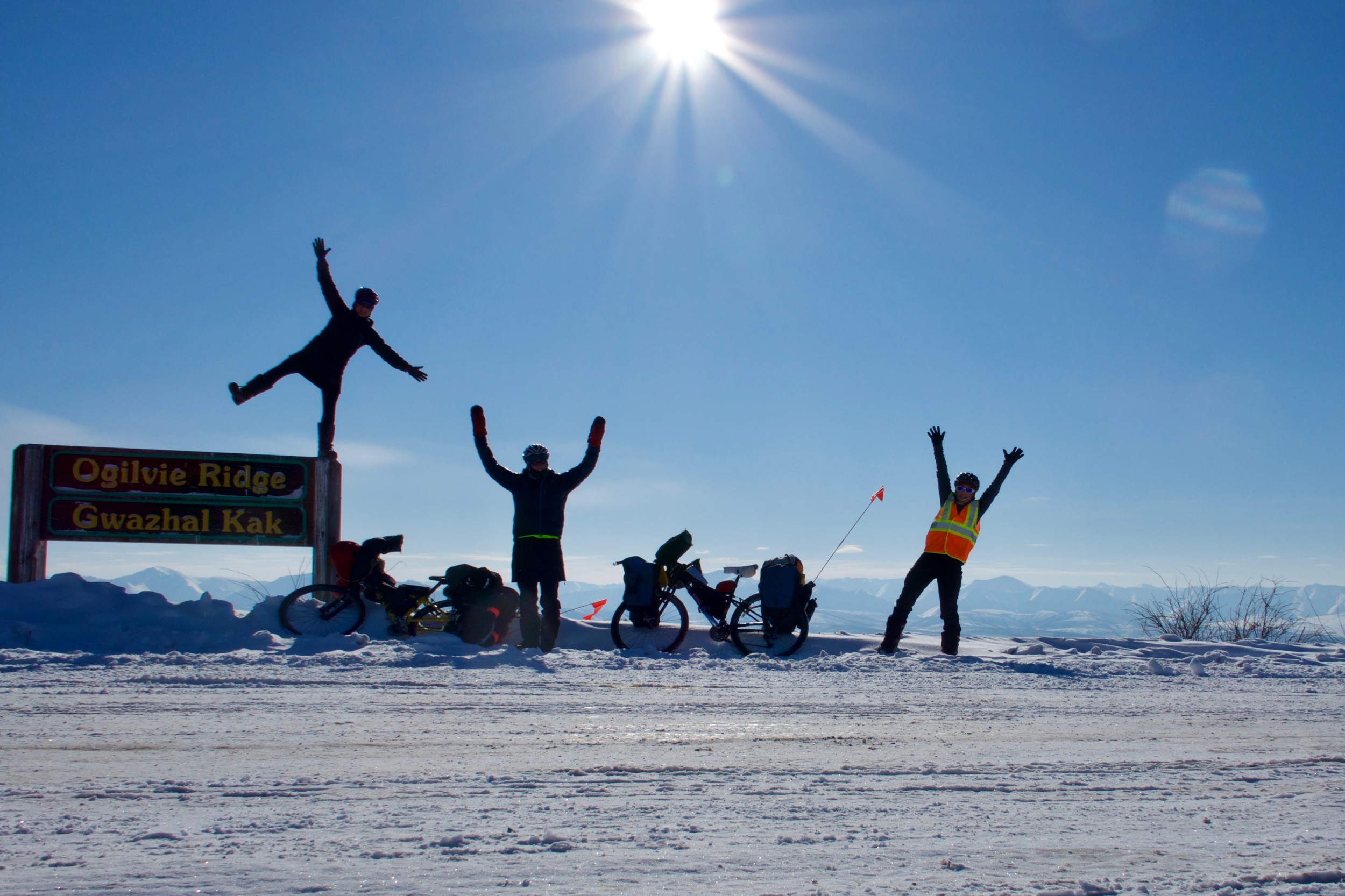 The next night, we climbed out of the Ogilvies and into the Richardson Mountains. Eventually, we climbed onto the high exposed Eagle Plains. Kate and Rebecca built a bonfire outside the tent, and we dried our frosty wet socks while roasting sausages and cakes that a passerby had given us, celebrating everything good and simple in that moment.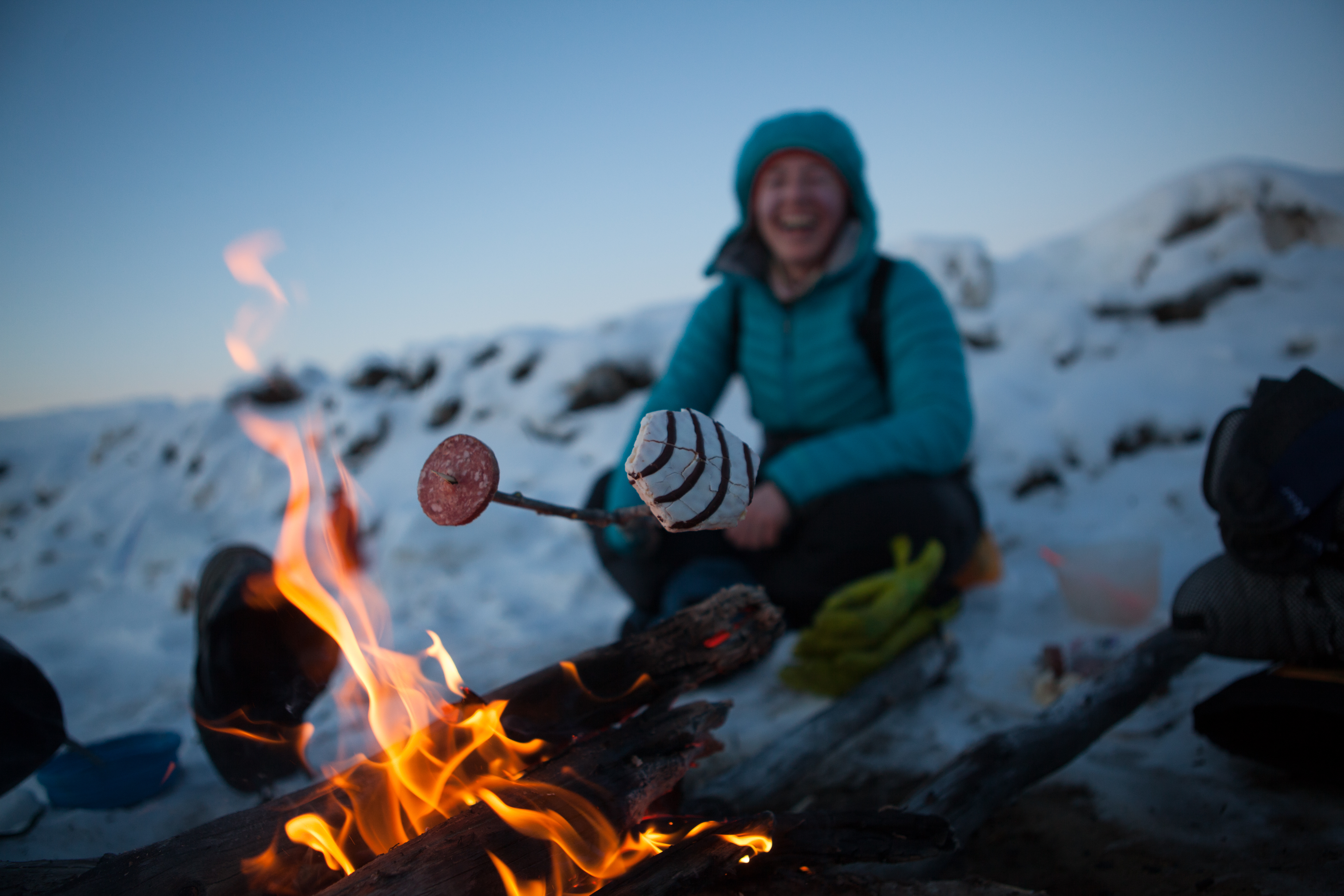 The next couple days were long, cold, mentally trying strings of minutes. We made it to Eagle Plains on March 27 where, lucky for us, we had our only forced rest days. The road closed for two days due to extreme high winds – ample time for drying gear, fixing bikes, and making up for lost drinks in the amazing Eagle Plains bar.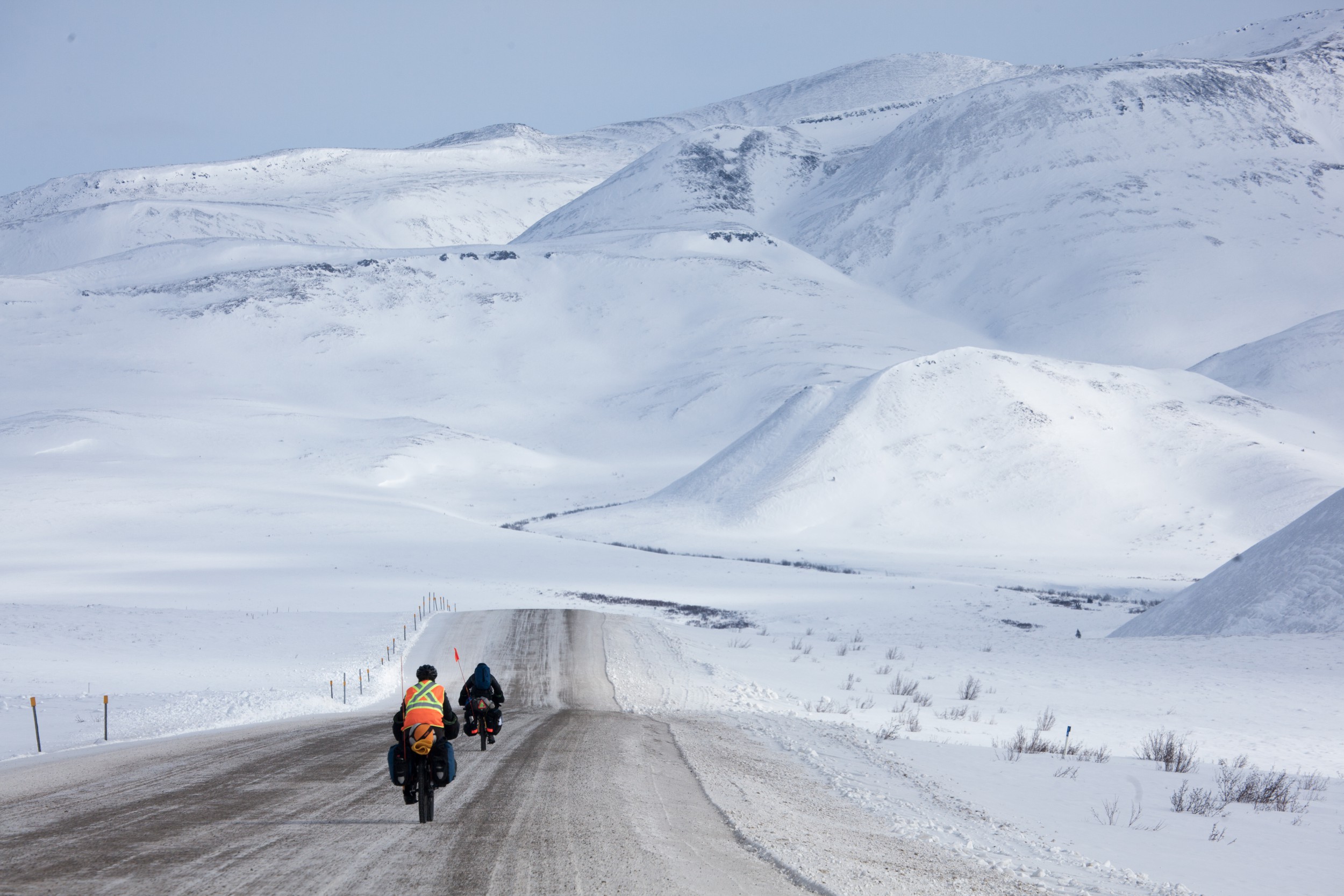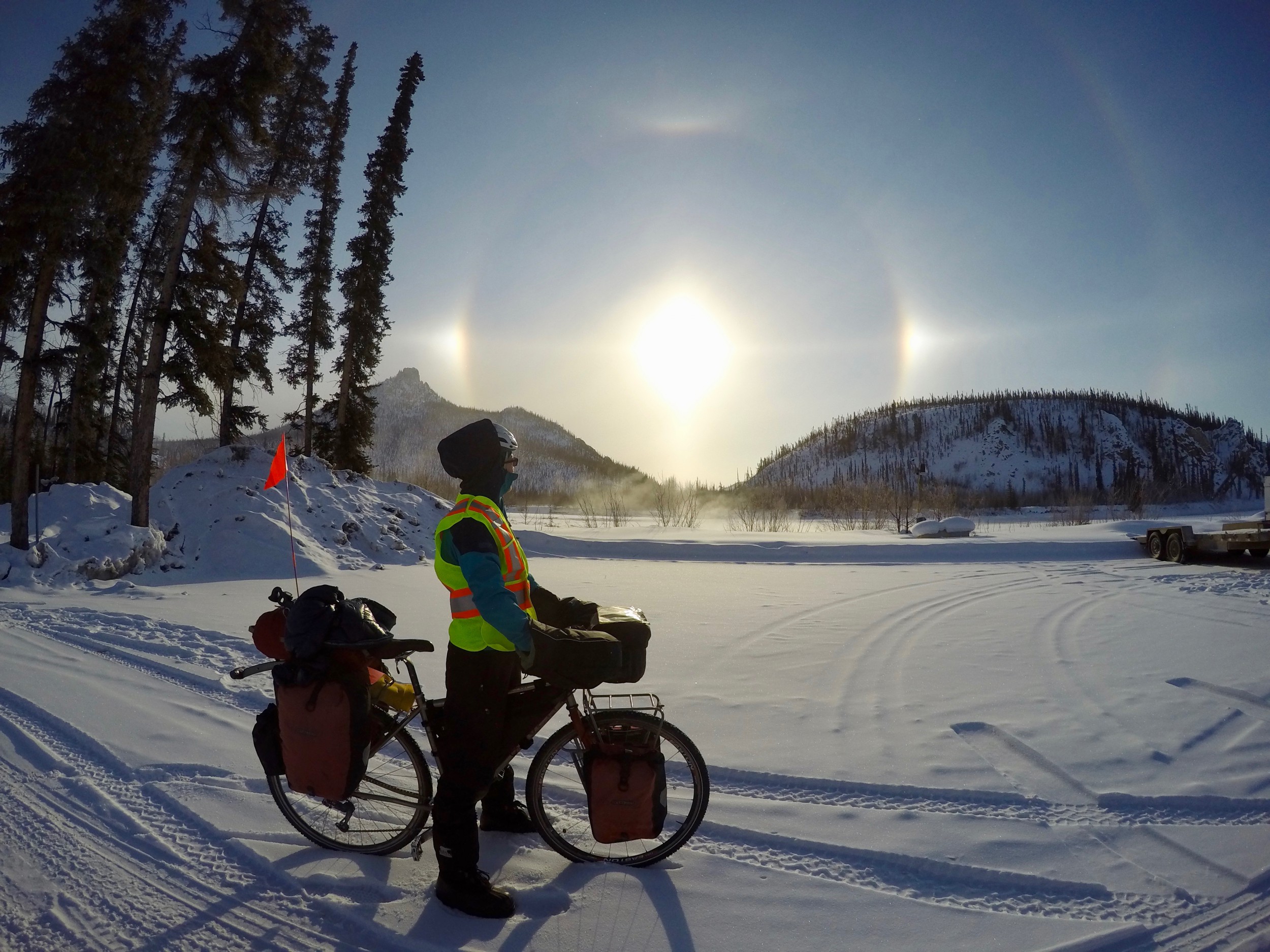 Two days later, they opened the road and gave us a head start on the trucks backed up in Eagle Plains. We crushed some Dempster miles, crossing the Arctic Circle and winding northwest toward the Northwest Territories. After a bitterly cold night, we spent the next day battling fierce winds through Hurricane Alley and over Wright Pass, into the NWT.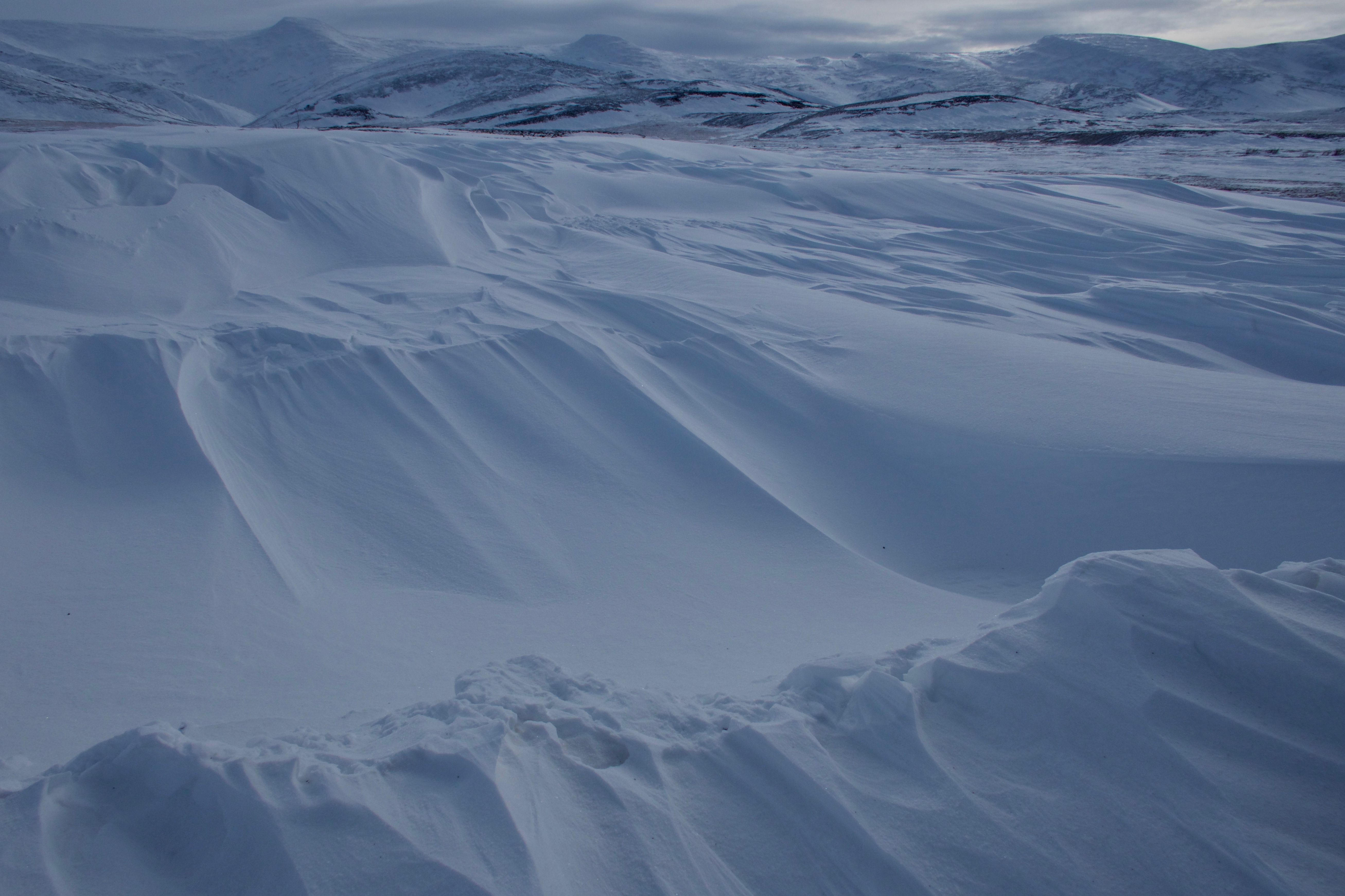 Kate and Rebecca somehow managed to stay pedaling on their bikes over the pass. The side winds swept my bike out from under me, and I walked stretches of the pass, unable to stay on the bike. We pushed hard that day, and made it out of the danger zone to Rock River. It was protected, out of the wind, and worth the push.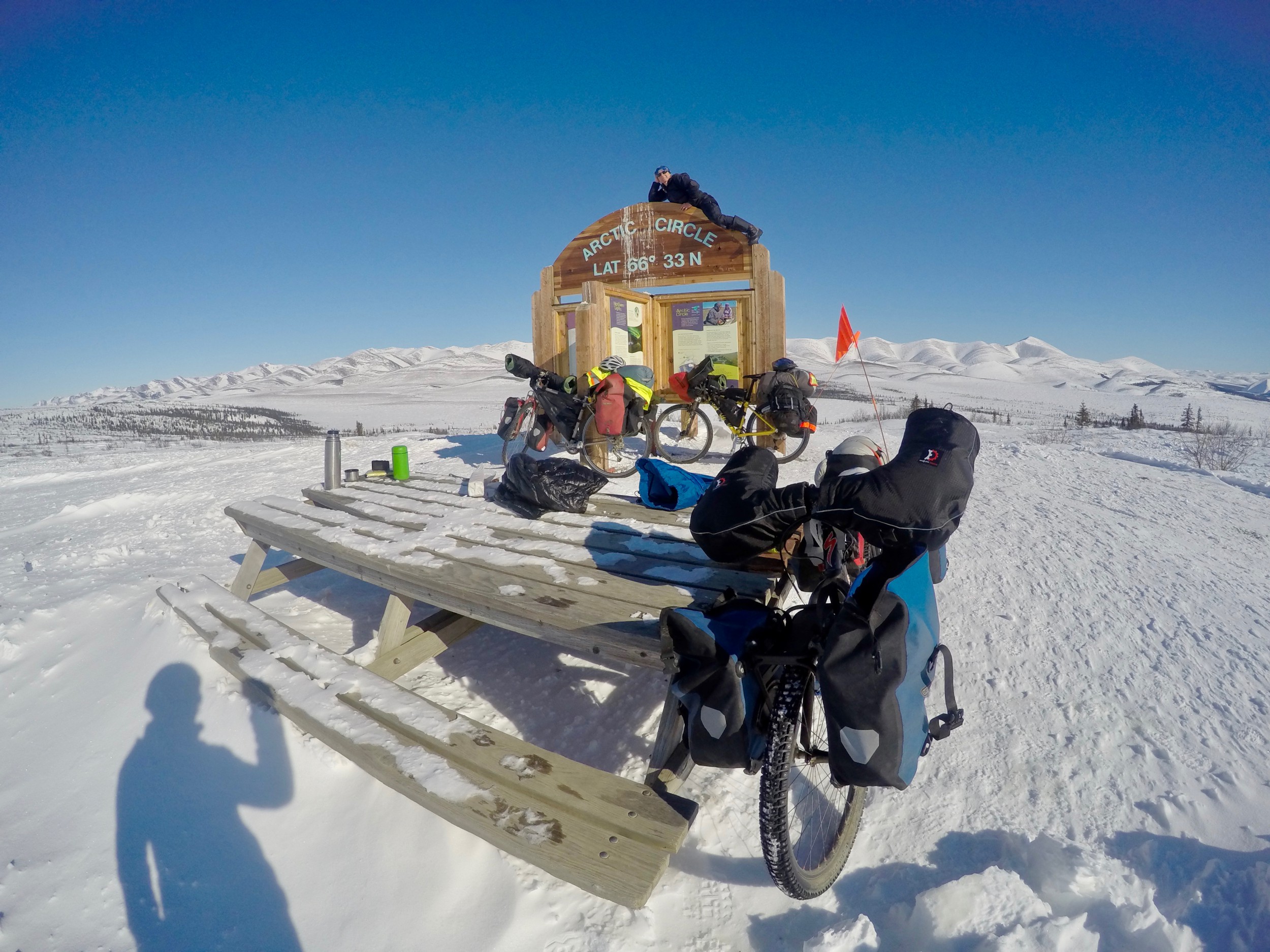 On the last day of March, we cycled through the coldest section yet, over the frozen Peel River and into McPherson.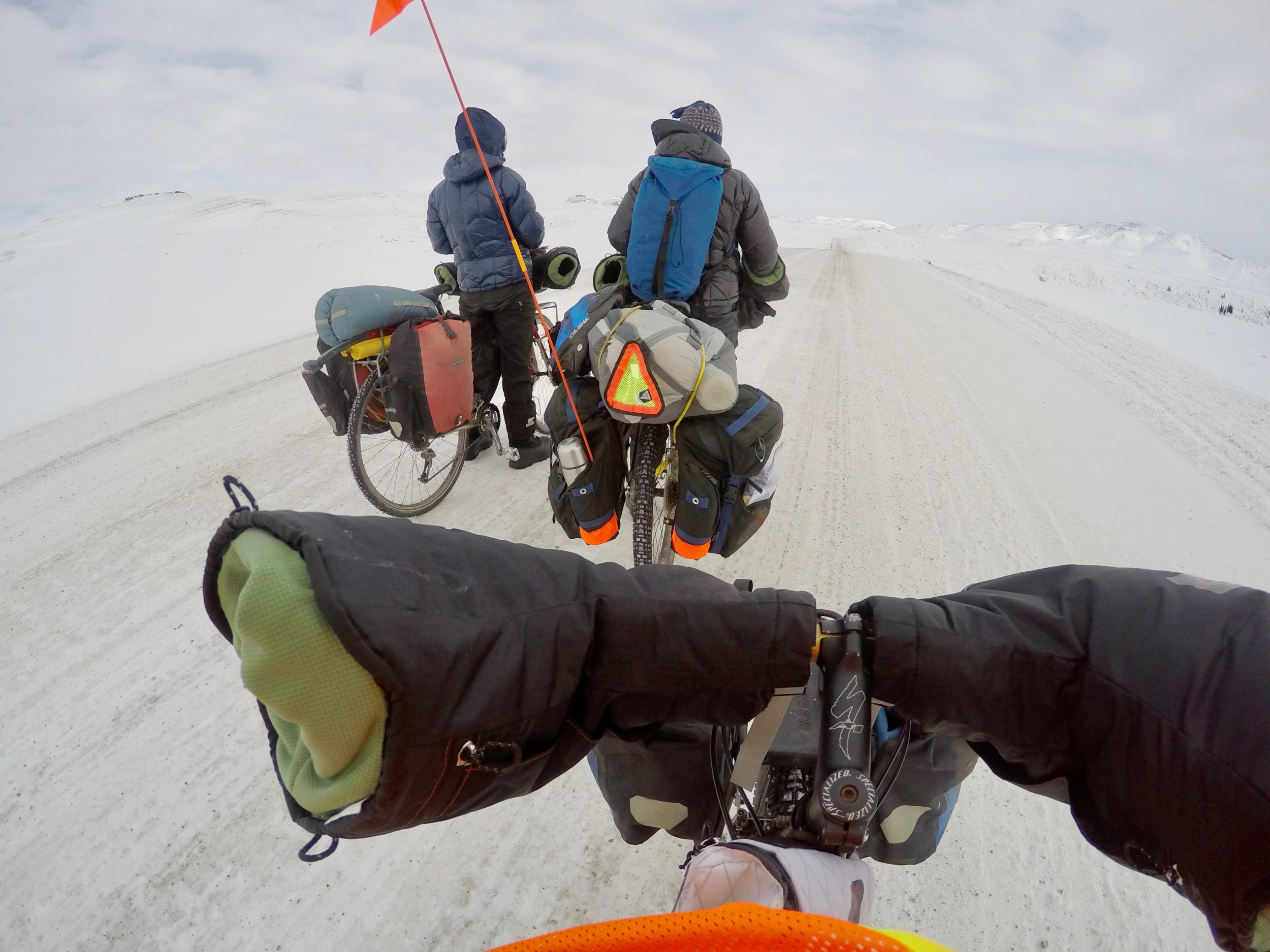 We were just in time for the Peel Jamboree. We scooted down to the Peel to watch some snowmobile races, and then our pedal-pushin' legs learned to jig. The next morning, we set out across the frozen Mackenzie and Arctic Red River. Have you ever wondered if it was possible to have so many epic adventures by bike that your rim could explode into pieces? Wonder no more. About 20 km short of Tsiigehtchic, Kate's rim split in two. It had begun to split five days prior, but (with no rear brake, and one hell of a constitution) Kate bravely rode it to its oblivion. She hitched a ride to Tsiigehtchic, and Rebecca and I rode into town later that day where we reunited for the evening.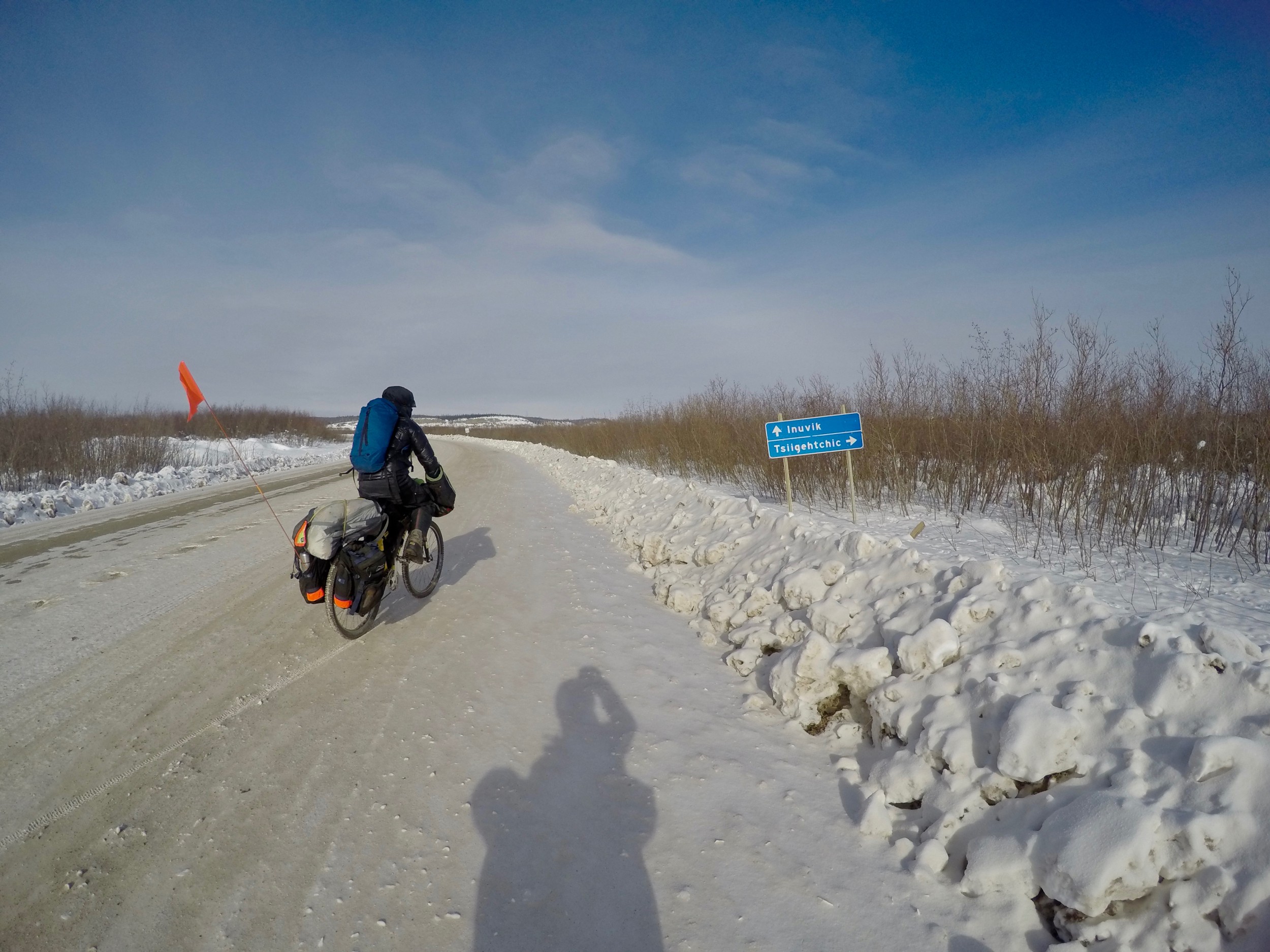 Rebecca, who had canoed the Mackenzie 16 years prior – a formative experience – took her time retracing old steps through the town. In the morning, Kate hitched a ride to Inuvik, where a new wheel awaited.
For the next two days, Rebecca and I pedaled in whiteout conditions and a cruel, unrelenting headwind. Late on our second afternoon sans Kate, we started seeing signs for Inuvik. We pedaled into town, overjoyed to make it to the end of the Dempster and reunite with our fanny. We also were met by a friend who had flown in from Whitehorse, who would join us for the final ice road leg from Inuvik to Tuktoyaktuk.
When we left Inuvik, the start of the ice road seemed promising. Would this be our fastest three days yet? We were too smug, too soon. After ten minutes, the fast hard-packed snow and still air turned to glare ice and the worst side winds we had encountered yet. We only made it 50 km that day, with some hard falls on the glare ice, and sought refuge within a building at Reindeer Station. The following day we stayed hunkered down in the high winds. They let up the next morning just enough to make some headway. Slowly, painfully, we spun north on the ice to Swimming Point. We searched the ice road for anything to grip on – small snow patches, areas where the graders cut teeth into the ice, small cracks. Anything. I tried not to focus on the ice, on the fact that we were biking on a river.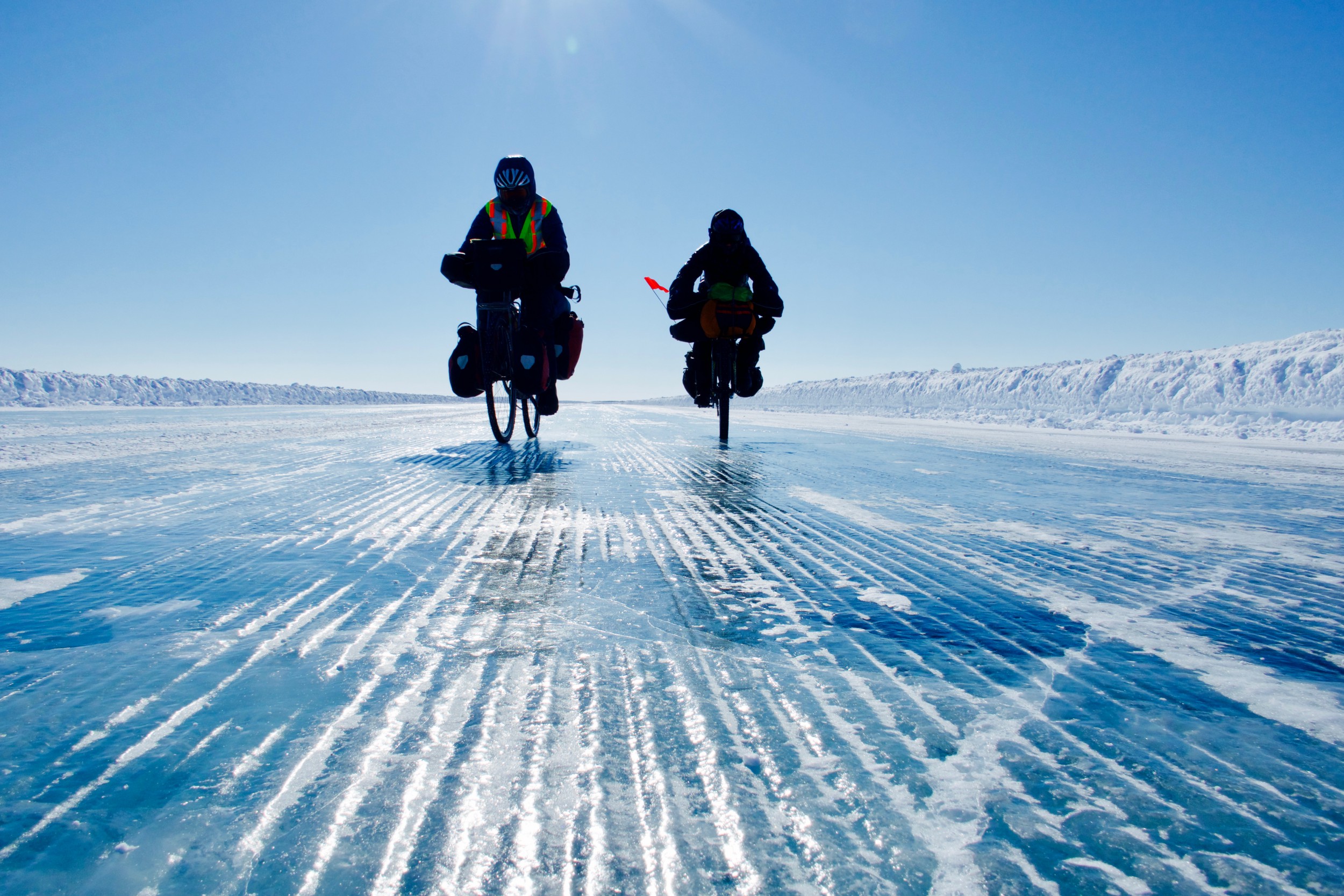 We made it to Swimming Point and set up our tent behind the shelter of a defunct building. I sunk into my sleeping bag, knowing tomorrow would be our final, and most trying, day. We were too far north to stop before our trip's destination. The -40 temperatures, the winds, the 80% humidity (!?), meant pedaling without much stopping until we hit Tuk. With heads down all day into a steady Arctic headwind, we inched our way toward the edge of the continent. We relied on one another. The Mackenzie River was beneath us no more. We had met the expansive Arctic Ocean; the frozen sea heaved beneath us, kelp and seaweed frozen in time, the signs of ocean life paused. The DEW Line and pingos of Tuk appeared on the horizon. We biked toward them for hours, seemingly no closer than when they first appeared. At 10pm, as the golden Arctic sun began setting on the infinite skyline, we shed our bikes, down suits, face masks, and stepped into the warmth of a building. Looking in unified disbelief at the sun out the window, falling off the curved edge of the continent, we had made it.
On our travels back south, we kept with our tumbleweed philosophy. This rewarded us with perfect timing for celebrating at Inuvik's Muskrat Jamboree, and witnessing the reindeer migrating for the last time across that inconceivable ice road.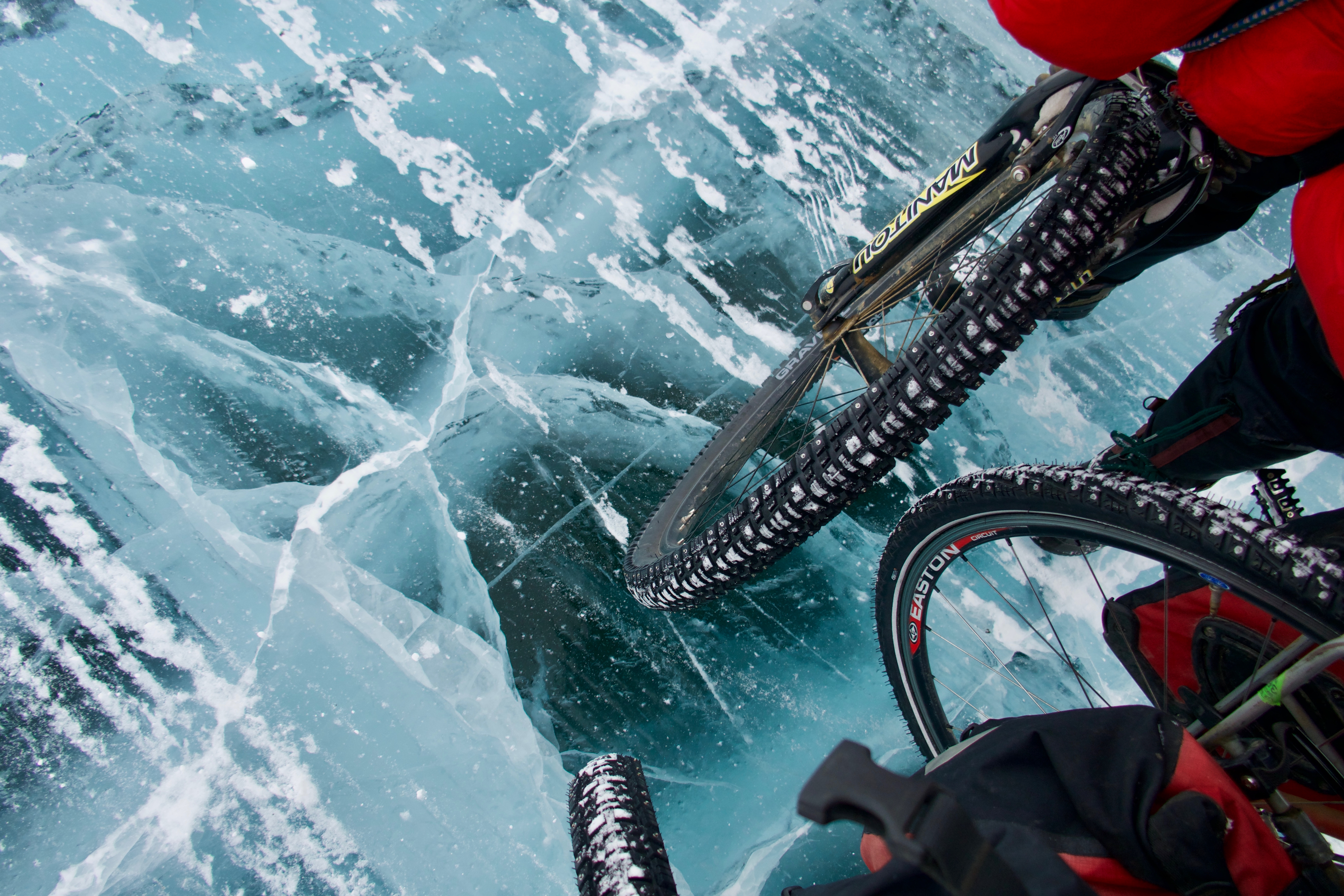 Words and photos by Alison Criscitiello. Read more about the Arctic Biking Fannies & Team Borderski at their website.