March 14, 2018
Posted by Holly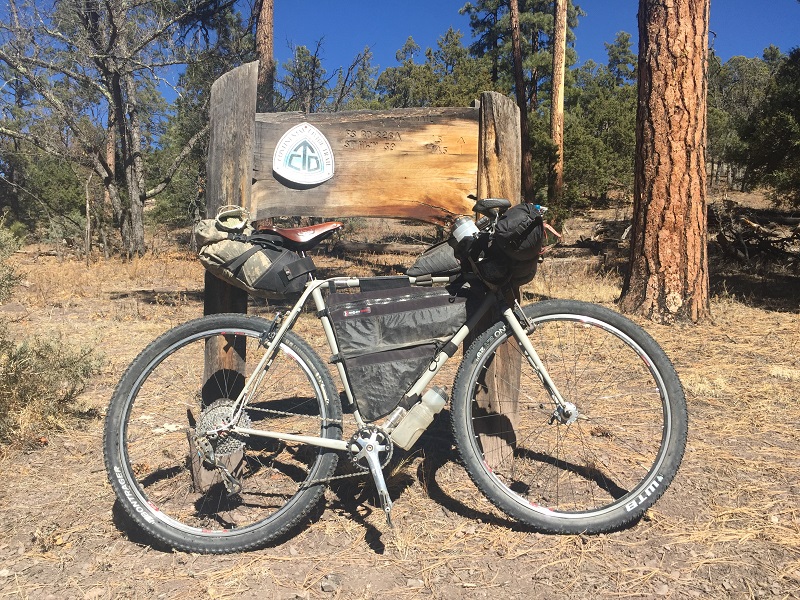 I have a brand new bicycle! Or rather I have an old bike made new again. I had this frame built 10 years ago as a 29" singlespeed touring bike, greatly inspired by Pat Irwin who I heard refer to himself once as a "dirt roadie". This was long before gravel bikes had been "invented". Surly's red Crosscheck was out then, and Pat rode one with flat bars and I rode my current bike with a 42:20 ratio on a 200km brevet around the Homer, AK. Ten years later, I still can't call myself old, but my knees are older and singlespeed touring is still the best thing ever but sometimes there are cool mountains that are easier to ride up with camping gear on your bike if you have a rear derailleur. When I was in Portland, OR, last fall I hand-delivered the frame back to Vanilla and the kind folks there gave me wicked nasty new dropouts, cable stops and a new coat of paint.
In the last 10 years bikepacking has exploded and now all I have to do to get maps for a new and interesting area is plug my GPS into a computer and download some GPX files. Bikepacking.com is an amazing resource and I took the New Mexico Off-Road Runner and Monumental Loop tracks from here and called it good.
The NMORR route is awesome. By early afternoon I was far from any city and in the Santa Fe National Forest on chunky jeep roads that could suddenly change into swoopy two track through big meadows bordered by pine trees. I dabbed on some of these initial roads but was able to ride almost everything. A spring, which should be a good water supply, had an oily sheen and was murky and skuzzy.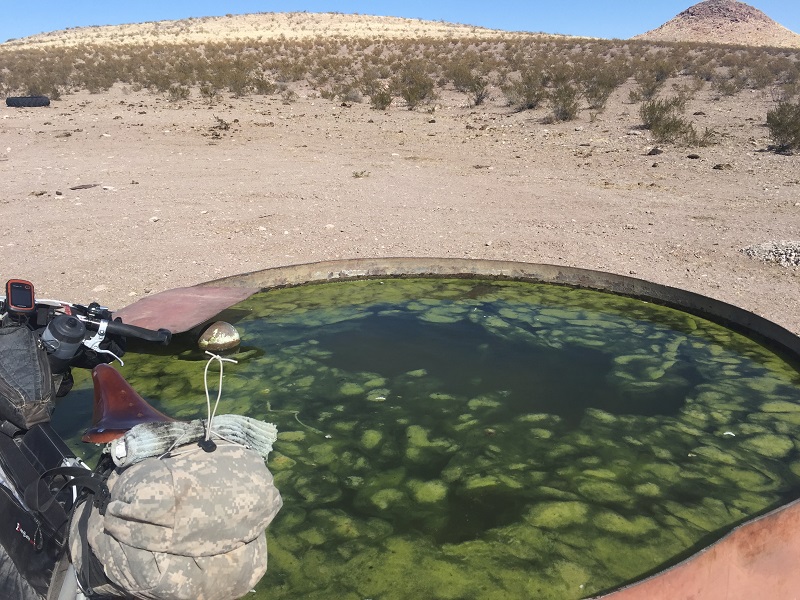 I hemmed and hawed and decided not to take any water from here: there's always more water in the desert than you think there is, and this was a forest not a desert, and besides, there were tons of cows here and they needed to get a drink somewhere. A few miles later I passed a spinning windmill churning out beautiful clear water not on any map. Camping on the NMORR is easy. Even if you're not on BLM or National Forest land — which you usually are — there's always a wash to duck down into or a big juniper to snuggle up next to as a wind block. Get water, make hot food, get your crossword puzzles and headlamp and get in your sleeping bag, because there's 11 or 12 hours of darkness this time of year and it's too cold once the sun goes down to watch the stars with only have a few thin layers of nylon and wool to keep you warm. At night, until south of Magdalena, it would be in the 20°Fs and I would sleep in a down jacket and rain pants inside my 32° bag to stay kind of warm.
Usually if I had big winds on this trip they were from the west, and the following day was no exception. I crawled towards the Very Large Array along the pavement but did not take the detour to go there given the headwind I had. Instead I cruised up Mt. Withington and saw a huge bull elk cross the road right in front of me.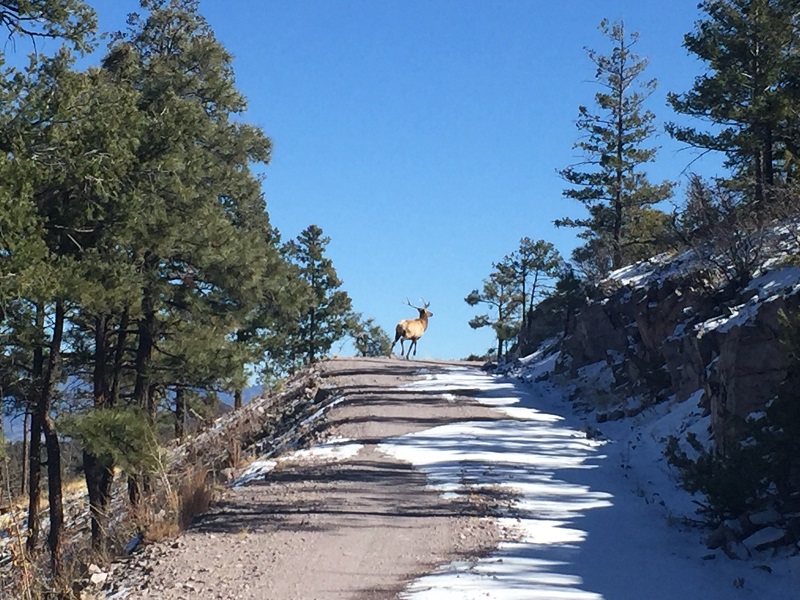 There were tiny sections of snow in the shadows but none of them were deep. Eagle Spring on the backside of Mt. Withington was almost frozen solid. I used the lid of my cook pot to skim a 1/4 oz of water at a time from the surface to fill my bottles. Later on a creek bed paralleled the road and it was running with what I assume was snowmelt. I chugged and refilled bottles from a pool in seconds whereas at Eagle Spring this took hours.
The Chloride loop was a highlight of the route for me. Instead of going straight to reach Winston and Chloride directly, you take Highway 59 west for a few miles, delve into the magical Gila National Forest, and cruise deserted roads until sneaking onto the CDT and then bombing through Bear Trap and Chloride Canyons. The graceful swooping downhill trend in Chloride Canyon was a delight, and I saw some thin 700c tracks in the dust ahead of me (700×32? 35?) and I was so happy this wasn't me. Because I have ridden most of the rest of the CDT in New Mexico, it was extra special to be on this new section of it, if only for a mile or two. Winston has a great general store but the last hot dog on the hot line had been swimming in there for a little too long. Mayonnaise on dogs is always good and I wish I had had two regardless. In T or C the next morning I had a Big Az chicken fried chicken sandwich from a gas station and this had 720 calories. Riding above Elephant Butte dam is spectacular, almost as much so as that sandwich, and the powerline roads that follow this are initially big chunky rock moves but quickly become fast two track riding. Coming into Hatch along the railroad tracks and then the levee roads reminded me of cutting across Anchorage — or any city, really — on the informal social trails that crisscross it. It was early Sunday morning and Sparky's was closed and I wasn't going to wait for an hour just to have a famous cheeseburger, so I left Hatch with more gas station snacks and rode the climby gravel roads in Organ Mountains – Desert Peaks National Monument. As (usually) always, there was more water here than expected, and I was able to resupply my water easily. One packet of Orange Crush singles powder works for 2 litres of water flavoring. Scenic Canyon and Broad Canyon are magnificent. Maintained dirt roads led me to Corralitos Ranch road and then I went left on the powerline road, camped, and then made it into Las Cruces the next day. Pablo at Outdoor Adventures offered me a place to stay, and if anything the friendship I made there was equal to or greater than all the amazing riding and camping I'd had in the eight days prior. That's warm and fuzzy, but it's true.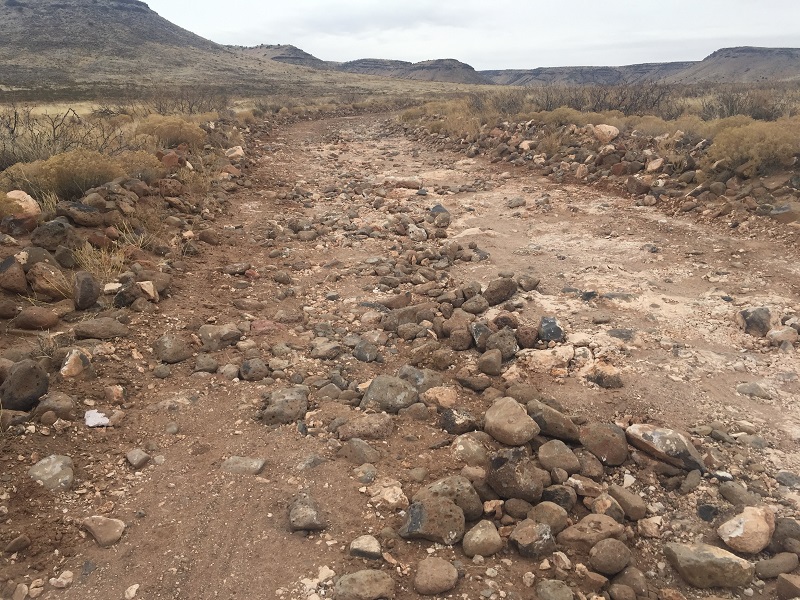 The Monumental Loop route leaves from Las Cruces. The NMORR is mostly fast, non-technical dirt road riding, whereas the ML is mostly sort of fast, semi-technical rarely-maintained dirt road riding mixed with a good amount of tiny cattle trails, swoopy flowy singletrack, and some rocky mountain bike trails. I had a blast on the ML! From the University where the ML starts, you immediately enter an area which locals refer to as "The Sandbox". Let some air out of your tires, unweight your front wheel and try not to turn your handlebars! I had a 2.1 tire on my front wheel and did alright, but a 2.5 wouldn't have hindered anything. Going around A Mountain and then Observation Mountain on those rocky trails was slow going for me, and I was happy when I got back to the sandy cattle trails and then the swoopy flowing trails leading to Leasburg State Park at Radium Springs. The key to the first day's riding was to consciously avoid any fast, easily-ridable dirt road you crossed, and instead look for the faint singletrack leading away from that nice road.
I was in Hatch (again) by early morning on day two, and (again) Sparky's was closed so I did not get a world famous green chili cheeseburger. I didn't climb Mt. Tonuco for the special uphill and downhill hike-a-bike; instead I walked the sandy powerline road for a mile or two until I got to the levee roads and biked into Hatch that way. After Hatch eventually the ML meets up with the NMORR route, and the two overlap for several miles. But the two meet coming from two opposite directions, and I at least had no idea this was happening until recognizing the same stock tank from a few days prior. Once I also recognized my own tire tracks from three days earlier, I stopped toggling in on the GPS so much and was able to cruise a little easier for a while. The clouds started doing what they'd been promising to do all day, and I woke in the middle of the night to a drizzle that turned to rain as the day drearily wore on. Eventually my brakes clogged with enough mud that I could no longer spin my wheels. At all. Even when pushing. So I detoured to Highway 70 and came into Las Cruces that way, missing the final route miles in Prehistoric Pathways National Monument. There are dinosaur tracks out there. It poured all day the following day, and I was happy to sleep on Pablo's fold out couch again like so many previous cyclists and enjoy a day off.
The ML is shaped like a figure 8, divided into a northern section and a southern section. The southern section is more stark and austere than its northern counterpart. Remove the volcanic rock, change the mesquite to spinifex, and lots of its two tracks could easily be from central Australia. The Sierra Vista Trail was an all morning downhill cruiser run that ended in Texas in Franklin Mountains State Park. I camped near the northern edges of El Paso's farthest suburbs and bought food in Vinton early the next morning. In Las Cruces I'd gotten ahold of Ray Molino, who lives near the route, and he was gracious to offer me a place to stay and tell me where the potable water was in his house. Unfortunately he was in Alaska when I called him, getting ready for the Iditasport, and so I didn't meet him like I had high hopes of doing. The route past Vinton traces the rim of Kilburne Hole, a maar volcanic crater, and the views into this big hole are amazing.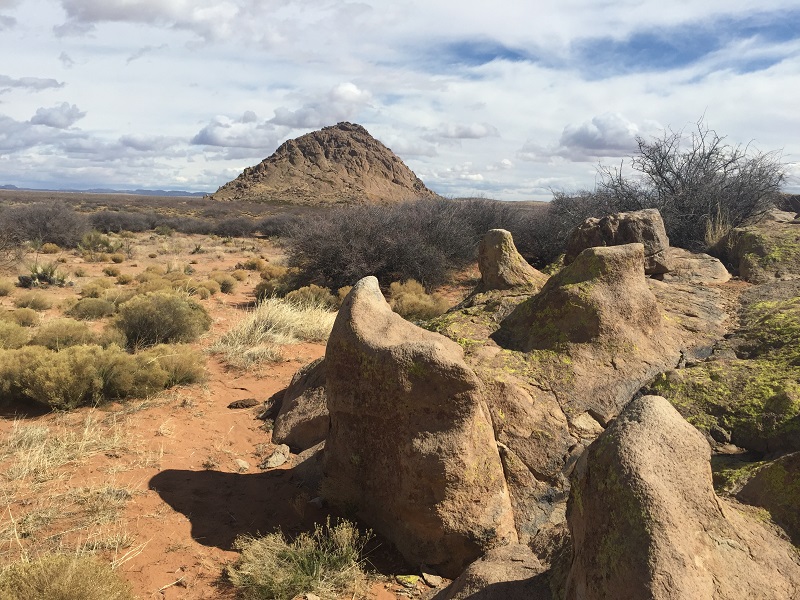 The rain that had fallen while I was in Las Cruces was still plentiful on my third day of riding. Unexpected mud and puddles were very much in effect all morning, and I carried my bicycle over these frame-clogging messes more than I expected to. Not as bad as some of the clay roads in Colorado, but nonetheless not ideal. Chloride Canyon was the highlight on the NMORR and the woolly mammoth stones were the highlight of the ML. On a small spur from the main route, there is an ancient volcanic remnant called Providence Cone, and on an even smaller, one mile spur from this is a rock outcropping were mammoths used to scratch their prehistoric itches. These rocks were a power spot: wind and rain sculpted mini-monoliths set in a sea of sand and mesquite. Super amazing! It was surprisingly sandy after Providence Cone, and I pushed more than I expected to in this last section of the trail. Eventually I reached county roads and was able to pedal into Las Cruces with the help of huge tailwinds. I took my shirt off on the final downhill to the Mesilla Dam, not because it was incredibly hot, but more because I'd been wearing it for three days straight and it seemed like a good time to air out. I thought of my friend and fellow shirtless biker Nicholas Carmen while I did this, and waved gleefully at the first vehicle I'd seen in 24 hours while I bombed down to the dam. I had a bison burger with green chilies and cheese in Las Cruces and everything was grand.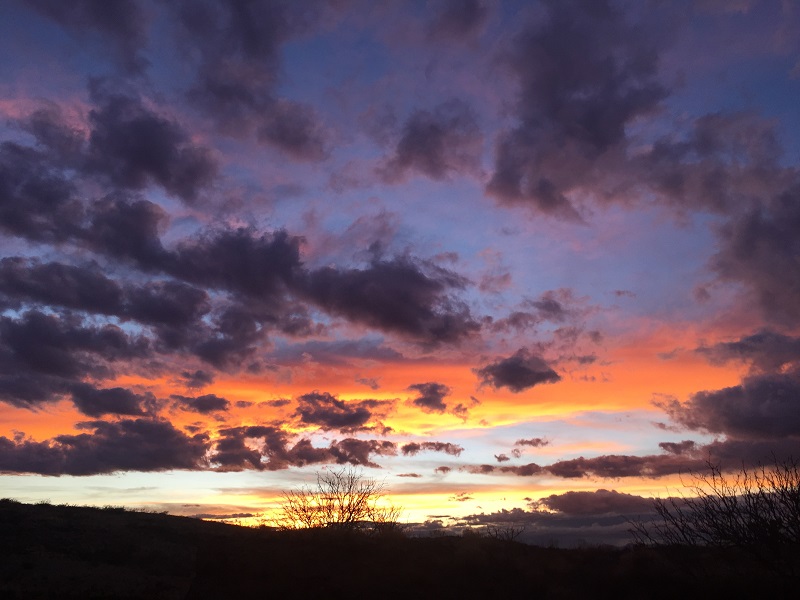 Dylan Kentch is a decade long ambassador and friend of Revelate. He's currently guiding trips for Adventure Cycling. You may find him eating oatmeal or drinking cold coffee somewhere along the southern side of the states.