June 5, 2015
Posted by Revelate Designs
My name is Mitchell Trux and I am an athlete on the Portland Titanium Cycling Team a.k.a. PDX Ti. I have been riding bikes my whole life…I grew up mountain biking, in college I became a pretty serious roadie and when that got old, cyclocross took over as my target discipline.
On PDX Ti, I am fortunate to have a frame sponsor that makes a gravel bike–the REN Cycles, Waypoint–and as a newish resident of the Pacific Northwest I have been happy to begin exploring the world of gravel on routes championed by VeloDirt.
While traditionally a bikepacking route/event meant to take place over several days, the Oregon Outback appealed to me and as an interesting challenge in that it is possible to ride it straight through. This was successfully demonstrated by Portland local and well-known frame builder Ira Ryan last year when he completed the 364 mile route in 28 hours.
I have been a fan of long rides on the cyclocross bike for years. Dirt centuries on 700 x 32C tires have been staple training events for me. 3-1/2 centuries though, on remote high desert territories of Eastern Oregon…well, let's just say that sounded insane and amazing to me. Obviously the makings of a cycling challenge that I could put in a category all its own. With that said, special considerations were in order. This is where bags from Revelate come into the equation.
I knew I would need to carry some stuff on my mission. I wanted to keep with the spirit of the event and go at it self-supported, and able to make it through the longer remote sections of the route with enough hydration and food necessary to keep the engines running. And if it came to it, I wanted to have enough warm clothing and a little bit of shelter (like an emergency blanket) to avoid some health threatening scenario.
From Revelate this meant the selection of a Pika Seat bag, A Tangle Frame Bag and for ease of access to ride essentials such as a small camera, the food I was currently munching on and uh…ibuprofen, I got the Gas Tank bag to sit on my top-tube.
My bike packed and ready for loading onto Amtrak for the ride down to Klamath Falls…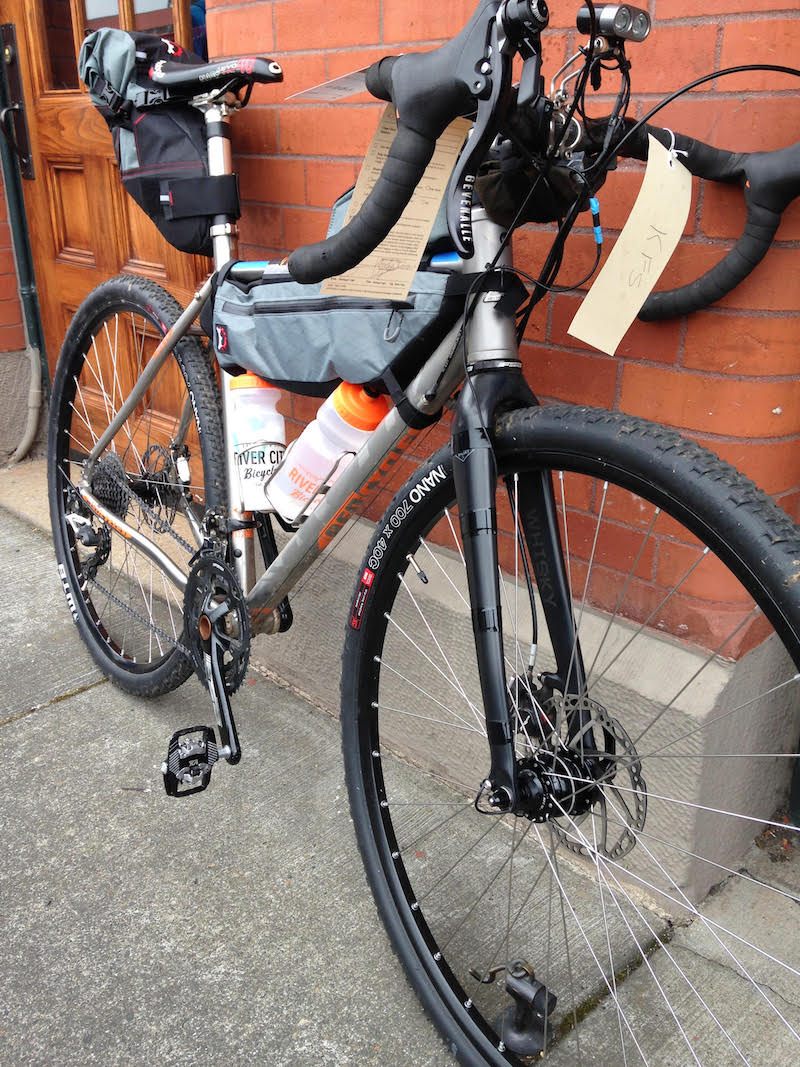 Okay, now for the story of my first Oregon Outback experience:Again, I'm sorry to say I didn't complete the through-ride this time around. Also, it should be noted that I was aware of a few others attempting the same feat including a guy named Austin who I was informed was the World Champion of Gravel–didn't know their was such a thing–and even he ended up ducking into hotel room in Prineville for some sleep before finishing his ride to the Columbia River.
The situation…
Our Friday ride out of Klamath Falls, while scenic, included several hours of precipitation. For me, the rain wasn't so bad that clothing became overly soaked and uncomfortable, though I was a little bit cold at times and I think this is where we all suffered a bit.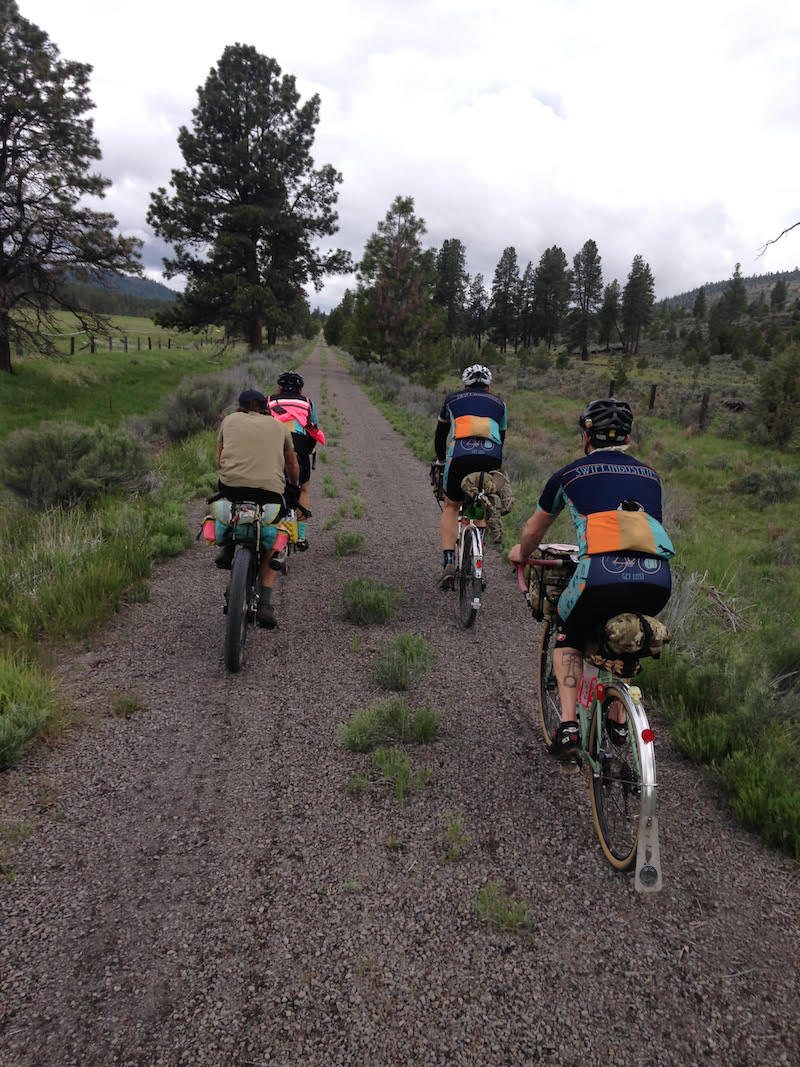 In my case, it was about 3 PM that afternoon when I was wearing nearly all of my clothing and I became chilled enough that I began to worry about the long night ahead..but we'll get to that. In the meantime, I kept pedaling…
Now is the time to say, the Revelate Pika Seat Bag is amazing. For as much volume as it offers, if you pack it with more of your lighter-weight items it will remain snug and secure to your seat and seat post, and barely noticeable while pedaling, even while standing. Also it's shape sort of curves around the back of your saddle and effectively blocks the majority of rear tire spray from reaching your backside and chamois. This says nothing about the clear attention to detail and quality of construction that make owning such a product an even more desirable experience.
The Tangle Frame Bag, is a power house. Put whatever way you want in there and it will store it neatly and efficiently within the main frame triangle, still leaving room for your water bottles below. Mine was loaded with heavy bars and drink powder-which I'll have to cover more in a minute. I particularly dig how the Tangle's zippers are easy to access and operate en route. I can store the things that I want to access on the bike in the front portions of the bag and fish them out really easily while on-the-go.And finally The Gas Tank bag, which did exactly what I needed. It was my quick access holder of things needed to keep me rolling.
Okay, now to some finer points about my Oregon Outback through-ride attempt. Even though a few email exchanges with Ira Ryan encouraged me to pack light, I was worried about being able to find the right kind of energy food in the remote towns along the course. For that reason, I ended up carrying quite a load of energy bars and drink mix out of K-Falls. I thought I could be more efficient if all I had to do was refill water along the way, and I was excited that as I ate and drank my way through the ride, my bike would get lighter. In hindsight, this strategy was my folly. Aside from the fact that I arrived at the various general stores and restaurants along the route starving for anything but the energy bars I had on-board, the extra weight slowed me down on the wet peanut butter roads that we ended up pedaling through this year.
Next time, I'll plan a little more for calories found en route and carry less. And here's why that changes everything…
In addition to having two bottles on my bike, I was carrying a Camelback with 2.5 L of hydration on my back. Here again, when my water stores were all topped up, my total rolling weight was rather significant. And here's the rub…because I think an Oregon Outback rider needs every ounce of water I had in order to cover some of those longer stretches–especially if it's a hot, sunny or dry year.
So next time, I'm putting just enough food calories into my Gas Tank Bag and Tangle Frame Bag to supplement planned en route calorie stops. And, I'm ditching my Camelback, but I'll move its bladder into the space I free up inside the Tangle Frame Bag. I think these adjustments will keep my total rolling weight down and, I think critically importantly for a challenge such as this, it will take some weight off of my sit bones and landing pad–helping that area endure the full 364.
This time, my pace was slower than planned. I got to Silver Lake (mile 119) mid afternoon. Then, because of more cold and rain and wind, the ride from Silver Lake to Fort Rock (mile 136) was pretty miserable. So when I ducked into Fort Rock's local "Watering Hole" (I think that's it's name) for a bowl of hot clam chowder, and I had the chance to compose myself, I was forced to make a rational decision.
I like to say that I'm stubborn…but not stupid. I was willing to take on this challenge but going into it, I did not want to be at it for more than 30 hours. At this point it was certain I'd go over that time and my desire to carry-on was compromised. From Fort Rock, it would be 80+ miles to Prineville where I thought I should duck into a room for a shower and a little bit of rest before carrying on. Thinking about that, I estimated I would arrive there around 3 AM. It might be difficult to get checked into a room at that hour. This was feeling like a bad plan.
I thought for a moment, then looked at the map. Bend, Oregon–a town I was very familiar with–was much closer as the crow flies, and it looked as if I could navigate an off-highway gravel route there. This was starting to sound like a good plan, and while it was tough to admit I was ready to bail, I needed to do what was sensible. I was worried about the rain and cold and the long distance to Prineville through a remote section of Eastern Oregon, and while the stubborn side of me was ready to suffer through it, the rational side of me offered the reminder that I have a wife and 1 1/2 year old son at home who I had promised I'd spend the rest of the holiday weekend with. So, Bend it was. If I hustled I'd get there at a reasonable hour and get a warm shower before I got myself sick.As it turned out, my 67 mile ride from Fort Rock to Bend was about the most enjoyable riding of my adventure. The route took me around Fort Rock (the geographical rock formation) and through a number of cattle ranches. The terrain there was Sandy but thankfully the rain had packed it well enough for me to ride through with only a little bit of extra effort. The desert sloped gently westward and as I crawled up towards the pine forests the sun set through the thunder clouds overhead. The scenery at this point was stunning. The skies to the east were more clear and beautifully colored as the sun passed through the "Golden Hour."
Without taking too much time for sight seeing, I pedaled on, and fortunately so. The last few sections of navigation before entering the pine forests were very challenging and if I didn't have the last bit of remaining light in the sky, I don't think I would've found the correct fire road (they were hardly roads in this section) into the forest and onto the more discernible national forest service roads.Fortunately I did though, and entering the forests it became dark. I rolled on and enjoyed some intense quiet and the fact that I would be the only one adventuring on this route that night. Eventually I got close to Bend and civilization crept back in when I passed some campsites. It was so tempting to pull in and share those campfires, but reality told me I would just be the weirdo/stranger that showed up in a muddy bike outfit.Eventually, I was up on a ridge with Bend's city lights glowing on the horizon. The gravel stopped and pavement resumed about 6 miles east of town and The Days Inn where my wife had secured me a room. After 207 miles of mostly gravel travel, I was checked into a warm room by 1 AM. I showered, slept and caught a ride to Salem the next day where I re-united with my family.
I was stoked on my adventure. The ridding felt great and knowing what I know now about preparing for this particular ride, I am excited and eager to give it another go. My trio of Revelate bags and I will certainly find other adventures between now and Oregon Outback next year, when hopefully, I check this challenge off the bucket list.