August 16, 2015
Posted by Revelate Designs
Right now, somewhere along a lonely stretch of the Great Divide Mountain Bike Route, Lael Wilcox is back at it – quietly pedaling to find the best version of herself. If her blisteringly fast progress continues, this may just be the best there is.
Calling Anchorage, Alaska home, Lael already holds the fastest women's time on the GDMBR. She set a record of 17 days, 1 hour, and 51 minutes during the Tour Divide in June. While racing, she struggled with bronchitis that set her back during the first week, and it was astonishing that she still broke the women's record by more than two days. She was fiercely driven, stopping only long enough to re-supply, sleep for short periods of time in her bivy sack, and move on. Still, her illness had been frustrating. She knew she could ride faster. When an opportunity opened up in August, she set out to try again.
Lael is currently challenging the route in an August individual time trial. Her mileage during the first five days put her on track with the men who eventually filled the podium during this year's Tour Divide. She arrived in Butte, Montana, more than a day faster than she had in June, and only six hours slower than Jay Petervary, who placed second in the race. She was four hours faster than Josh Kato, who eventually won and set a new course record, at 14 days, 11 hours, and 34 minutes. Is an overall record still a possibility for Lael? It's certainly not out of the question.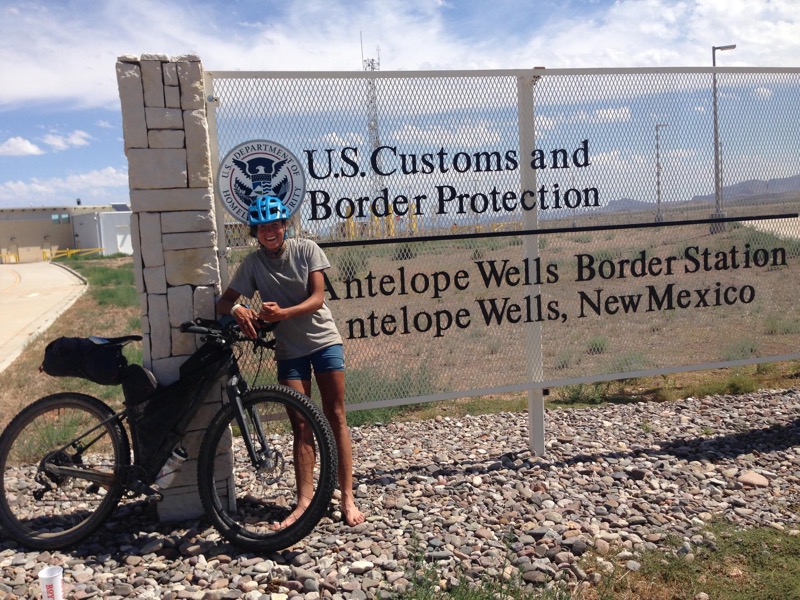 To learn a little more about this ITT attempt, we contacted Lael's partner in Anchorage, Nicholas Carman, who is posting updates about her ride at https://gypsybytrade.wordpress.com. He provided a little more insight into her goals and strategy:
Q. What is Lael aiming for in this ITT? To simply best her own record? To see what she can do without the setback of her illness? Or is she quietly going for the overall record?
Nicholas: She is aiming to ride her best ride on the Divide. Beating Eszter Horayni's record wasn't the point during the Tour Divide, even though it took some work and she did accomplish that. The point was to kick ass and do her best. There'e no reason to race and not give it your best. She told me yesterday on the phone, "What I am doing is really hard. I'm doing my best." So that's what she is doing.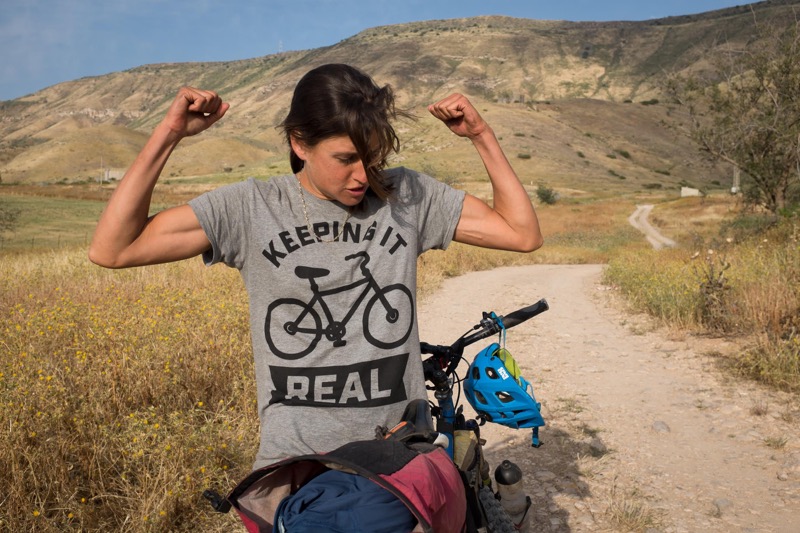 The illness was a bummer and is the single greatest reason she's back at it. Had she not gotten sick and recorded a 15- or 16- day finish in the Tour Divide, I don't think she'd feel like she needed to go back. This spring, after the Holy Land Challenge (a bikepacking race in Israel), Lael grew confident that she could do better than 19 days on the Tour Divide. By the time she arrived in Banff the first time, she was feeling confident enough to tell me that she could do better than the (then) current male record of 15:16:14 from Jay Petervary's 2012 ITT. Calculate 2,745 miles divided by 15 days and see what you get. She rode 183 miles on the first day of the Tour Divide.
Q. What challenges has Lael confided this time around? What's different? What's still the same? It's pretty amazing to think of going for two long, hard, and fast efforts like this in a single summer — not to mention Israel in the spring. Jay Petervary may be the only other bikepacker who's openly attempted such an ambitious schedule.
Nicholas: Also, we rode through Slovakia to Poland and Ukraine and then down to Greece; over 3,000 miles across South Africa, Lesotho, and Swaziland; Cairo to Israel and Jordan and about a dozen laps around Israel. It has been a good year.
Right now is as soon as she could get back on the route, but also about as late in the season as you would want to do this. Considering the logistics of preparing her bike and equipment again, traveling to the start, and timing her physical recovery, this is as soon as it could have happened. However, she only decided to do it in mid-July, and she left about a week later. She'd been home for two weeks, but didn't feel like she wanted to settle in Anchorage for the rest of the summer and fall. She contacted a friend who is opening a restaurant in Austin and got a job there. So she's really riding to Austin, via Bellingham and Banff. She took the ferry from Whittier to Bellingham which cut her ride to Banff down under 1,000 miles.
The nights are longer, so we bolstered her light system with a Fenix LD22, a powerful light for the slow climbs and technical sections when the dynamo isn't enough. I think it gives her more confidence to ride into the night, which can be kind of a lonely venture, especially when you're in a virtual race. So far she reports the Fenix light is awesome, and they sell a solid handlebar mount for it. It takes 2 AA batteries, which is the key. There are lots of good rechargeable lights these days, but very few good ones that still take old fashioned batteries. We tried charging a helmet mounted light from the dynamo during the HLC in Israel and it was a real challenge. This system is simple: wired headlight and tail light, battery headlight as backup and extra light on slow climbs and technical sections.
She struggles a little with motivating herself all the time. It is easy to think, "this doesn't matter." The days are long and you have to be focused and pushing all the time, even as you wake in the morning, in the dark. Even when you eat. She eats mostly while riding. Her Revelate Designs Gas Tank is a literal gas tank which she restocks regularly from the frame bag. I think she is eating a lot of sliced cheese and Fritos out of it. When she called from Butte she told me she was sick of eating, but she's doing it like it is her job.
I'd estimate that by the time she reaches Antelope Wells this time, she will have ridden close to 20,000 miles in 20 countries this year, and a lot of that is off-pavement. We left Alaska at the end of last summer and toured for ten months in Eastern Europe, South Africa, and the Middle East, then she rode from Alaska to New Mexico, now she's doing it again.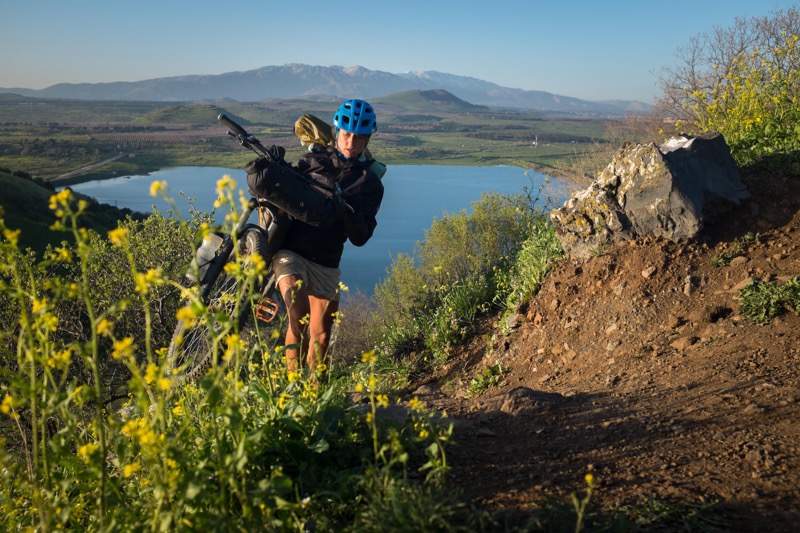 Q. Is her strategy similar this time around — i.e. sandwiches, no indoor stays, only minimal stops?
Nicholas: Yes. Not always sandwiches, but she prefers shopping at gas stations for convenience. If there were 24-hour health food stores at ever major junction she'd be eating seaweed and kombucha and apples. But that's not the reality, so it's Fritos and V8 and fried burritos all the way to Mexico. She plans to ride as much as possible every day, and will sleep when she needs it and not when she doesn't. Sleeping indoors doesn't usually fit that kind of goal, unless you're dealing with weather, injury or illness. Plus, we don't have a lot of money, and sleeping outside is free. We both sleep better outdoors.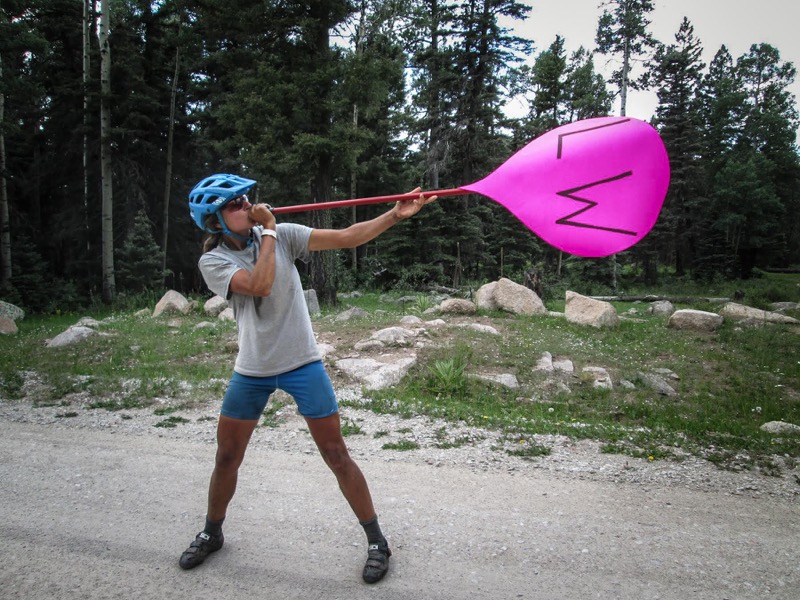 Q. Is there anything about her strategy that she's changed?
She'd riding a lot faster. I mean, she is pedaling faster — recording faster speeds on the bike, climbing faster, and she is still riding as long or longer than she did last time per day.
She left the maps home this time and brought a spare GPS. The eTrex 20 without batteries is much smaller and lighter than the maps. As of this year — considering the route changes which are exclusively available digitally — it no longer makes sense to carry the maps for navigation, except for broad-scale planning. To ride and race the Tour Divide, you must follow the digital line in front of you, which had better be the same digital line you and I and Matthew Lee are watching on Trackleaders. For most riders, it should be possible to study the maps before the Tour Divide, make some notes about distances and resupply services and leave that stack of paper behind. Lael has a clear understanding of the distances between places on the Divide, and she is well aware of all the 24-hour services like gas stations. She doesn't crave a burger and shake in town, but she does rely on being able to get what she needs at 11 p.m. That's the difference between a tour and a race. We tour most of the rest of the year. This is different.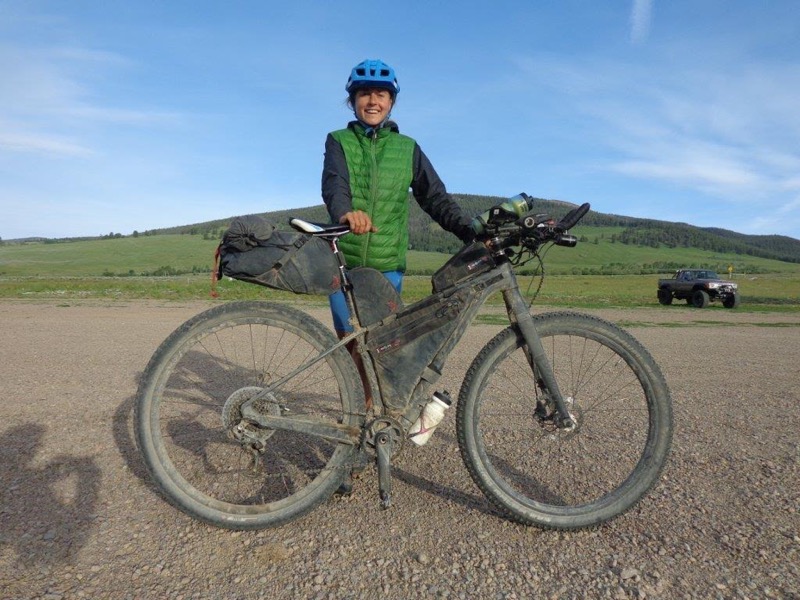 Thanks to Jill Homer for putting this article together and Nicholas for chiming in! Go Lael!