October 7, 2015
Posted by Eric Parsons
An obligatory gear list for our Oregon Willamatte – Umpqua loop!
I brought my full suspension bike which I was really happy to be riding on these trails. It's an older Voodoo Canzo 29 with a 4 bar linkage. Despite being dated, there are a lot of things I like about this bike; it offers amble frame bag space without the shock getting in the way, and the rear linkage can easily be un-bolted and the frame fits into a duffle bag as checked luggage – wheels go in a separate bag. No excess bag fee's! We put in some long days and I never felt beat up by the bike or route. I wish modern full suspension designs kept the shock mounted down low like these old Voodoo's, Kona's & Turners for optional frame bag use. Anyway the basics was this: food in the frame bag, sleeping gear and warm layer on the bars, shelter and other stuff in the seat bag. Water, camera, lightweight but bulky freeze dried meals in my back pack. Dusty with a smaller frame and less tire clearance had less space, so I carried the group gear (shelter, stove & fuel) in exchange for his keen wit and abundant slices of meat and cheese.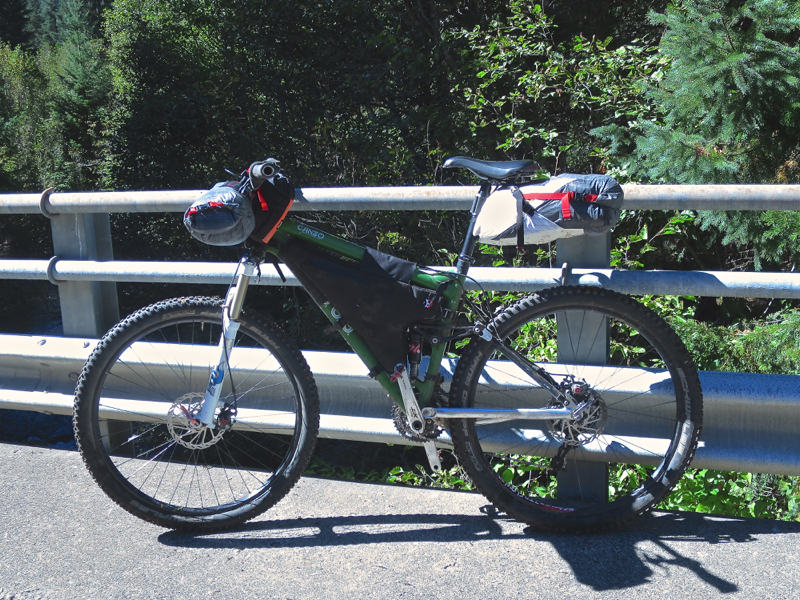 Gear List
Seat Bag – Revelate Ermine
Cuben Fiber ground cloth for single person, I don t trust the new neo-air pads yet on bare ground.
Black Diamond Sil Beta light – no poles, used sticks for support
Canister stove fuel
Go lite rain jacket
Ibex Hooded Indie (if not worn)
Patagonia R.5 tights
Handlebar Bag – Revelate Sweetroll – small
Big Agnes Horsetheif SL 35 deg bag

Lg Therma-rest Neo Air pad (went for the big and comfy pad since it was a short trip)
Old REI Gossamer primaloft hooded puff jacket
Lightweight fleece socks
Frame Bag
Majority of the food for 3 days.
Pump, shock pump, tools, repair stuff
Tire sealant, spare hanger
Cockpit – 2x Mountain Feedbags
On the go snacks & garbage
Sometimes used as case for P&S camera
Backpack – Osprey Hornet 24L (never more than 1/2 full)
2L Osprey water bladder
16oz Snowpeak Ti mug with lid
MSR Superfly stove
lighters, iodine pills
Chapstick, lip balm, toothbrush, earplugs, sunscreen
Light and Motion Solite 250 ex headlamp (awesome light!)
2x Mountain House Pro-pak dinners
As the trip progressed I moved food from the frame bag into feedbags and as space on the bike was freed up I moved gear originally in the backpack into the frame pack, by the time we finished the only thing in the backpack was the water bladder and personal items.
The BD mega lite worked great without any poles as we were in very forested areas, recommend it for it's size and weight for bikepacking where there are trees around.