Blog
stories • happenings • adventures
---

June 5, 2012
Posted by Revelate Designs
Please note this post contains outdated information and should be used only for ideas about using the straps and pockets.
In the summer of 2004 Anchorage mountain bike overlord Carlos Lozano organized a sadistic self supported race on Alaska's Kenai Peninsula. It covered every peninsula trail in both directions in it's 210 odd mile length. Nine of us started and only 3 comprimised of myself, Adam Barlett and Pete Basinger, who won in 24 something hrs, finished. My brain holds on to a set of vivid memories in particular; night riding Johnson's pass at 1:00 am, battling through thick overgrown brush yelling loudly to wake up every bear in a 10 mile radius that I was coming through. Freaked as all hell of any snap of a branch or twitch of a leaf. When I finished the trail and hit pavement, the sudden lack of stimuli and fatigue found me passed out in the roadside ditch. I woke up 2 hrs later shivering uncontrobly in the dark lying on my side, still clipped in. Got up and kept riding down the highway towards the Devils pass trail.
The race was called "The Sweet Roll"
So here is the bag, it mounts to the handlebars and opens from both ends. comes in 2 sizes. simple enough.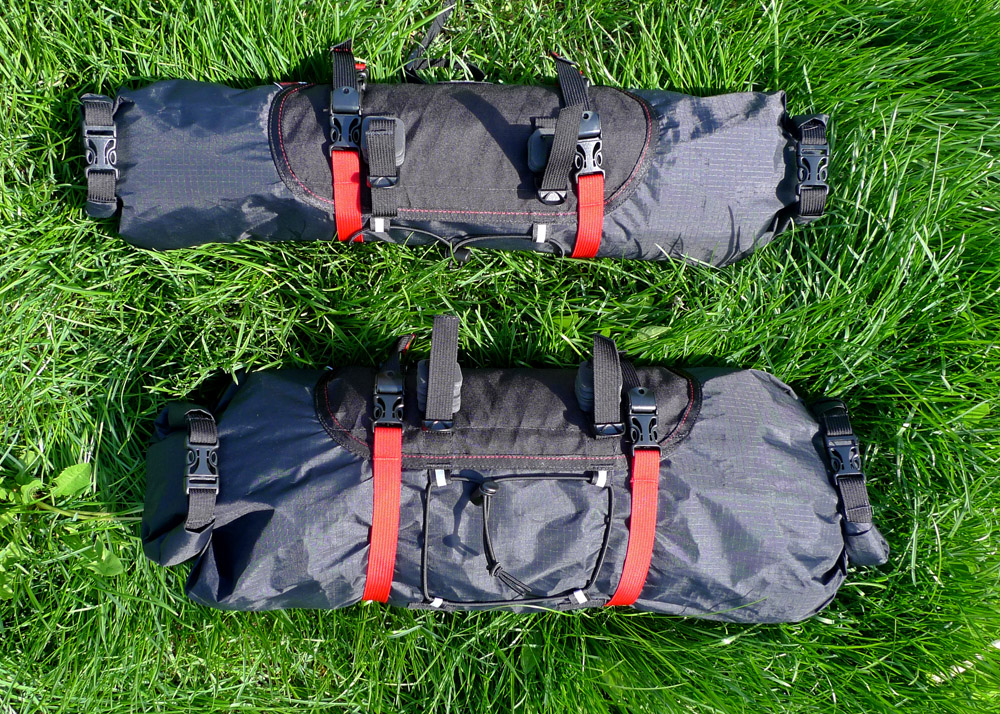 The mount is simple, refined and dialed. Stackable blocks provide handle bar offset and give space for cables and prevent wear on the bag from levers. Underneath this, sewn into the fabric is a composite stiffener running length wise to keep the mount spacing solid and gives the bag structure when packing & unpacking.
Here is the small one on my bike, lots of tire clearance for single track missions. 6″ diameter.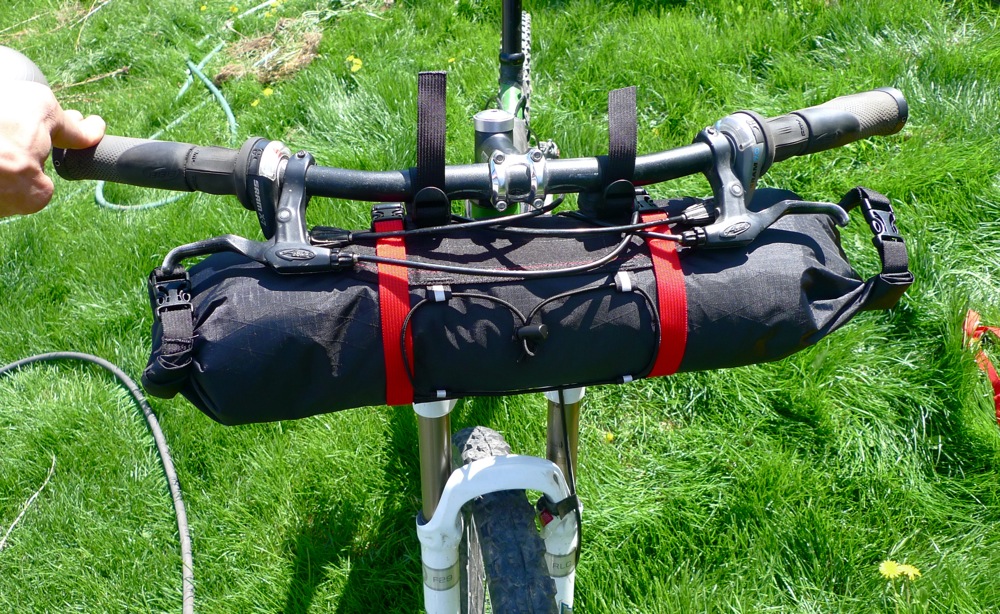 Here is the large size (and all photos to follow), it's quite a bit bigger and holds more than the Viscacha seat bag. 8″ diameter.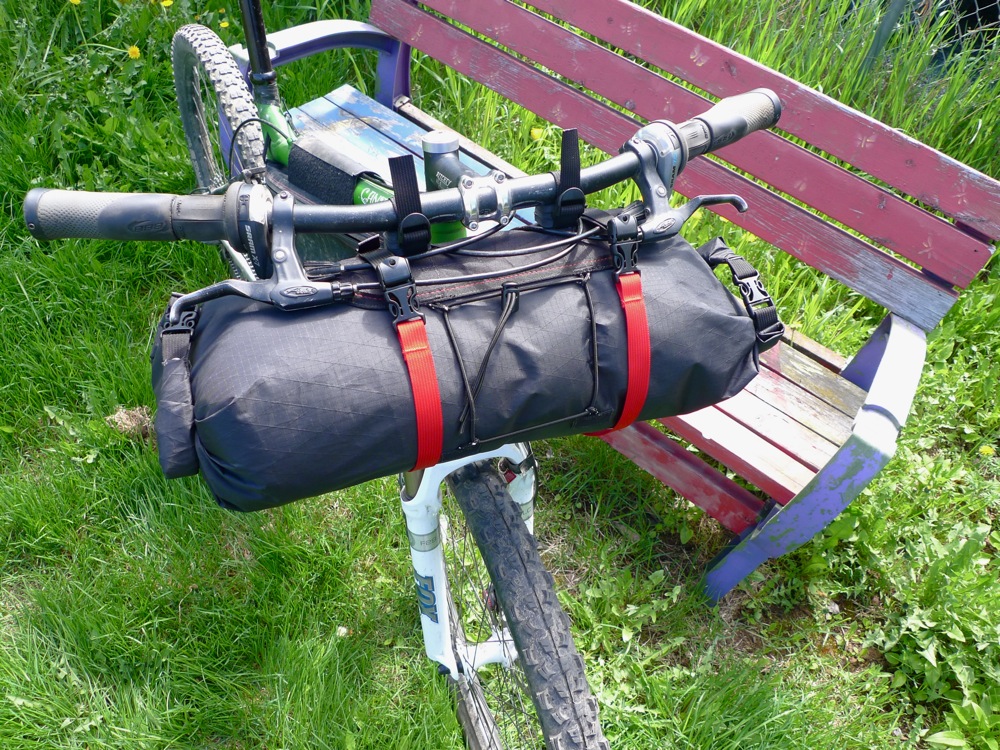 The front of the bag is simple but feature rich in that you can cusomize it in many different configurations. Shown above is the stock out of the box setup.
You can use the hot straps to lash something light like a foam pad to the front (this one is a thin MEC evazote).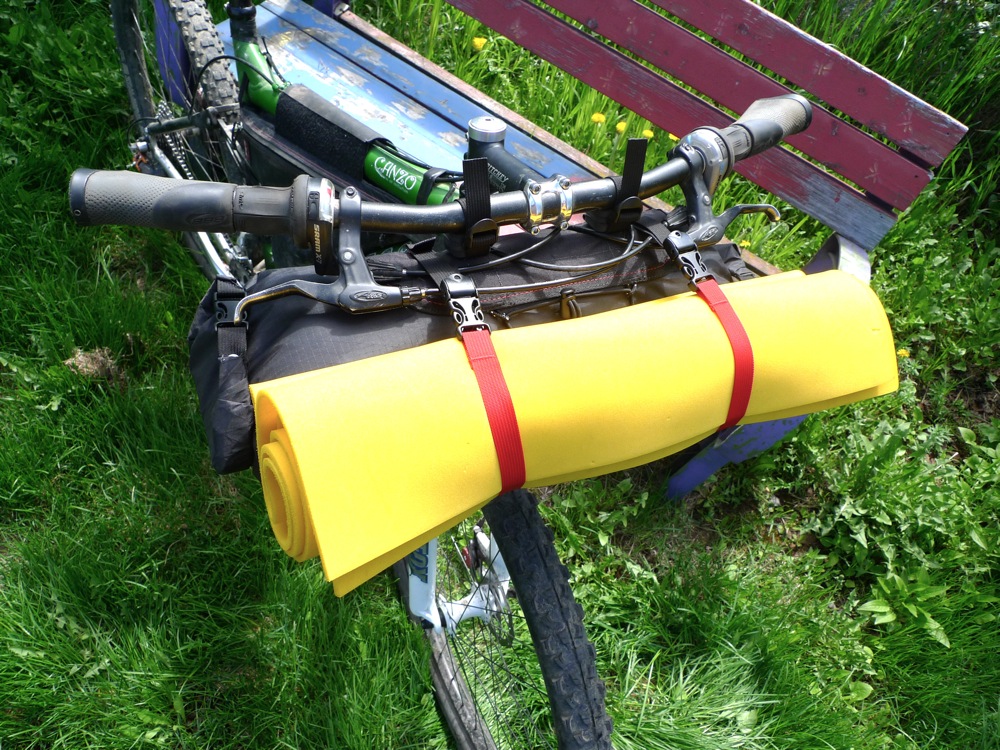 The hot straps themselves are made with latch-cam buckles so they can lock down and not slip no matter what weird stuff you want to strap up there.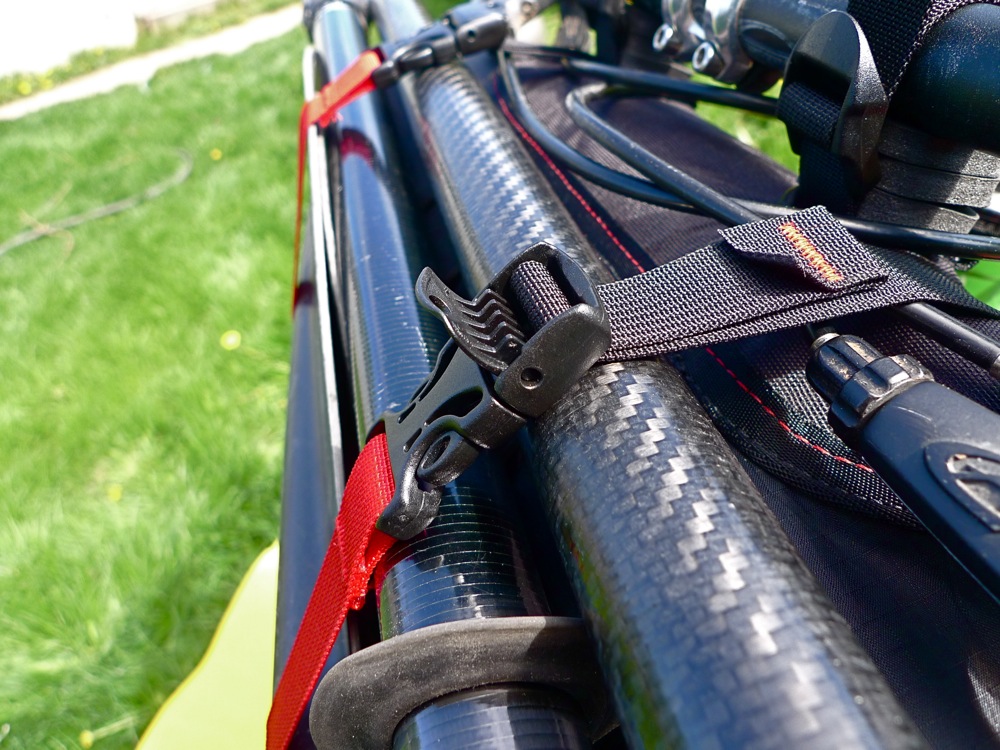 Adding on pockets is easy, here is the little Spocket that also goes on top of our seat bags…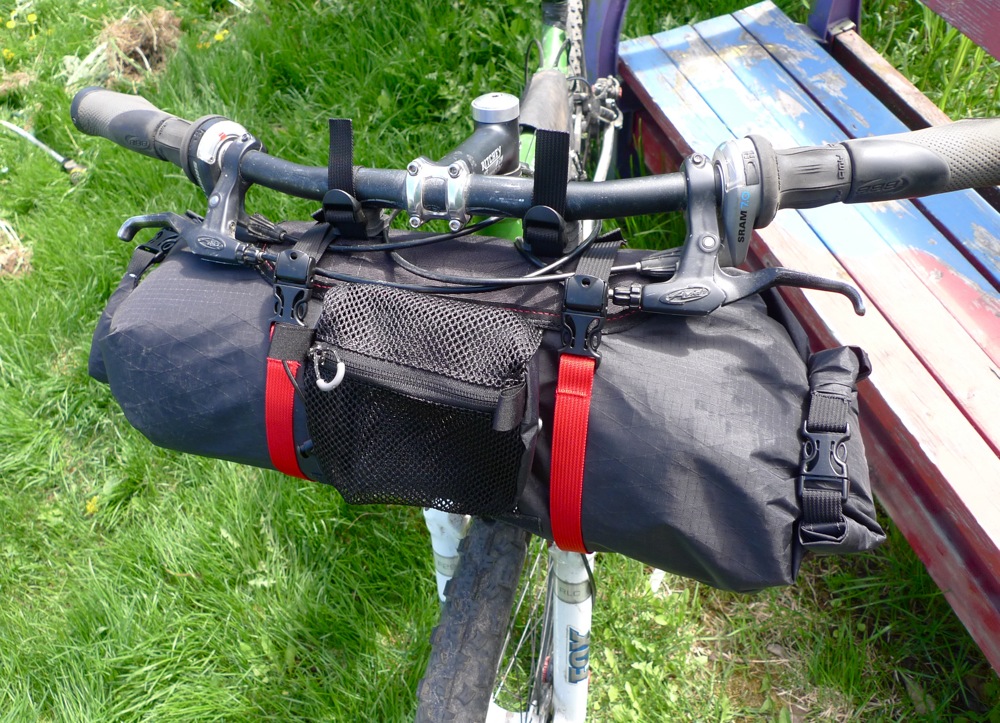 If you want more room, just unclip the hot straps and put a front pocket in it's place.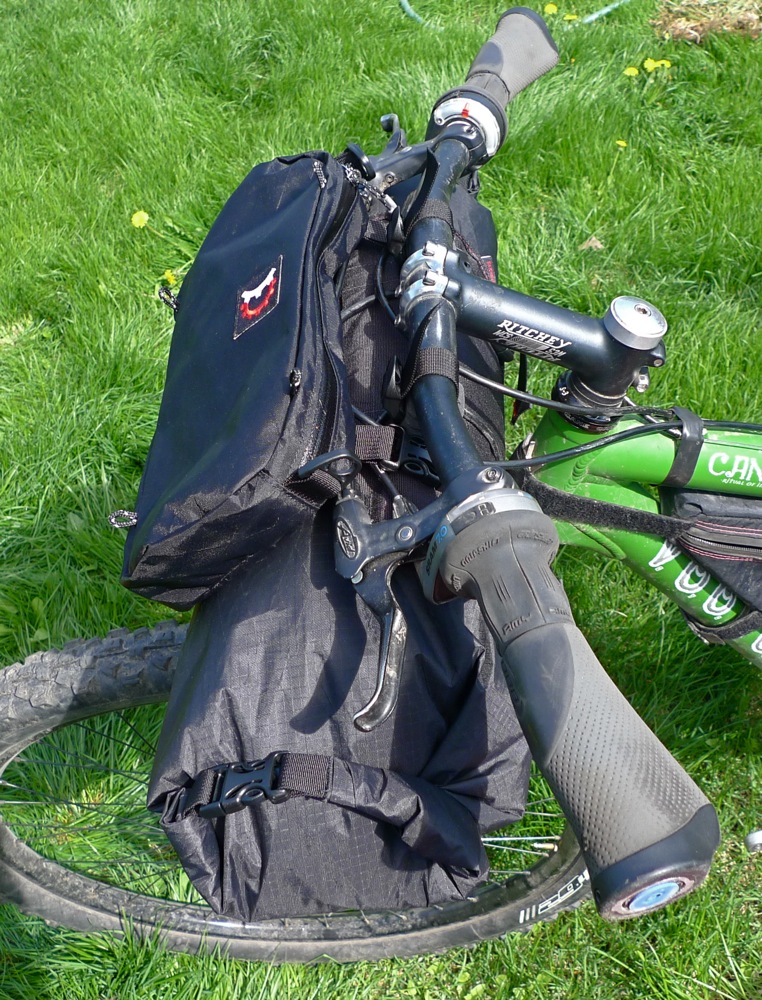 starting to get the idea? you can also run both… and shove stuff like a wet rain jacket in between the main bag and pocket.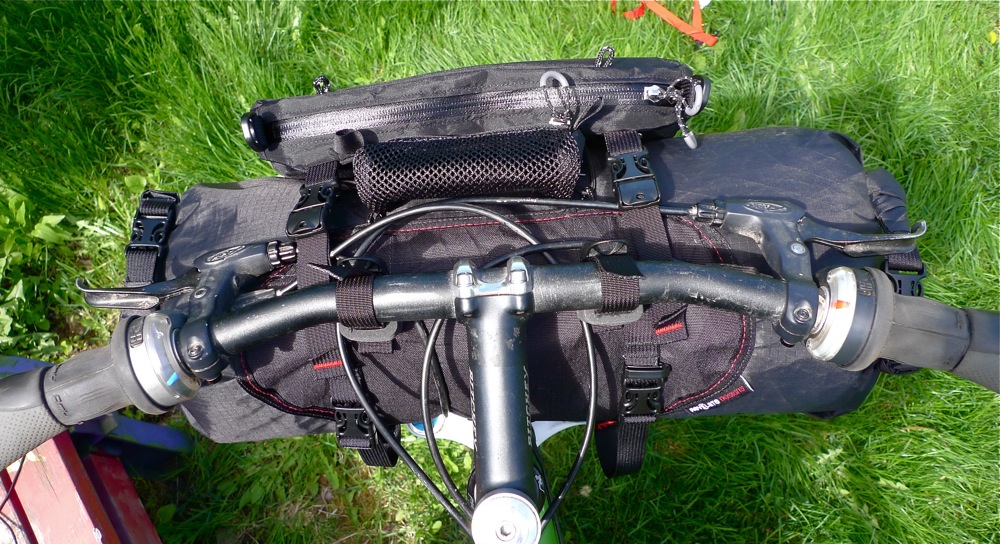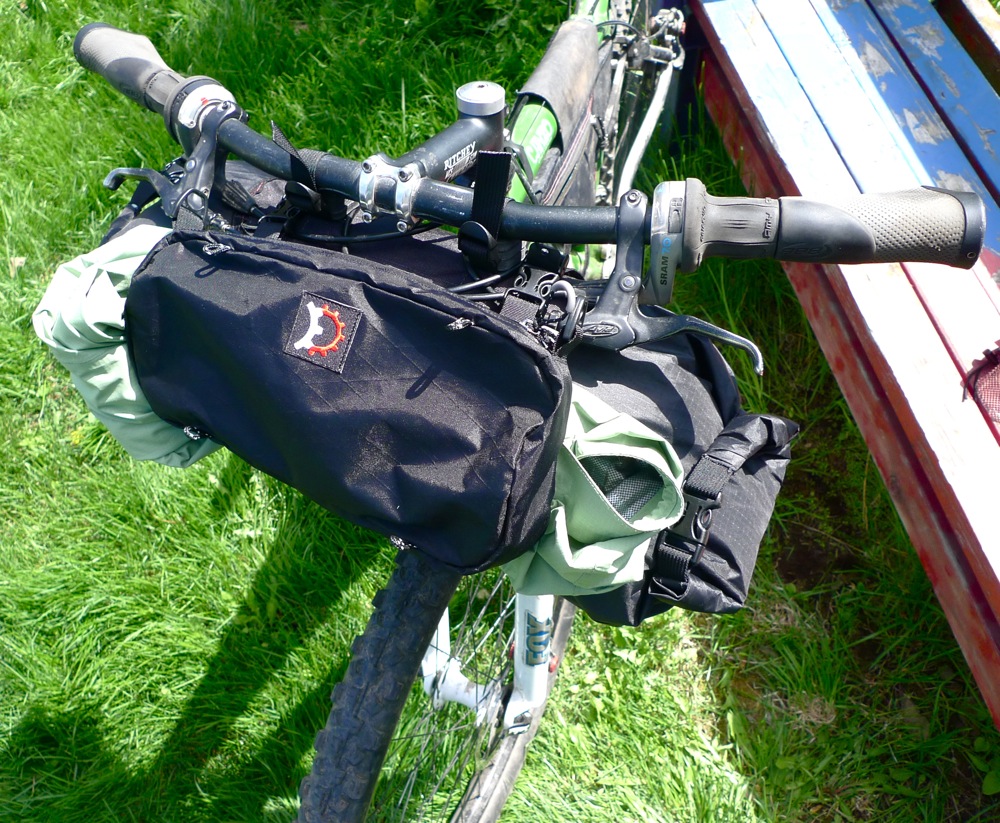 There you have it. The Sweet Roll.
now back to sewing more of them..
---