About Revelate Designs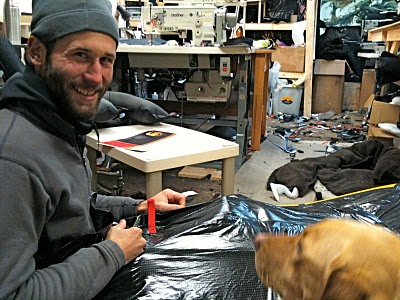 Eric and Lucy Dog

Revelate Designs builds innovative gear carrying systems for bikepacking and bike travel.
In 2007, Eric Parsons founded Revelate Designs (originally Epic Designs) out of a passion for adventuring on two wheels. After a decade of adventuring with different setups for hauling multi-day loads, it was clear that some out of the box thinking using lighweight systems could be applied to the world of bike touring.
Using an industrial sewing machine in a basement apartment, Eric began sewing frame bags for fat-tire snow bike races, cheifly the Iditarod Trail Invitational. Demand grew quickly and after a few months Eric left his engineering day job behind and devoted himself to designing and sewing bags for others who shared his adventure biking drive and needed functional, lightweight gear. The basement days are long gone, but Revelate remains a small Alaska-based business making high quality gear for passionate cyclists.
rev·e·late /rev-i-layt/ n. & adj. 1. a sudden, complete, or marked change in human-powered travel by bicycle. 2. exhilarated, blissful, ecstatic at the prospect of adventuring aided by innovative, lightweight, and highly durable gear. [derived from L. stem of p.p. efferre, from ferre – to carry.]
Everything is made in the USA, with as many domesticaly sourced materials as possible.
Revelate, Jerrycan and Revelate Designs are Registered Trademarks of Revelate Designs LLC.